Obervinschgau
907 - 1.750m
Upper Venosta Valley – In the Venosta Valley Culture Region
Holiday in Upper Venosta Valley
The medieval town walls of Glorenza/Glurns, the smallest place in South Tyrol to bear the title of town, seven towers at Malles/Mals, the Coira Castle guarding the valley at Sluderno/Schluderns, and the Monte Maria monastery gleaming white above Burgusio/Burgeis are just a few of the cultural gems which beckon here. Meadows, mountain farms and pretty hospitable villages testify to the area's stubborn pride.
The area offers plenty for nature lovers who prefer relaxing pursuits, for example shady mountainside trails beside old irrigation channels with spectacular views across to the glacier-clad summits in the Ortles massif. In winter the valleys of Mazia/Matsch, Slingia/Schlinig, Planol/Planeil and Tubre/Taufers in the Monastero/Müster Valley attract snowshoeing, Alpine ski touring and winter hiking enthusiasts. The Venosta Valley is the driest and sunniest valley in the entire Alpine region. Most popular among families is the sun-drenched Watles ski area.
---
---
Leisure tips Obervinschgau
---
Contact Obervinschgau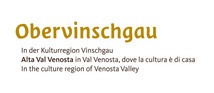 Ferienregion Obervinschgau
St. Benediktstraße 1, I-39024 Mals
Telephone

Homepage
Inquiry and Brochure order Accommodations
Mountain railways Summer operation
Watles
18.05.2023 - 05.11.2023 (1 Lift)

Find Accommodation Obervinschgau
27 Hotels, Holiday apartments...
15 Offers and All-inclusive prices

Sports provider Obervinschgau
Offers and All-inclusive prices Obervinschgau
Webcams