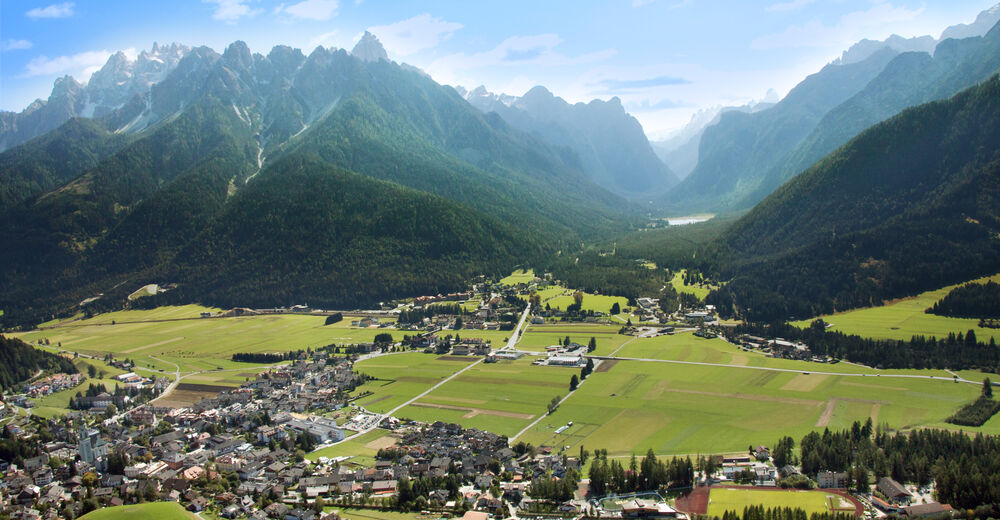 Welcome to Dobbiaco!
Dobbiaco (1.256 m), also called the gateway to the Dolomites because of its breathtaking view of the Three Peaks, is particularly close to the most famous peaks of the Dolomites. The village in the Dolomites region 3 Peaks offers not only a healthy climate and plenty of sports opportunities in summer and winter, but also cultural diversity with the Gustav Mahler Music Weeks, the lively customs or the Marian pilgrimage site Aufkirchen.
Three Peaks Dolomites, Dobbiaco: Idyll in the 2 nature parks.
Dobbiaco gives you the opportunity to forget the gray everyday life and to let body and soul dangle in a healing atmosphere and in closest connection with nature. You can visit chapels and cultural assets along the hiking trails, discover the idyllic Dobbiaco Lake or the deep blue Dürrensee Lake and marvel at the unique splendor of blossoms in the extensive nature park areas: in the Three Peaks Nature Park, which extends towards the east, and in the Fanes - Sennes - Braies Nature Park, which extends towards the west. To the north of Dobbiaco are the Central Alps, and to the south the Dolomites, which UNESCO has declared a World Heritage Site.
Quiet and tranquil places around Dobbiaco also provide for your relaxation. The lakes are especially beautiful in the Dolomites!
Dobbiaco: top sports in the Dolomites.
But Dobbiaco is also a tourist resort with a hundred-year tradition of tourism and a variety of entertainment options. So here is ideal terrain for sports and even top sports: if in winter there are the big World Cup races or popular races in cross-country skiing, in summer there is a series of athletics events.
Peak sport in the Dolomite Region 3 Peaks: In winter, cross-country skiing competitions take place around Dobbiaco.
Dobbiaco hosts athletics competitions in summer.
For popular sports, Dobbiaco offers a wide range in winter with cross-country skiing, winter hiking, skiing, snowboarding, snowshoeing, ski touring and ice skating, and in summer with hiking, cycling tours, mountain hikes, climbing, fishing and tennis.
Source: www.toblach.info
---
---
Leisure tips Toblach
---
Contact Toblach
Tourismusverein Toblach / Associazione Turistica Dobbiaco
Dolomitenstraße I Via Dolomiti 3, I-39034 Toblach I Dobbiaco (BZ)
Telephone

Fax

Homepage
E-Mail
Inquiry and Brochure order Accommodations
Locations Dolomitenregion Drei Zinnen
Mountain railways Summer operation
Accommodations Toblach
33 Hotels, Holiday apartments...
156 Offers and All-inclusive prices
Offers and All-inclusive prices Toblach
Webcams