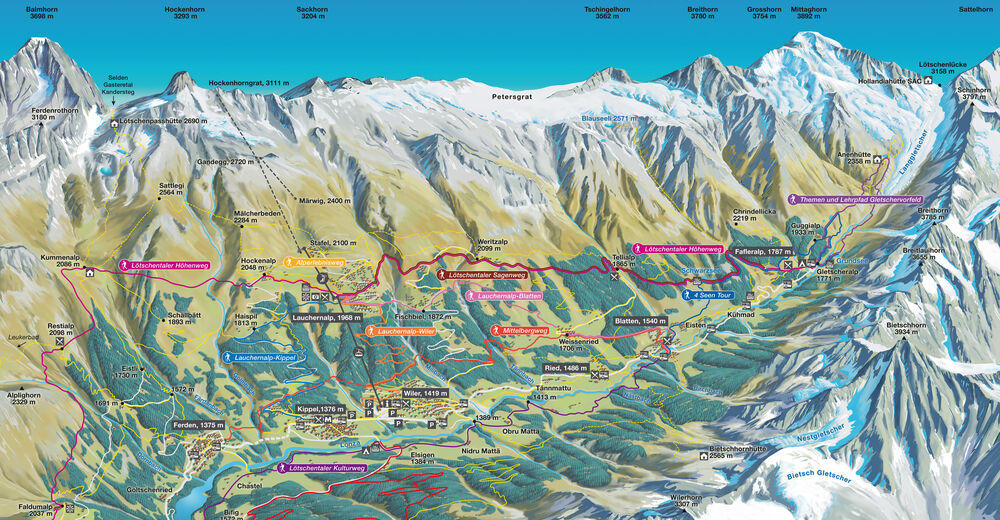 The Lötschental is most certainly one of the most beautiful Valais valleys and nestles between the Bernese and Valais Alps in the UNESCO World Heritage Site Jungfrau-Aletsch. The valley is around 30 km long and is therefore the largest of the Valais side valleys north of the Rhone. The wild River Lonza that flows out of the Lang Glacier and meets the Rhone south of Gampel rushes the whole way down the Lötschental. The "magical valley", as the Lötschental is also known, has an impressive and unique natural beauty - the slopes of the Bietschhorn and the Lötschenlücke Pass - and allures visitors with its rustic charm. What stands out is its unspoilt nature and the peace, calm and relaxing atmosphere of this wondrous mountain paradise. The Lötschental was difficult to reach until the Lötschberg Tunnel was opened in 1913 - to the good of Mother Nature and tradition. The villages of Ferden, Kippel, Wiler and Blatten have been recognised as summer holiday destinations for some time and are the main centres of tourism in the Lötschental. The Lötschental villages line up along the length of the valley on the sunny slopes overlooking the Lonza river. The opening up of the Lötschental went hand in hand with the growth in tourism. Any mention of tourism in the Lötschental immediately brings to mind the region's ski resort - the Lauchernalp – yet in spite of tourist development, nightclubs, concrete edifices and massive buildings are simply nowhere to be found in this region.
---
Leisure tips Lötschental
---
Contact Lötschental

Lötschental Marketing AG
Dorfstrasse 82, CH-3918 Wiler
Telephone

Homepage
E-Mail
Inquiry and Brochure order Accommodations
Mountain railways Summer operation
Accommodations Lötschental
1 Hotels, Holiday apartments...
Webcams