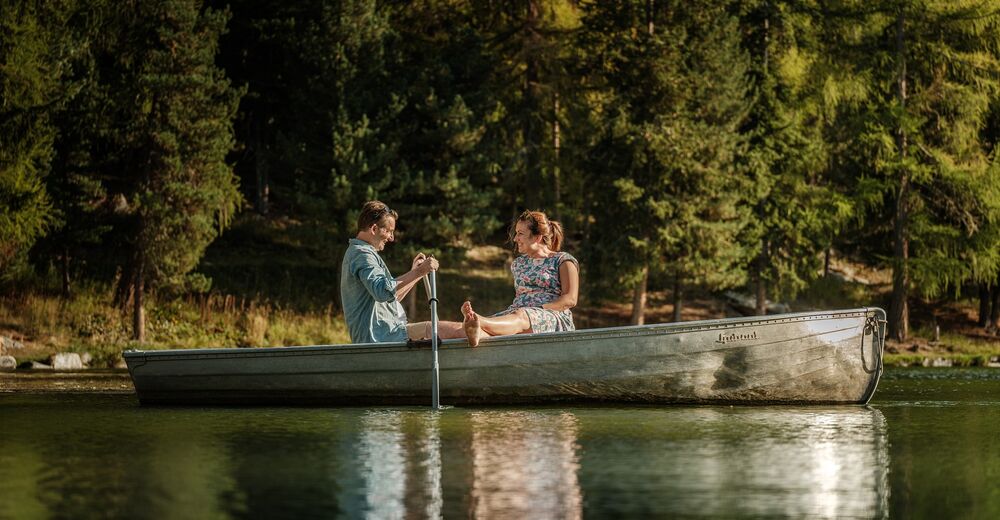 Grächen – Small. But mighty. In the compact mountain town of Grächen, you won't waste time with long drives from one holiday highlight to the next.
In summer, Grächen and the surrounding area offer numerous opportunities for hiking and biking adventures as well as for getting plenty of vitamin D. After so much quality time with your family or your bros, you'll be radiating at least as much joy as the sun over Grächen!
Hiking Time
Whether you're a mountain climber or a leisure hiker, you can enjoy your holidays to the fullest in picturesque landscapes, beautiful forests and lush green meadows. From easy circular walks to challenging tours with tough climbs: Grächen is the perfect starting point for your hike in the region.
Whether you want to marvel at the forces of nature on Ried Glacier or challenge yourself during a demanding hike on Hannigalp: the extensive network of trails has the right tour for all hiking enthusiasts, including impressive peaks and power places boasting scenic views. At the end of the tour, you can enjoy Valaisian dishes and Génépi in one of our cosy, traditional huts.
Best Time
Steep trails and aching calves? Let's go! Whether you're a newbie or a real MTB crack: You'll definitely get your money's worth in the Grächen-Visp mountain biking region – sore muscles and adrenaline rushes included! Root carpets, singletracks or wider trails for bike newbies – the choice is yours! From Grächen, you can easily reach the best trails in the region.
You're guaranteed to enjoy the bumpy ride through quiet forests, meadows and pastures, far away from the hustle and bustle, stress and mass tourism. Because: Grächen offers simply better bike holidays.
Adventure Time
Passionate hikers, playful youngsters or water lovers: In one of the sunniest villages in Switzerland, families can experience numerous highlights! Bathing fun, treasure hunts, llama trekking, a forest playground and a high-ropes course. In Grächen, you'll spend your holidays at an idyllic natural lake, in adventurous play parks or on breathtaking hiking trails. And you'll get to relax at one of the numerous picnic and barbecue areas. What better place to try new things together? On your hikes, you will get to know the flora and fauna of the region - and in between, you'll savour the region's traditional culinary delights. One thing is for sure: During your Family Time in Grächen, you'll make memories that last!
---
---
Leisure tips Grächen - St. Niklaus
---
Contact Grächen - St. Niklaus
Grächen & St. Niklaus Tourismus
Dorfplatz, CH-3925 Grächen
Telephone

Homepage
E-Mail
Inquiry and Brochure order Accommodations
Mountain railways Summer operation
Grächen
15.06.2024 - 20.10.2024 (1 Lift)
Accommodations Grächen - St. Niklaus
9 Hotels, Holiday apartments...
3 Offers and All-inclusive prices
Offers and All-inclusive prices Grächen - St. Niklaus
Webcams