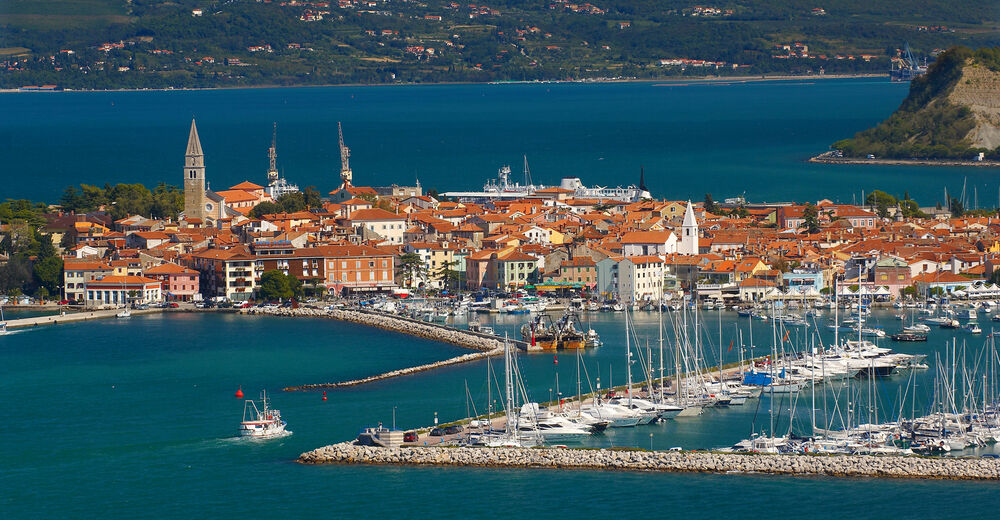 The old Mediterranean town of Izola lies on the south-west shore of the Gulf of Trieste, where the genuine traditions of fishing and winemaking, mysterious traces of the past, and the welcoming character of the locals merge together to form an unforgettable mosaic of experiences.
The town's warm-spirited and romantic character help attract visitors and it is said that once you have visited Izola you will never forget it. The stirring history of this little fishing port has created marvellous architectural treasures and ancient legends that will carry you back to the time when Izola was still an island. You can sense the spirit of the Mediterranean at every step as you pass through the narrow medieval streets, watch the boats bobbing in the harbour, enjoy a friendly chat with the locals, and savour seafood specialities washed down with good local wine. With a variety of sports and cultural events and entertainments taking place throughout the year, drawing their inspiration from old customs and traditions, you will never be bored in Izola. Museums, galleries and artists' studios will lead you into the world of Istrian arts and crafts, and if you are seeking true spiritual refreshment, you will find it on a boat trip on the waves of the Adriatic.
Izola is surrounded by picturesque countryside with numerous valleys and long hills – an area full of gastronomic pleasures waiting to be discovered in a wealth of traditional inns and farm tourism establishments, most of them offering marvellous views over the Gulf of Trieste. The town's hinterland offers countless opportunities to explore and discover the natural beauties of the Istrian hills, with their attractive stone houses and ancient churches. Discover them on foot, by bicycle or even on horseback. Izola (360°) Position: the Slovenian coast between Koper and Piran.
Source: www.slovenia.info/en/-ctg-kraji/Izola-%E2%80%93-an-der-Schwelle-zum-Mittelmeer-.htm?_ctg_kraji=2782&lng=2&redirected=1
---
Leisure tips Izola
---
Contact Izola
TIC Izola
Sončno nabrežje 4, SI-6310 Izola
Telephone

Fax

Homepage
E-Mail
Locations Adria Küste / Karst Region