Current informationToday, 14:45
Lifts
Opening times Winter
Season

23.12.2023 - 31.03.2024

Operation

08:45 - 17:00
selon conditions d'enneigement
Pistes
Beginner

4

easy

8

medium difficulty

1

difficult

1

total

17 km
News
Cross-country skiing area of the Lac des Plagnes: cross-country circuit, snowshoe hiking, dog sledding, ski ...
Ice circuit Abondance: from December to the end of March, you start ice driving, driving courses.
---
Ski resort
Situated in the Haute Savoie 30 kilometres south of Lake Geneva at an altitude of 1,000 metres, on a plateau backing onto Mont Jorat (1,830 m), Abondance lies in a valley dominated by Mont de Grange (2,432 m) and the Pic de la Corne (2,084 m). In winter, when snow caps the summits, and the meadows are blanketed by snow, the slopes become very inviting and this immaculate countryside stretches out as far as the eye can see. Warm and snug inside your chalet, in the heart of the a traditional village or in one of its hamlets, you'll have the holiday you have always dreamt of.
Abondance is a gateway to the Portes du Soleil, a region linking 12 ski stations on the Franco Swiss border. Enjoy snowsports at the family friendly ski slopes of Essert, or depart from Abondance to discover the 650 km of slopes that are a part of the other ski areas in the Portes du Soleil. Essert rises from the edge of the village of Abondance. The gondola takes you to slopes ranging from green to black, providing fun for the whole family in a tranquil environment. The charming restaurant offers a traditional Savoyard meal, a place to get together during the day, with a sunny terrace to relax in the sun to watch your friends skiing.
The Portes du Soleil ski-slopes
The Portes du Soleil offers visitors a unique ski experience that we call "ski safari": just click into your bindings at your chalet and go exploring from resort to resort, valley to valley - and even from country to country... Starting from Abondance, catch the ColomBus shuttle bus, free with your Portes du Soleil ski-pass, and have a taste of unlimited ski freedom.
Contact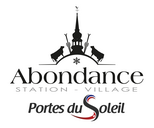 Régie des Remontées Mécaniques Abondance
Mairie d'Abondance BP1, FR-74360 Abondance
Telephone

Snow telephone

Homepage
Inquiries