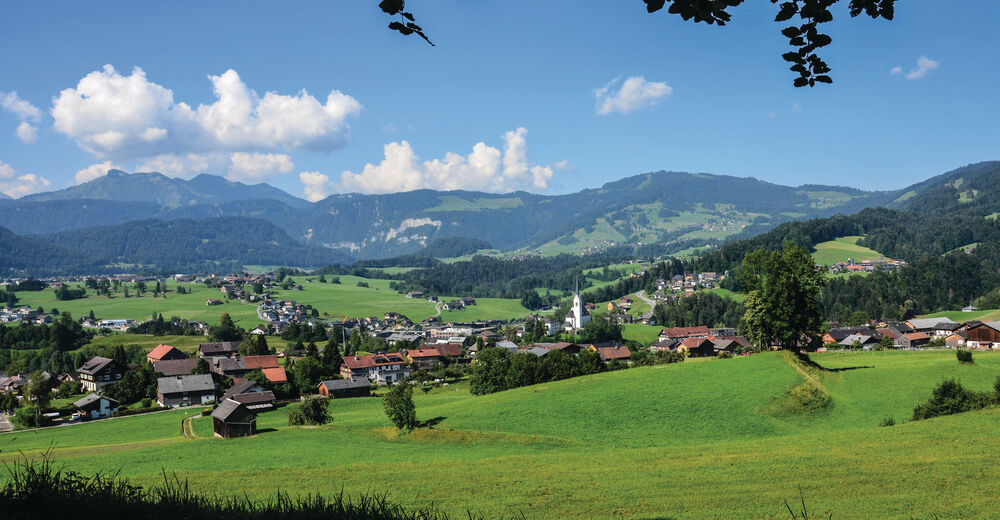 EGG - THE HEART OF THE BREGENZER FOREST
THE SMELL OF FRESH ALPINE HERBS, A SENSE OF FREEDOM
Egg - as the largest municipality in the Bregenzer Forest - is sometimes also referred to its unofficial capital. All main roads of the valley merge here. People meet each other here shopping or for a chat in the cozy dining rooms and cafes. Hardly a place has a moderately balanced "juxtaposition", living peasants and various economic sectors with down home crafts.
Egg but also has numerous chill-out places for rest and relaxation. Likewise in summer the possibilities are large to experience something unusual, exciting or calm. Come to rest, slow down is the concern of many of our guests. A good recipe for it? Hiking. Motion in nature is good for the soul. To try out within the Egger mountains and while tours in the village. The fresh mountain air and the magnificent panorama are suitable for the occasion.
The pleasure lies not only in the landscape, the Bregenzer Forest specialties in more traditional rooms of the restaurant owners are worth a culinary experience. How tastes the Bregenzer Forest? Satisfactorily well for those who appreciate carefully crafted and go like on the trail of regional delicacies. Taste our own manufactured products in the mountain huts at 1,000 to 2,000 m above sea level. Likewise, the traditional inns in Egg invite you to enjoy.
How sounds Egg in the Bregenzer Forest? Colorful and surprising. Open-air concerts with the local music clubs found in July and August twice weekly.
---
---
Leisure tips Egg im Bregenzerwald
---
Contact Egg im Bregenzerwald
Tourismusverein Egg
Loco 873, A-6863 Egg
Telephone

Homepage
E-Mail
Inquiry and Brochure order Accommodations
---
Contact Mountain railways
Schetteregg
Amagmach 622, A-6863 Egg
Telephone

Fax
Mountain railways Summer operation
Accommodations Egg im Bregenzerwald
123 Hotels, Holiday apartments...
21 Offers and All-inclusive prices
Sports provider Egg im Bregenzerwald
Offers and All-inclusive prices Egg im Bregenzerwald
Webcams