Cross-country skiing
Rinn
920 - 1.000m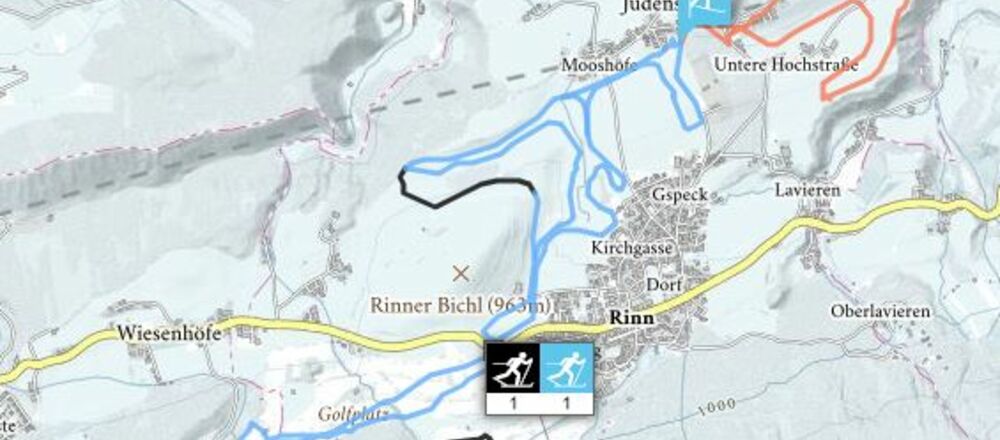 *Cross-country skiing in Innsbruck`s holiday village Rinn *
In Rinn all cross-country skiers and ski can expect excellent groomed trails and untouched nature.
In total, the region has two slopes, which are divided in their difficulty in different sections. Both trails are equipped with diagonal and Skating track.
Golf Trail: easy 2 km, 3 km difficult
Panorama Trail: 9 km; easy, medium & difficult
Access points: Parking Golflift, end of Judenstein or parking lot in Judenstein
Parking is free!
Free cross-country bus
Tuesday and Friday to Stubai Valley / Neustift Falbeson (departure Rinn, Raiffeisenbank 9:05am)
Wednesday to Natters (departure Rinn, Raiffeisenbank 9:35am)
Registration: Tourist Office Lans Tel +43 512 378178, 9 - 12am the day before
---
Prices
The use of trails is free for guests (with guest card) and locals!
---
Stopping possibilities
Liftstüberl, Kinderland Rinn
---
Current cross-country skiing trails info
Website

E-Mail

Telephone

+43 512 / 53 56 6080
Cross-country skiing trails
Overview
2
classic cross-country skiing trails
15 km
Panorama und Golf Loipe mit mehreren Strecken-Abschnitten
2
Skating trails
15 km
Panorama und Golf Loipe mit mehreren Strecken-Abschnitten
Cross-country skiing trails
Various
Cross-country ski Service
Contact
Tourist information office
Tourismusverband Region Hall - Wattens
Address

Unterer Stadtplatz 19, A-6060 Hall

Telephone

+43 5223 45544-0

Fax

+43 5223 4554420

E-Mail

Homepage
Most popular cross-country regions