Tyrol
Cross-country skiing
Obertilliach
The Grenzlandloipe is not only in insider circles one of the most beautiful and varied cross-country trails in Austria. The best biathletes and cross-country skiers meet here from the beginning/middle of November. But not only the best in the world, but also all cross-country enthusiasts who appreciate the daily well-prepared trails are happy to come to Obertilliach for cross-country skiing.
"Nordic Racing Center" of Sport Auer in the biathlon centre, as well as the cross-country skiing school Obertilliach!
Translated with www.DeepL.com/Translator (free version)
---
Prices
The day ticket costs € 8,-, the weekly ticket in Osttirol € 35,-, the season ticket € 80,-. With the cross-country ski pass you can also use the ski bus in the valley free of charge.
If someone wants to use the whole area of DOLOMITI NORDICSKI with more than 1000 km of cross-country ski runs, the price for one week is € 40,-, for the whole cross-country ski run network of DOLOMITI NORDIC SKI € 100,-.
Translated with www.DeepL.com/Translator (free version)
---
Stopping possibilities
Café-Bistro "Im Zentrum" im Langlauf- u. Biathlonzentrum, Café Weiler, Gasthof Andreas, Gasthof Unterwöger, Jausenstation Lienharterhof (alle in Obertilliach), Der "Klammerwirt" in Rauchenbach am Kartitscher Sattel sowie Pension Café Erbhof in Kartitsch.
In Maria Luggau entweder das Hotel Paternwirt, der Bäckwirt (meist nur am Wochenende geöffnet!).
---
Videos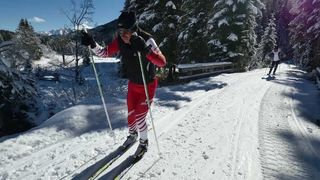 01:19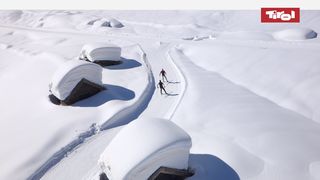 01:03
---
Current cross-country ski run info
Website

E-Mail

Telephone

+43 50 212-360
Cross-country ski-runs Overview
2
classic cross-country ski-runs
40 km
Die Grenzlandloipe zählt zu den schönsten und anspruchsvollsten Loipen im Alpenraum. Sie verbindet die Orte Kartitsch, Obertilliach, Untertilliach und Maria Luggau bzw. reicht sie bis an die "Frohnbrücke" bei Wiesen in St. Lorenzen i. Lesachtal. Sehr beliebt ist der Abschnitt von Rauchenbach am Kartitscher Sattel bis Maria Luggau, weil es tendenziell nur abwärts geht und die Rückfahrmöglichkeit mit dem Bus (Linie 965) mit der Gästekarte gratis ist!
3
Skating courses
46 km
Das Herzstück der Skatingloipen sind die Wettkampfloipen beim Biathlonzentrum. Aber auch sonst können Skater nahezu die gesamte Strecke nützen.
1
High trails
10 km
Eine wunderschöne Höhenloipe befindet sich am Dorfberg oberhalb von St. Oswald bei Kartitsch. Erreichbar ist diese Loipe entweder mit dem Schlepplift (für Geübte) oder mit dem Pistengerät (2x/Woche).
1
Floodlit cross-country ski runs
2 km
Mit dem Winter 2021/22 gibt es nun im Biathlonzentrum eine sehr schöne, wenn auch anspruchsvolle Runde, die auch abends genutzt werden kann. Über die genauen Öffnungszeiten informieren wir an dieser Stelle zu gegebener Zeit.
Various
Rental
bei Sport Auer, 9942 Obertilliach, Rodarm 25, Tel. +43 664 120 14 61
Cross-country ski Service
bei Sport Auer, 9942 Obertilliach, Rodarm 25, Tel. +43 664 120 14 61
Contact Tourist information office
Tourismusinformation Obertilliach
Address

Dorf 4, A-9942 Obertilliach

Telephone

+43 (0)50 212360

E-Mail

Homepage