Cross-country skiing
Ferienregion Lienzer Dolomiten
673 m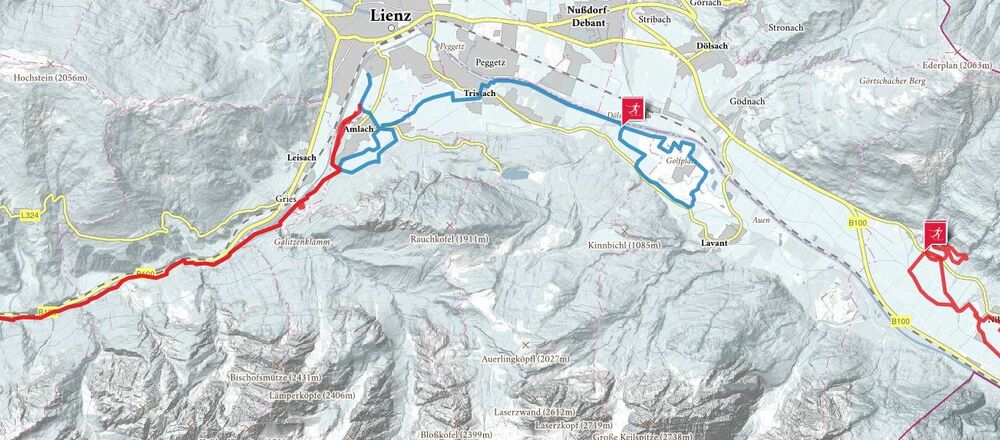 Cross-country skiing in East Tyrol - cross-country skiing experience with tradition
In the Lienz valley floor, guests move along gently undulating cross-country trails, always with a view of the Dolomites. Especially popular is a snow-covered cross-country skiing loop in Lavant near the golf course at the foot of the Lienz Dolomites.
A lot of tradition and a very special flair await you at the Dolomitenlauf. The motto "Everyone a winner over themselves" is always considered a challenge for everyone. With 2,500 participants, this cross-country marathon is the largest cross-country event in Austria and, with numerous side events, also a spectacle for a cross-country enthusiastic public.
The "Dolomitenlauf 2023" will take place from 20 to 22 January 2023. Info at: www.dolomitensport.at
---
Prices
Day ticket East Tyrol: € 10.00, at the trail controller € 15.00. Weekly ticket East Tyrol: € 45.00, at the trail controller € 50.00. Season ticket East Tyrol: until 17.12.2022 € 110.00, from 18.12.2022 € 120.00.
The weekly ticket Osttirol is valid for 7 days and includes all trails in Osttirol.
The cross country tickets are available in the tourist office in Lienz, Mühlgasse 11.
Day ticket and weekly ticket also available at the ticket machine at the parking lot of the Hotel Dolomitenfolf****s in Lavant.
---
Current cross-country skiing trails info
Website

E-Mail

Telephone

+43 50 212 212
Cross-country skiing trails Overview
4
classic cross-country skiing trails
54.9 km
Cross-country skiing trails
Various
Rental
Lienzer Skishop, 9905 Gaimberg, Zettersfeldstraße 38, www.lienzer-skishop.at
Cross-country ski Service
Lienzer Skishop, 9905 Gaimberg, Zettersfeldstraße 38, www.lienzer-skishop.at
Contact Tourist information office
TVB Osttirol - Region Lienzer Dolomiten
Address

Mühlgasse 11, A-9900 Lienz

Telephone

+43 50 212 212

Fax

+43 50 212 212-2

E-Mail

Homepage
Most popular cross-country regions