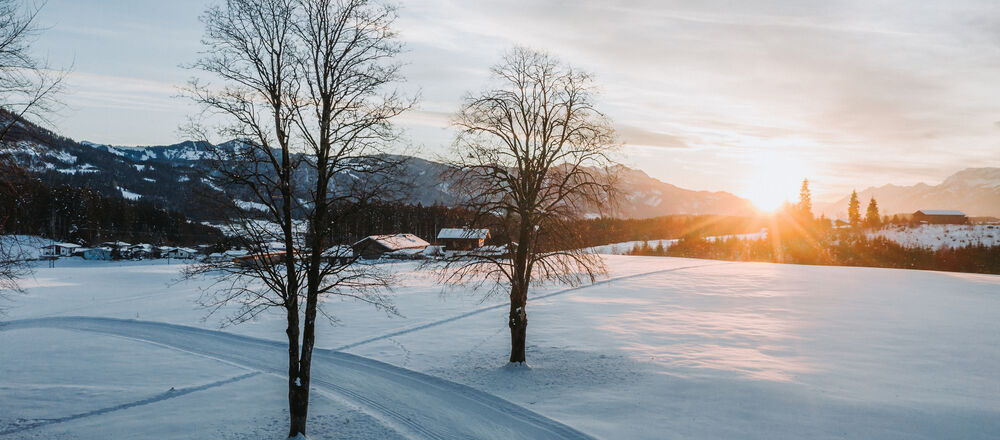 Cross-country skiing in Kufsteinerland
Gliding almost silently on narrow boards through the snow-glistening landscape, breathing the clear winter air, being aware of your body and heartbeat, finding your own pace - that is happiness...
Particularly beautiful, snow-sure and carefully prepared cross-country ski trails are located on the Schwoicher and Bad Häringer Sonnenplateau and in the Thierseetal. The newly built junior biathlon center in Schwoich offers beginners and professionals alike the best conditions for a great cross-country skiing experience. With the connecting cross-country ski trail between Bad Häring and Schwoich, the two networks are now linked by a short walking section.
Here, every guest will find his or her favorite cross-country trail in the varied terrain and winter landscape. But you can also enjoy cross-country skiing in the Inn Valley, at the foot of the Wilder Kaiser - a gently undulating trail, also ideal for beginners, leads to the Kufsteinerland villages of Ebbs and Niederndorf.
Good equipment, professional tips and, on request, cross-country skiing instructions are available at the Schuler Sports cross-country skiing school. Another cross-country ski rental is located at Sportthaler in Hinterthiersee.
The newly established connecting trail from Landl/ Ursprung now opens up the entire network of Bayrischzell's neighbors to enthusiastic cross-country skiers. With KufsteinerlandCard the cross-country trail is included.
---
Prices
---
Videos
---
Current cross-country skiing trails info
Website

Telephone

+43 (0)5372 62207
Cross-country skiing trails Overview
27
classic cross-country skiing trails
80.7 km
26
Skating trails
77.9 km
2
Floodlit cross-country skiing trails
3.1 km
Various
Rental
Schuler Sports Schwoich und Sportthaler Hinterthiersee
Cross-country ski Service

Contact Tourist information office
Tourismusverband Kufsteinerland
Address

Unterer Stadtplatz 11-13, A-6330 Kufstein

Telephone

+43 5372 62207

Fax

+43 5372 61455

E-Mail

Homepage
Most popular cross-country regions