Cross-country skiing
Innervillgraten
1.402 - 1.442m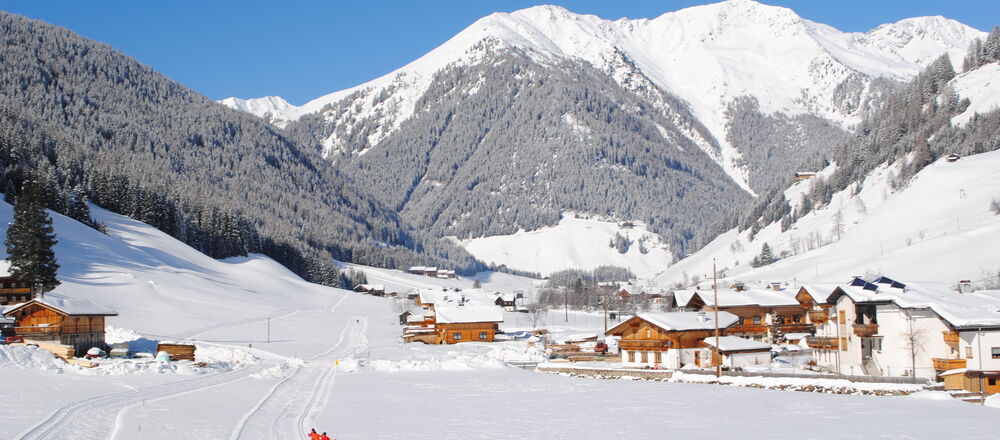 For skaters, "classic" skiers and ski hikers.
The Innervillgrater cross-country trail is very snow-sure and has a 90 m difference in altitude. The lowest point is in the east at the Graferhöfe (1347 m), the highest in the west at the Maxerhöfe (1442 m). The trail is 10 km long and easy to moderately difficult, it has a double track for classic cross-country skiing and a prepared track for skaters.
It starts below the "Alfonsstüberl" café in the centre of the village and leads into the valley in the direction of Kalkstein, slightly ascending to the Maxerhof (2.5 km). After the turnaround, it runs with easy and moderately difficult descents across open fields back towards the village. Below the village centre, the trail continues on the left-hand lane with very easy ascents and descents along the Villgraterbach stream, then again across fields and, after crossing the main road, to the Graferhöfe farms (7 km).
Back again with a crossing of the main road and bridge, the trail continues to the left through romantic snow-covered forest, where the turnoff to the "Gannerhof" inn is marked (Pranau settlement). Continue slightly uphill for approx. 200 m along the Tafinbach forest and then across fields with a moderately difficult descent, past the Villgrater Naturprodukte company, and continue over the bridge towards the village centre (another 500 m). Keeping to the right after the cross-country skiing bridge, you will reach the starting point in the village centre again after approx. 300 m.
---
Prices
Tagesticket: € 8,00
Wochenkarte Osttirol: € 35,00
Wochenkarte DNS: € 40,00
---
Stopping possibilities
Cafe Alfonsstüberl, Gasthof Bachmann, Gannerhof, Gasthof Raiffeisen
---
Current cross-country skiing trails info
Website

E-Mail

Telephone

+43 50 212 340
Cross-country skiing trails
Overview
1
classic cross-country skiing trails
10 km
Dorfloipe beginnend östlich von der Jägerer Brücke bis am westlichen Ortsende zum Maxerhof mit Talquerung
1
Skating trails
10 km
Dorfloipe beginnend östlich von der Jägerer Brücke bis am westlichen Ortsende zum Maxerhof mit Talquerung
Cross-country skiing trails
Various
Albert's Sportartikelverleih, Innervillgraten
Cross-country ski Service
Albert's Sportartikelverleih, Innervillgraten

Contact
Tourist information office
Tourismusinfo Innervillgraten / TVB Osttirol
Address

Gasse 78, A-9932 Innervillgraten

Telephone

+43 50 212340

Fax

+43 50 212340-2

E-Mail

Homepage
Most popular cross-country regions