Styria
Cross-country skiing
Jogllandloipe in St. Jakob im Walde
When people talk about cross-country skiing at the highest level, they mean Joglland, the place even the empress travelled to because she liked it so much. Today magnificent mountain scenery and a fairytale winter wonderland await guests on the sunny high plateau at 1,134 metres above sea level at the foot of the Hochwechsel.
Just one highlight is the 40 kilometres of cross-country skiing trails; perfectly prepared, of course, and equipped with snow machines despite the guaranteed snow. The "Learn classic or skating style cross-country skiing in 6 hours" offer is particularly popular. And four kilometres are already accessible at night as they are perfectly equipped with floodlights.
Joglland, of course, also offers alternatives if at some point you are not keen on hitting the trail. The small family ski resort at Hauereck in St. Katrein am Hauenstein is an inside tip for anyone who wants to enjoy Alpine skiing away from the hustle and bustle. Snow shoe hikes are also enjoying increased popularity.
---
Prices
Benützungskarte Erwachsene € 8,00
Schüler/Jugend € 4,50
Kinder bis 10 Jahren sind frei!
Flutlichtkarte von 17.00 - 19.00 Uhr
Dienstag und Donnerstag
Schüler / Jugendliche € 4,50
Erwachsene € 8,00
---
Stopping possibilities
Gasthaus Orthofer bietet am Wochenende von Freitag bis Sonntag von 11.00 Uhr bis 15.00 Uhr ein Abholservice an. Bitte um Vorbestellung um Wartezeiten zu vermeiden.
Ab 25.12.20 können sie die Speisen täglich abholen wieder von 11. -15.00 Uhr!
Die Speisen dürfen jedoch im Umkreis von 50m nicht konsumiert werden! Sie können ihre Speisen in ihrem Auto zu sich nehmen oder mit nach Hause nehmen!
---
Current cross-country ski run info
Website

E-Mail

Telephone

+43 (0)3336 8237
Cross-country ski-runs Overview
8
classic cross-country ski-runs
60 km
Ein wahrer Genuss für Anfänger wie auch für Fortgeschrittene.
5
Skating courses
21.3 km
Hobby, Sport und Rennloipe .
1
High trails
25 km
Wanderloipe auf den Hochwechsel Rabel-Kreuz Hütte.
1
Floodlit cross-country ski runs
4 km
Ab nächsten Dienstag 15.12.2020 wieder immer Dienstag und Donnerstag jedoch von 16.30 -19.00 Uhr!!!! Dadurch hat die Loipe an diesen beiden Tagen durchgehend von 8.30 bis 19.00 Uhr offen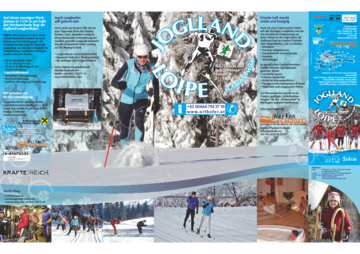 Various
Rental
Laser Biathlon und Luftgewehr Biathlon Anlage
Cross-country ski Service
Wachs-Premium-Rennwachs Service
Contact Tourist information office
TVB Joglland-Waldheimat
Address

Kirchenviertel 24, A-8255 St. Jakob im Walde

Telephone

+43 (0)3336 20255

Fax

+43 (0)3336 2025-54

E-Mail

Homepage