Cross-country skiing
Trofaiach / Krumpenloipe
695 m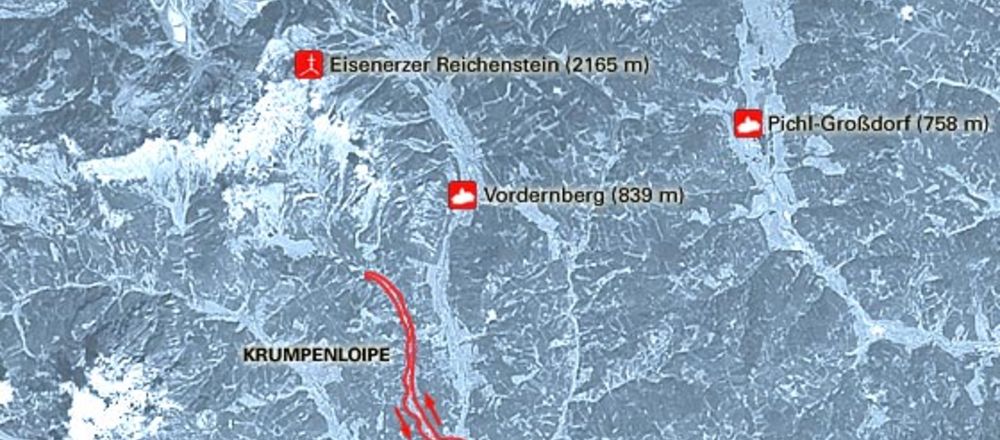 10 kilometres of the perfect "Krumpenloipe" ("Krumpen Trail") and great hospitality await guests on the edge of the Eisenerz Alps. Not too high up, between 695 and 845 metres above sea level, the trail leads to the Krumpengraben through magical forests and along the raging waters of the Krumpenbach. A children's field has been set up for the little ones and those who have still not had enough of all the beautiful winter will be enticed by the 2.5 km night trail, which is covered in snow even when if not enough falls from above. Those wishing to take a break from cross-country skiing can simply visit the indoor swimming pool and relaxation oasis or take the little ones to the tobogganing field next to the access to the cross-country skiing trail. The trail is of intermediate difficulty. There is also a ski school and a hire centre. In the evening, the calorie-conscious are particularly well catered for. However, those who do plenty of sport deserve a very special scrambled eggs made with pumpkin seed oil.
---
Prices
Erfreulich! Erfreulich! Erfreulich!
Auch in der Saison 2022/2023 keine Preiserhöhung auf der Krumpenloipe!
Tageskarte: EUR 4,00 (inkl. 1 Getränk)
Saisonkarte: EUR 45,00 (inkl. 1 Kernöl-Eierspeise)
Die gemeinsame Kombikarte kostet ab Saison 2022/2023
Kombikarte Eisenerz/Trofaiach EUR 80,00
---
Stopping possibilities
Landhotel Reitingblick, Ortsteil Gai/Schardorf
Gashaus Ruckenstuhl, Vordernberger Straße
Gasthaus Unterdechler, Mautgasse
---
Current cross-country skiing trails info
Website

Telephone

+43/(0)3847-2255-218 od. +43/(0)699 13 00 5 207
Cross-country skiing trails
Overview
1
classic cross-country skiing trails
10 km
Ab 05.02.2023 - in Betrieb
1
Skating trails
10 km
Ab 05.02.2023 - in Betrieb
1
Floodlit cross-country skiing trails
2 km
Täglich bis 20:00 Uhr
Cross-country skiing trails
Various
Cross-country ski Service

Contact
Tourist information office
Tourismusverband Erzberg -Leoben
Address

Hauptplatz 3, A-8700 Leoben

Telephone

+43 (0)3842 48148

E-Mail

Homepage
Most popular cross-country regions