Naturbadesee

Freizeitpark Römersee - Badesee- und Mobilheimplatzbetrieb
© Copyright (c) 2016 Christian Krammer - Christian Krammer
© Copyright (c) 2016 Christian Krammer - Christian Krammer
© Copyright (c) 2016 Christian Krammer - Christian Krammer
Freizeitpark Römersee - Badesee- und Mobilheimplatzbetrieb
Freizeitpark Römersee Wiesen - Badesee- und Mobilheimplatzbetrieb
Durch seine günstige Lage mit nur ca. 30 km Entfernung von Wien, bietet der Römersee Wiesen - am Nordostrand des Rosaliengebirges - ein herrliches Erholungsgebiet mit vielfältigen Sport- und Freizeitmöglichkeiten, wie auch einem großzügigen Mobilheimplatz.
In den Jahren 1968-1972 begann man mit dem Bau des Badesees und des Wohnparks. Bereits zur Zeit der alten Römer war der Römersee bekannt. Historiker vermuten, dass in der Nähe des Sees die berühmte Römerstraße verlaufen ist und während der Bautätigkeit stieß man ebenfalls auf Keltengräber.
Nähere Informationen zum Betrieb des Badesees sowie des Mobilheimplatzes mit Sporteinrichtungen ersehen Sie unter www.roemersee.at.
Durchschnittliche Badesee-Temperatur 22-25 °C
Anschrift:
7202 Bad Sauerbrunn, Anlagenverwaltung
Tel. +43/(0)2625-32888,
Mail: office@roemersee.at
Prices
Erwachsen Tageskarte: 20€
Kinder Tageskarte: 10€
Nachmittagskarte ab 15:00 7€
Der Preis versteht sich als Gutschrift an der Strandhütte abzüglich einem Euro für Transaktionskosten.
Bei einer Tageskarte Erwachsen, dürfen sie also 19€ an der Strandhütte für Essen und Getränke ausgeben.
---
Subsurface of bathing area
Gravelled
Sandy
Rocky
Muddy
Details
Non-swimmer's area
no dogs allowed
Infrastructure
Changing cubicles
WC facilities
Car parks
Gastronomy (restaurants, cafés)
Type of lounge area
Meadow
Shady areas
Sports offer
Fishing
Beach volleyball
Mini golf
Children & families
(Sand) play areas
Rental service
Sun loungers
---
Contact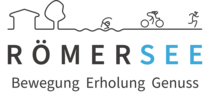 Homepage
Size
Sea level

218 m

Surface

0.035 km²

Depth

4 m
Season
01.06.2023 - 31.08.2023
Opening times
08:00 - 19:00 H
Öffentlicher Badebetrieb nur über online erhältliche Tickets.
---
Lakes Wiesen
Freizeitpark Römersee - Badesee- und Mobilheimplatzbetrieb
Sports provider Wiesen