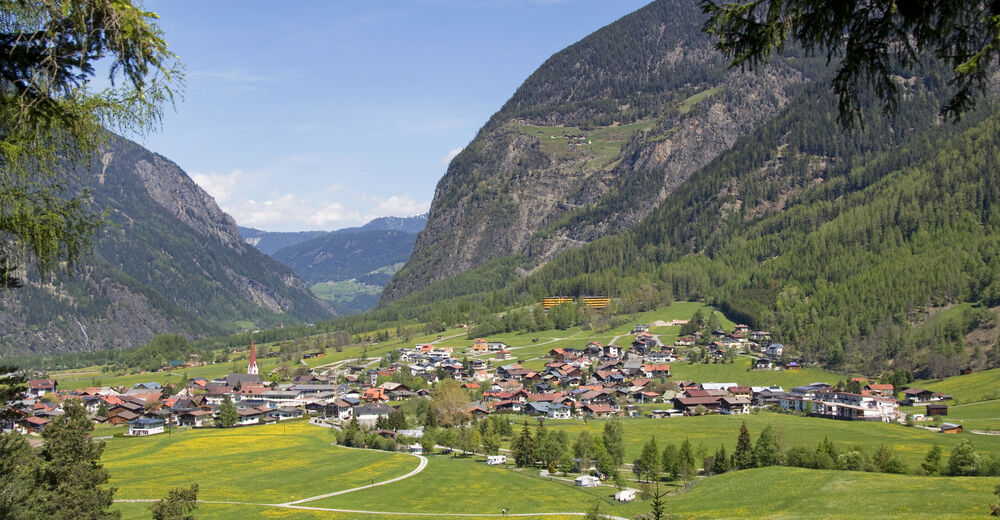 UMHAUSEN/NIEDERTHAI:
At the entrance to our holiday region you will find Tumpen. Past the legendary Engelswand face, high above there's the Farst hamlet. If you continue slightly uphill to the south you will reach Umhausen. The villages of Niederthai and Köfels are nestled in the mountains on a sunny plateau at 1,500 m altitude.
ÖTZI VILLAGE
An adventure for the whole family. Get to know more about the way of life some 5000 years ago and about the people of the Neolithic Age. An archeological park with prehistoric buildings which shows you the life and trade of those people. See, feel, take part ... enjoy this journey back in time!
STUIBEN FALLS
Some 9000 years ago a spectacular series of falling rocks blocked the rushing waters of Horlachbach brook in Niederthai. The mighty Stuiben Waterfalls are a result of this spectacle of nature as the waters had to flow off somewhere else. A number of smaller high Alpine brooks such as Zwieselbach, Larstig and Grastal glacier waters empty into the stunning Stuiben Falls. A hiking tour to the falls is always a highlight you should not miss! What's more, the perfectly signposted Stuibenfall Trail has been awarded the Tirolean Quality Seal.
---
---
Leisure tips Umhausen im Ötztal
---
Contact Umhausen im Ötztal
Ötztal Tourismus Information Umhausen-Niederthai
Dorf 24, A-6441 Umhausen
Telephone

Homepage
E-Mail
Inquiry and Brochure order Accommodations
Mountain railways Summer operation
Accommodations Umhausen im Ötztal
124 Hotels, Holiday apartments...
171 Offers and All-inclusive prices
Sports provider Umhausen im Ötztal
Offers and All-inclusive prices Umhausen im Ötztal
Events
26.01. - 28.01. every day
Webcams