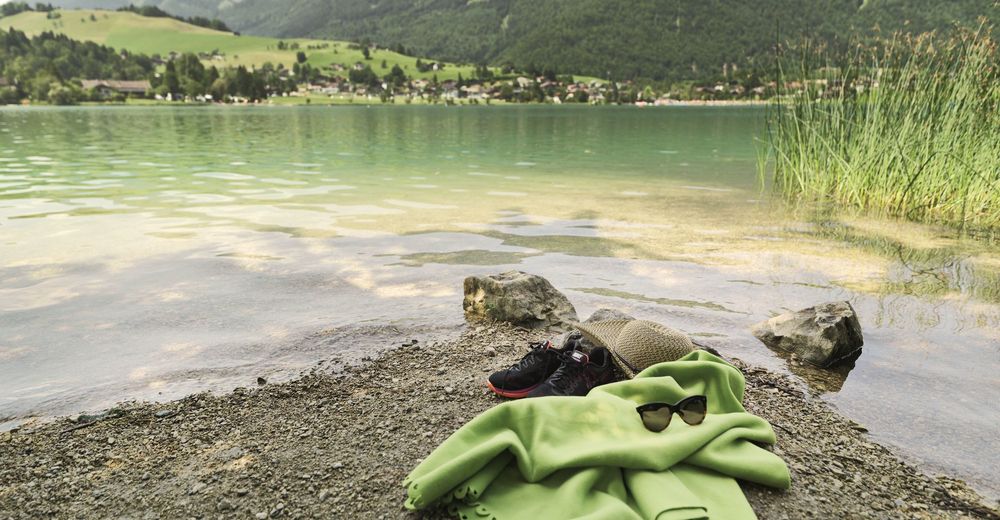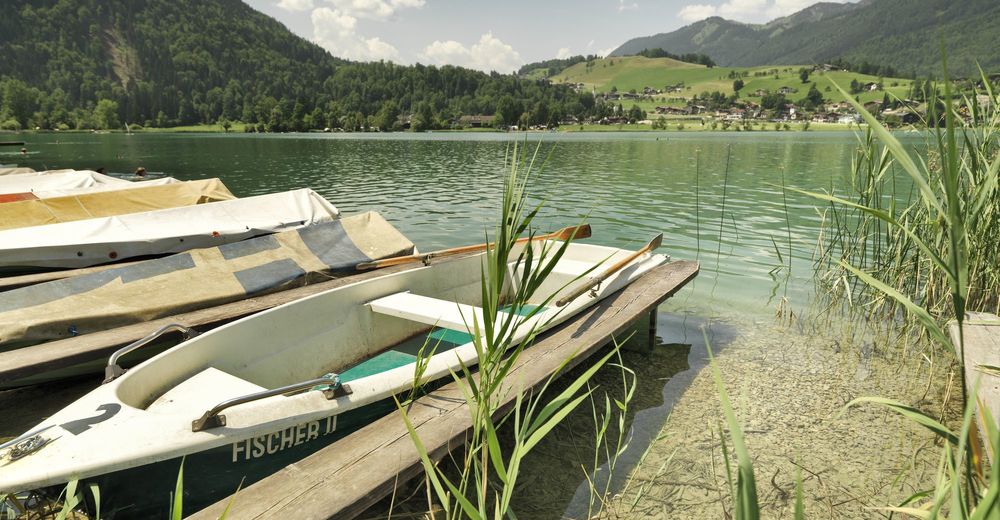 studio
studio
Thiersee
Das Familienparadies
Im Herzen des Tals befindet sich der kleine Tiroler Passionsspielort Vorderthiersee zwischen grasbedeckten Hügeln, umgeben von mächtigen Gebirgsgruppen. Auf dem weitläufigen Hochplateau des Thierseetals direkt am Thiersee gelegen, erstreckt sich das zauberhafte Hinterthiersee.
Am See selbst kann man zwischen verschiedenen Liegewiesen oder dem Strandbad am Thiersee wählen. Im Strandbad können Sie Tret-, Ruder- und Delphinboote ausleihen.
Oder auf geht`s ins Freischwimmbad Landl! Mit seinem echten Quellwasser und der herrlichen ruhigen Lage ist dieses kleine, wunderschön am Waldrand gelegene Freischwimmbad ein wahrer Geheimtipp.
Der Thiersee ist für alle Schwimmbegeisterten und Familien ein Eldorado. Das liebevoll angelegte Strandbad mit seinem großzügigen Abenteuerspielplatz für die kleinen Badegäste, der Beach Volleyball Platz, Tret- und Ruderboote, Wasserrutsche und Sprungturm sorgen für vergnügliche Badetage. Zum Verweilen und Relaxen laden kleine Liegewiesen und Buchten rund um den See ein.
Behindertentauglichkeit: ja
Hunde erlaubt: nein
Verpflegung: ja
Bootsvermietung: ja
Durchschnittliche Wassertemperatur: ca. 22°C
Prices
Badetarife Strandbad Thiersee - ab 09 Uhr/ ab 15 Uhr/ 7-Tageskarte
Erwachsene € 3,00/ € 2,00/ € 15,00
Kinder (bis 15 Jahre) € 1,50/ € 1,00/ € 7,00
Rund um den Thiersee - ab 09 Uhr/ ab 15 Uhr/ 7-Tageskarte
Erwachsene € 2,50/ € 1,50/ € 15,00
Kinder (bis 15 Jahre) € 1,00/ € 1,00/ € 7,00
Bootsverleih Strandbad Thiersee
Ruderboot: 30 min. € 4,50 / 60 min. € 7,00
Tretboot: 30 min. € 6,00 / 60 min. € 11,00
Sonstiges
Liegestühle, Liegematten, Sonnenschirme (Einsatz € 5,00): € 3,00
Beachvolleyball - 1 Stunde (Balleinsatz € 10,00): € 3,00
Tischtennis - 1 Stunde: € 3,00
---
Subsurface of bathing area
Gravelled
Sandy
Rocky
Muddy
Boggy
Infrastructure
Changing cubicles
WC facilities
Camping by the lake
Accessible by public transport
Car parks
Gastronomy (restaurants, cafés)
Type of lounge area
Meadow
Gravel
Concrete
Shady areas
Jetties
Sports offer
Water facilities (slide, diving board etc.)
Water skiing
Sailing/boats
Paddleboats
Surfing
Kiteboarding
Fishing
Diving
Canoes/kayak
Beach volleyball
Mini golf
Table tennis
Table football
Stand-up paddle
Children & families
Toilets with changing facility
Small/children's bathing area
Children's slides
(Sand) play areas
Rental service
Sun loungers
Parasols
Swimming aids
Boat hire
Cycle hire
---
Contact
Gemeindeamt Thiersee
Vorderthiersee 44, A-6335 Thiersee
Telephone

Fax

Homepage
Size
Sea level

617 m

Surface

0.26 km²

Depth

13 m
Season
01.05.2017 - 30.10.2017
Opening times
08:30 - 18:00 H
---
Find Accommodation Thierseetal
20 Hotels, Holiday apartments...
6 Offers and All-inclusive prices
Webcams