Das Central - Alpine . Luxury...
© Rudi Wyhlidal
© Rudi Wyhlidal
© Alexander Maria Lohmann
© Rudi Wyhlidal
© Rudi Wyhlidal
© Rudi Wyhlidal
© Rudi Wyhlidal
© Rudi Wyhlidal
© Rudi Wyhlidal
Welcome to the 5-star Hotel "Das Central - Alpine . Luxury . Life"
In the heart of the sun-blessed Ötztal, at the centre of an Eldorado of winter sports and summer activities, lies an oasis of pleasure – *****Das Central - Alpine . Luxury . Life. It is a top address for sports enthusiasts, for those in search of relaxation and for people who crave an open and informal atmosphere but who also appreciate luxury and culinary delights. As soon as they enter the hotel they will be enchanted by its unique flair and immediately feel totally at home.
GOURMET HIGHLIGHTS
The cuisine of the Central is renowned wll beyond the country's borders for its culinary masterpieces, created by 1-toque chef Michael Kofler. Every evening he and his brigade will tickle your taste buds! The palatial delights are refined by the Central's "liquid gold" Over 30.000 bottles are stored in the vaults of the wine cellar.
WATER WORLD VENEZIA
Enchanging murals, Moorish portals, Gothic windows, water wherever you look: Little Venice in the mountains! The three-storey water world with his pool complex, saunas, relaxing steam baths, a whirpool and much more give you such a wonderful feeling after a day in the clear mountain air.
BEAUTY & WELLNESS RESIDENCE
In our beauty- and wellness residence we take you on a trip into the world of relaxation, recreation ans sensual experience. Treatments from all over the world await you. Allow yourself to be spoilt from head to toe with special products and smoothing treatments.
SUMMER PARADISE ÖTZTAL
Leave the hectic pace behind you, clear your mind, perceive yourself and your surroundings again – "Das Central" and with it all of the Ötztal shows itself to be unbelievably charming and versatile in the summer in particular. Escape the muggy heat; come up to us in the wonderful mountains where you can still enjoy unspoilt natural surroundings, crystal-clear mountain air and the purest mountain spring water. It is the power of contrasts which make summer in the mountains in the Ötztal a very special experience. Alpine pastures dotted with flowers and rugged pre-historic rock, tranquil mountain lakes and thundering rivers promise adventure and action, yet also some peace and relaxation for all the family.
Paradisiacal natural surroundings open up in the Ötztal, with over 250 three-thousand metre summits, Europe's highest located Nordic Walking trail and dreamy mountain bike tours of various difficulty levels. More han 1,600 signposted kilometres of hiking routes invite you to discover the ostensible beauty of the mountains and their breath-taking panorama – whether during a leisurely and enjoyable hike, or on a challenging summit tour right up into the eternal ice.
SUMMER ACTIVITY HIGHLIGHTS
Hikes in a variety of difficulty levels with our hiking guide Karl
Guided Nordic Walking tour on Europe's highest Nordic Walking Trail in Obergurgl
Guided mountain bike tours
Free entry (daily) to the ultimate water area in AREA 47
Ötztal Premium Card – all the highlights in the Ötztal included from the first day on
Videos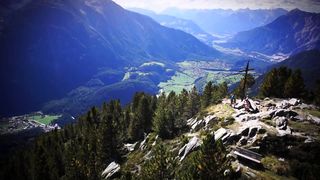 02:51
02:08
Prices
| Winter | Peak season | Early / low season |
| --- | --- | --- |
| Overnight stay | - | - |
| breakfast included | €215 to €340 | €160 to €280 |
| Half-board | €240 to €365 | €185 to €305 |
| All inclusive | - | - |
| Summer | Peak season | Early / low season |
| --- | --- | --- |
| Overnight stay | - | - |
| breakfast included | €190 to €235 | €145 to €220 |
| Half-board | €215 to €260 | €170 to €245 |
| All inclusive | - | - |
GOOD TO KNOW (winter & summer)
Prices are per person per day incl. half-board and excl. local tax
For stays with a bed/breakfast basis the prices are reduced by € 25.–
Garage parking costs € 15.– per day
Check-in: from 15.00, Check-out: until 11.00
Dogs are welcome and cost € 25.– per day (without food)
In the case of cancellation or short-notice withdrawal the terms of the Austrian Hotel Conditions apply