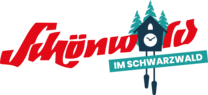 Schönwald im Schwarzwald
1.000 - 1.150m
Schoenwald in the Black Forest - health resort and winter sports center!
Around 750 years ago, Schoenwald was settled. The stunning beauty of its forests was certainly the inspiration for the naming. First, the site consisted of the mighty Black Forest squire estates, which, the famous stone's throw away from each other, dominated the upper valleys. Only later grew around the church, the village, as it is today: a well-kept resort, where everything turns around for over 100 years the guest.
You can experience it in the varied program of events, the traditional hospitality and the services and facilities for spa, sports, fun, games and entertainment. Nevertheless, there is no "hype", because the do not like the Black Forest. Schoenwald has retained its own character. Time is not standing still. Schoenwald has opened in recent years the younger generation. 1986, 1998, 2003, 2006, 2009 and 2013 the year-round resort has been honored as particularly family-friendly. Thanks to a healthy and vigorous mountain air, beautiful forests has been recognized as a health resort of the premium class. And this healing atmosphere in conjunction with the various health facilities are the ideal setting for a relaxing spa vacation at 1000m above sea level. A man should not go unmentioned in Schoenwald. The clockmaker Franz Ketterer has built 250 years ago in Schönwald the first cuckoo clock. That is one reason why the 300 km-long, German Clock Route by Schoenwald. Situated in beautiful countryside offers you your holiday region of art, culture and sports in abundance.
Rejoice on it '... to your holiday destination Schoenwald!
Quelle: www.dasferienland.de
---
Contact Schönwald im Schwarzwald
Hochschwarzwald Tourismus GmbH – Tourist-Information Schönwald-Furtwangen
Franz-Schubert-Str. 3, D-78141 Schönwald im Schwarzwald
Telephone

Fax

Homepage
Locations Hochschwarzwald
Mountain railways Summer operation
Webcams