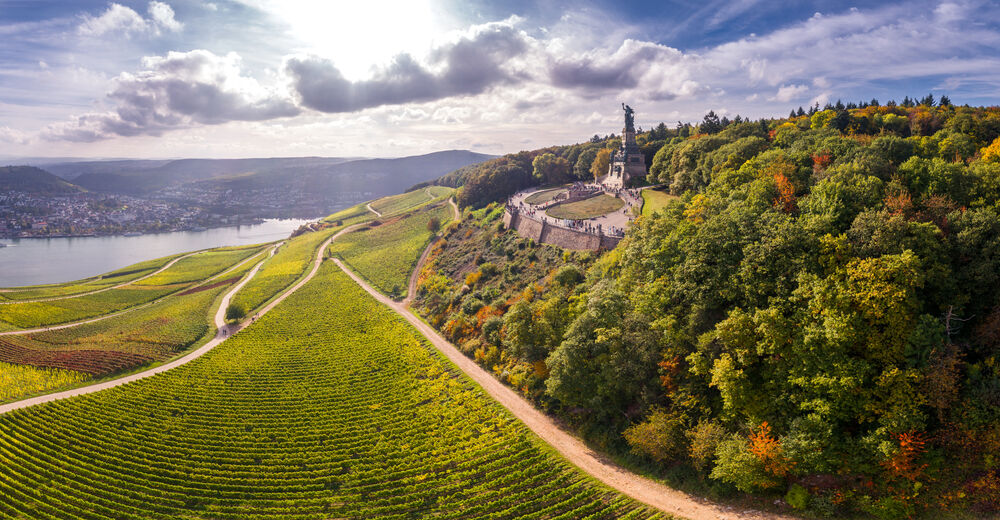 Experience Rüdesheim actively: Hiking, nordic walking, cycling tours*.
An Ideal starting point for excursions to the Upper Middle Rhine Valley World Heritage Site and the whole cultural region of the Rheingau, which includes castles, abbeys, monasteries, vineyards, forests and fields. A good transport system ensures connections by boat, train and bus. Enjoyment guaranteed!
A varied offer of sporting and leisure activities lure energetic and active people to Rüdesheim on the Rhine. The gate to the Unesco World Heritage Site of the Upper Middle Rhine Valley.
Enjoy hiking, walking or cycling and look out for attractive and challenging routes. Combine activities with the excellent transport system offering hop on & off by boat, train or bus.
The most beautiful part of the Rhine
From Rüdesheim and its districts, through vineyards, forests and fields, you can quickly reach the breath taking scenic and cultural sites of the Upper Middle Rhine Valley which the UNESCO Commission declared a World Heritage Site in 2002. On the 65 kilometre (approx. 40 mile) stretch of the river between Rüdesheim and Koblenz the Rhine unfolds its full splendour. Romantic writers such as Victor Hugo, Heinrich Heine and also Clemens von Brentano were inspired by the sights to write rapturous works. On this stretch the river flows along steep cliffs past the much-sung-about Loreley cliff. Its shallows and rocks became doom to many boatmen in earlier times. That´s how it came about the myth of the loreley.
Again and again the striking ruins of once stately castles draw the eye. Nowhere else in the world are there as many castles at one place as there are here.
---
Leisure tips Rüdesheim am Rhein
---
Contact Rüdesheim am Rhein

Rüdesheim Tourist AG
Rheinstraße 29a, D-65385 Rüdesheim am Rhein
Telephone

Fax

Homepage
E-Mail