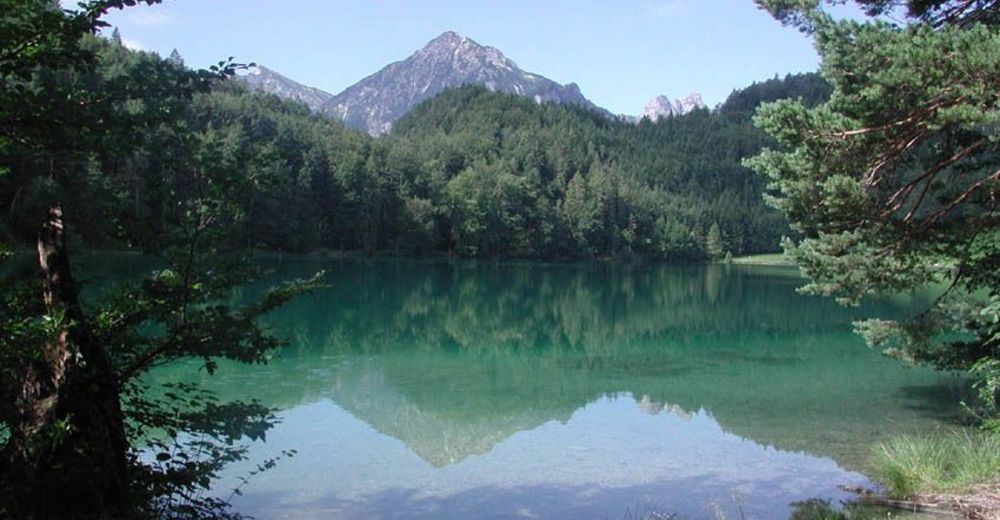 Alatsee
Der Alatsee liegt auf 868 m Höhe in der Nähe von Vils. Mit seinen beschaulichen Wanderwegen um das Gewässer ist der Alatsee ein ideales Wanderziel für jeden Naturfreund und alle Badegäste erwartet eine seeeigene Liegewiese.
Das nasse Juwel ist bis zu 35 m tief. In 15-18 m weist er eine leuchtend rot gefärbte Schicht von Purpur-Schwefelbakterien auf, die weltweit zu den ausgeprägtesten in Süßwasserseen zählt. Oberhalb dieser Schicht ist der Alatsee sauerstoffreich und von einer reichen Flora und Fauna besiedelt. Unterhalb der Schicht findet sich so gut wie kein Sauerstoff mehr im Wasser. Der für die Bakterien lebenswichtige Schwefelwasserstoff stammt nach neuesten Ergebnissen nicht aus den Gipsschichten des umgebenden Gesteins. Isotopenmessungen mit Tiefenwasser haben ergeben, dass das Wasser zu alt ist, um durch Eintrag von außen so hohe Schwefelkonzentrationen zu haben. Allerdings ist die Herkunft des Schwefels noch nicht geklärt. Tatsache ist, dass der Alatsee, im Gegensatz zu den meisten anderen Seen, im Winter keine Wasserzirkulation erfährt und so das schwefelhaltige Tiefenwasser seit Tausenden von Jahren am Boden "liegt".
Prices
---
Subsurface of bathing area
Sandy
Rocky
Infrastructure
Car parks
Gastronomy (restaurants, cafés)
Type of lounge area
Meadow
Shady areas
---
Contact
TVB Naturparkregion Reutte
Untermarkt 34, A-6600 Reutte
Telephone

Homepage
Size
Sea level

868 m

Surface

0.12 km²

Depth

35 m
Season
01.06.2019 - 30.09.2019
---
Lakes Naturparkregion Reutte
Find Accommodation Naturparkregion Reutte
36 Hotels, Holiday apartments...
115 Offers and All-inclusive prices
Webcams