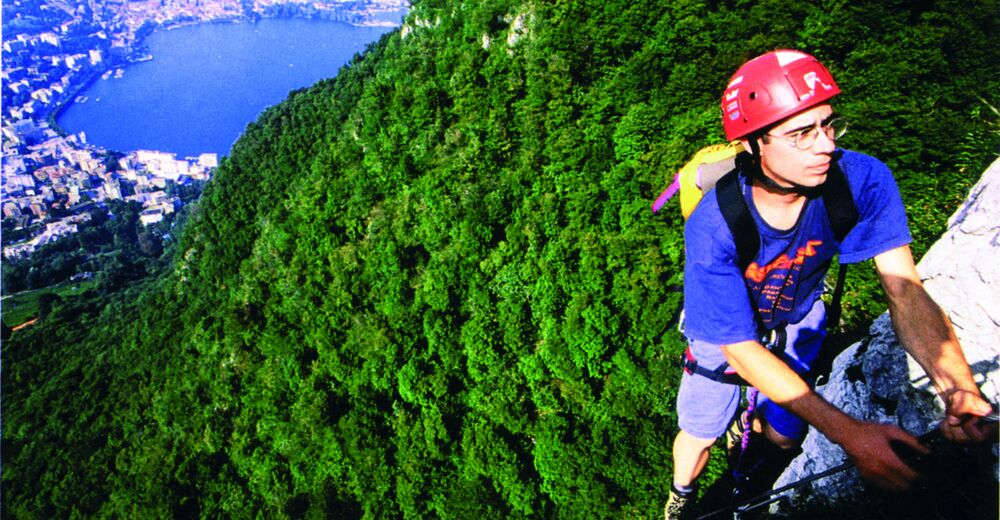 The via ferrata, or "iron way", is a fixed-aid climbing route, designed to allow non-rock climbers to tackle challenging rock faces using artificial aids which can include cables, ladders, iron rungs and pegs or stanchions.
The via ferrata lets you enjoy a high-adrenaline adventure sport. Unlike mountain paths, the via ferrata is an artificial climb route up what are often vertical rock faces. Safety is not a problem as long as climbers know the basic rules on how to use the aids to proceed and are properly equipped. A continuous wire cable runs along the route, making it safe from start to finish, and climbers must clip their lanyards to the cable. Accompanied by a mountain guide, anybody can climb the via ferrata, as long as they are in good physical shape and have no fear of heights.
There are different kinds of via ferrata:
"French type" ferrata with a strong presence of artificial material, handrails and steps almost everywhere to facilitate progress. The cable is fixed, with slack between the stanchions, and its presence is merely for safety;
"Dolomite type" ferrata with far less artificial material, where the cable is taut between stanchions and serves as a safety aid and as a handgrip while climbing.
Contact information
Further information:
www.montesansalvatore.ch
Find Accommodation
Monte San Salvatore
Webcams