Achensee/SEE-Bad Atoll Achensee
Naturbadesee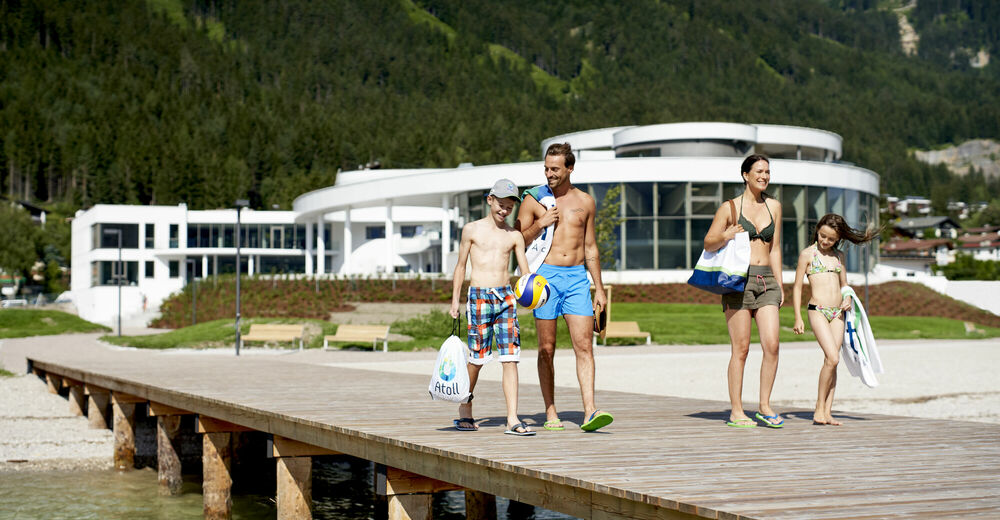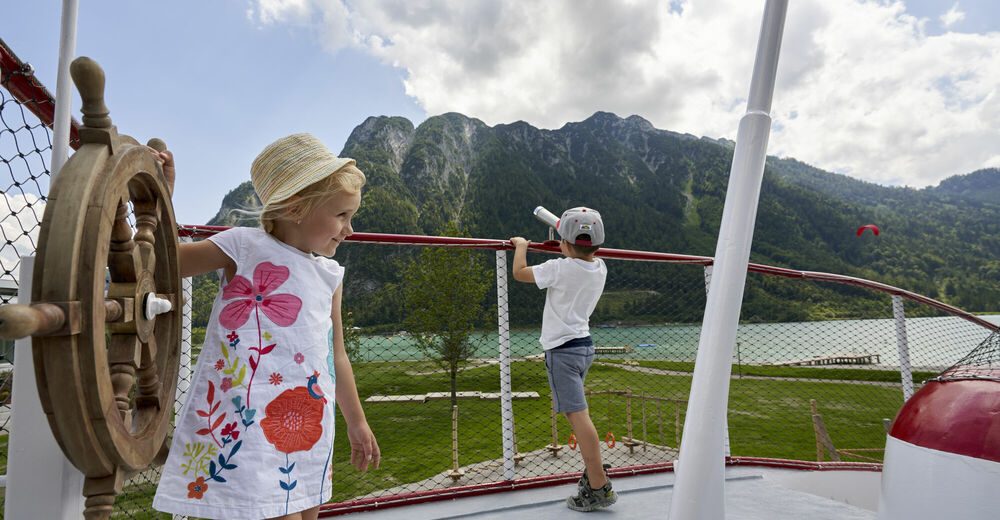 Current information
Yesterday, 09:21
15

°C

very good
Temperature
Water quality
Achensee/SEE-Bad Atoll Achensee
Atoll Achensee ist Erlebnis und Erholung pur – zu jeder Jahreszeit, bei jedem Wetter. Im Sommer kann man die Vorzüge unseres SEE-Bads genießen und direkt am Ufer des Achensees relaxen. Mit Blick auf das traumhafte Panorama! Liegedecks und Stege aus Holz stärken das Naturfeeling und sorgen dafür, dass sich der neugestaltete Außenbereich harmonisch in die wunderschöne Landschaft einfügt.
Atoll Achensee
Ein Infinity-Pool auf dem Dach, ein Penthouse-SPA zum Träumen, ein Lakeside-GYM mit Bergblick und ein Tummelplatz für Boulder-Enthusiasten:
Als Freizeit-Attraktion am größten See Tirols bietet das Atoll Achensee die perfekten Voraussetzungen für Schwimmen, Saunieren, Genießen, Relaxen und Sporteln auf 50.000 m2 – direkt am Ufer des Achensees!
FAMILY Eldorado
In unserem FAMILY Eldorado können sich die Kids so richtig austoben – und die Großen wünschten sich, sie wären klein. Das gesamte zum Areal gehörende Strandbad wurde neugestaltet. Hier will nun das 31 Meter lange Erlebnis-Schiff St. Benedikt, das knapp 60 Jahre lang über den Achensee cruiste, erobert und entdeckt werden! Rundherum ein Spiel- und Erlebnispark mit allen Schikanen. Drei neue lange Holzstege und viele Liegepodeste aus Holz laden zum Schwimmen und Chillen ein.
Freu dich auf ein vielfältiges Angebot und einen Ausblick, den man gesehen haben muss.
Parken
Besucher des Atoll Achensees erhalten verschiedene Vergünstigungen bzw. eine komplette Rückerstattung - abhängig von der Dauer des Aufenthaltes.
Gebührenpflicht: täglich zwischen 0 und 24 Uhr Die Parkgebühr ist am Parkscheinautomaten zu entrichten. Bei Besuch des Atoll Achensees wird die Parkgebühr zum Teil ersetzt. Dafür wird der untere Abschnitt des Parktickets an der Kassa benötigt.
Die Benutzung erfolgt auf eigene Gefahr. Das Atoll Achensee haftet für keinerlei Schäden. Camping ist am Parkplatz nicht erlaubt.
Adresse
Atoll Achensee
Achenseestraße 63
6212 Maurach am Achensee
Tel: +43 (0)5243 / 20320
info@atoll-achensee.com
Prices
Preise SEE-Bad (1. Juni bis 31. August 2021)
Tagesticket: EUR 6,50 Erwachsene / EUR 3,50 Kinder / EUR 5,50 Jugendliche / EUR 16,50 Familie / EUR 10,00 Familie Small
Abendticket ab 17:00 Uhr: EUR 3,50 / EUR 1,50 / EUR 2,50 / EUR 7,50 / EUR 4,50
Weitere Preise und Öffnungszeiten finden Sie hier!
---
Subsurface of bathing area
Details
keine Hunde erlaubt
Infrastructure
Accessible by public transport
Gastronomy (restaurants, cafés)
Children & families
Toilets with changing facility
---
Contact
Achensee Tourismus
Achenseestraße 63, A-6212 Maurach am Achensee
Telephone

Homepage
Size
Sea level

970 m

Surface

6.8 km²

Depth

133 m
Season
30.05.2021 - 30.09.2021
Opening times
09:00 - 19:00 H
---
Lakes
Maurach - Eben am Achensee
Achensee/SEE-Bad Atoll Achensee
Find Accommodation
Maurach - Eben am Achensee
83 Hotels, Holiday apartments...
464 Offers and All-inclusive prices
Sports provider
Maurach - Eben am Achensee
Webcams