Postschlössl
6631 Lermoos
© Das Foto darf ausschließlich für PR- und Marketingmaßnahmen des HOTEL POST und POSTSCHLOESSL - Kirchplatz 6 - 6631 Lermoos
© Das Foto darf ausschließlich für PR- und Marketingmaßnahmen des HOTEL POST und POSTSCHLOESSL - Kirchplatz 6 - 6631 Lermoos
www.guenterstandl.de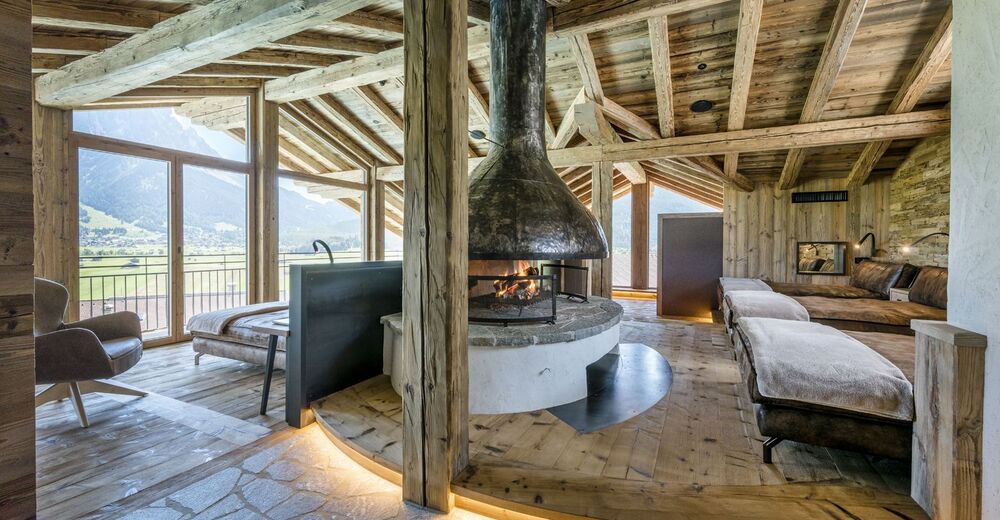 www.guenterstandl.de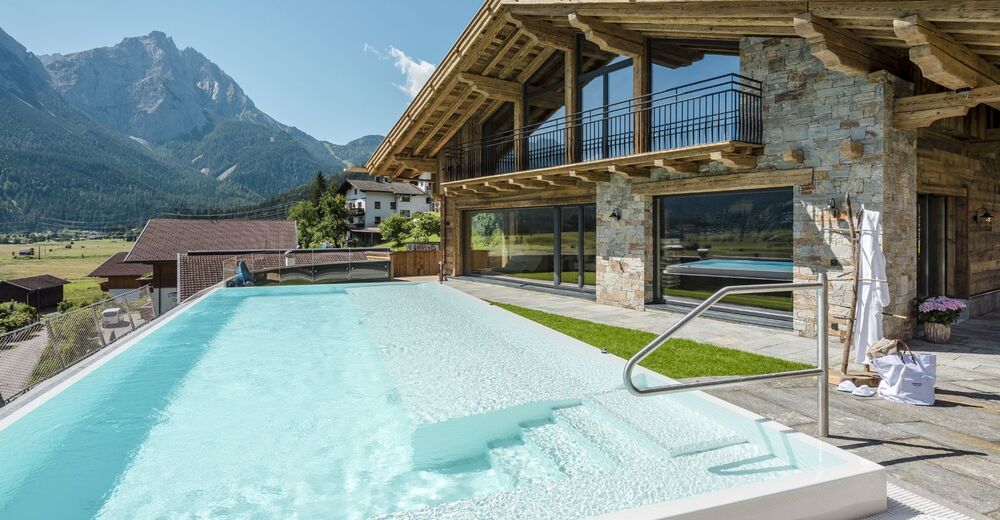 www.guenterstandl.de
www.guenterstandl.de
www.guenterstandl.de
www.guenterstandl.de
The unique faces of summer.
Alpine Luxury Gourmet & SPA Hotel Post****Superior*
In the Postschlössl, which is only 50 meters away from the 4-star superior Hotel Post, one seems to dive into another world - into the year 1560.
The princely ambience, historically carefully renovated, provides space for 16 individual junior suites with all the comforts of a 4-star superior hotel. A romantic, landmarked place that immerses you in the Tyrol steeped in history. Your personal retreat - to breathe deeply and relax. You can also immerse yourself wonderfully in the Post Alpin SPA, a world of well-being on 3,000 m², with various saunas, indoor and outdoor pools and a salt water pool - just a few steps away from your suite.
The Post breakfast buffet ensures exceptional enjoyment. As a guest at the Postschlössl, you will enjoy top regional as well as international culinary delights every morning at the Stammhaus.
In the Tyrolean Zugspitz Arena you will get closer to the sun: on varied hiking tours around the Zugspitze you will marvel at mighty peaks, fragrant alpine meadows, sparkling blue mountain lakes and quaint traditional huts. The tranquility of the mountains, the diversity of flora and fauna: they provide insights and views and give new strength. But not only passionate hikers, also cyclists, golfers and all those who want to experience the summer from its most beautiful side are right here. Let yourself be enchanted by the mountain summer around the Postschlössl!
We are looking forward to seeing you!
Your family Klaus & Gabi Dengg
and the entire Hotel Post****Superior & Postschlössl team
Translated with www.DeepL.com/Translator (free version)
Your Postschlössl inclusive services:
Gourmet breakfast buffet at Hotel Post (50 m away).
Post Alpin SPA with pool, saunas, steam baths and relaxation room at Hotel Post (50 m away)
Allgemeine Verfügbarkeit Postschlössl
information on request
not available
December 2021
KW
Mon
Tue
Wed
Thu
Fri
Sat
Sun
1
2
3
4
5
6
7
8
9
10
11
12
13
14
15
16
17
18
19
20
21
22
23
24
25
26
27
28
29
30
31
January 2022
KW
Mon
Tue
Wed
Thu
Fri
Sat
Sun
1
2
3
4
5
6
7
8
9
10
11
12
13
14
15
16
17
18
19
20
21
22
23
24
25
26
27
28
29
30
31
February 2022
KW
Mon
Tue
Wed
Thu
Fri
Sat
Sun
1
2
3
4
5
6
7
8
9
10
11
12
13
14
15
16
17
18
19
20
21
22
23
24
25
26
27
28
March 2022
KW
Mon
Tue
Wed
Thu
Fri
Sat
Sun
1
2
3
4
5
6
7
8
9
10
11
12
13
14
15
16
17
18
19
20
21
22
23
24
25
26
27
28
29
30
31
April 2022
KW
Mon
Tue
Wed
Thu
Fri
Sat
Sun
1
2
3
4
5
6
7
8
9
10
11
12
13
14
15
16
17
18
19
20
21
22
23
24
25
26
27
28
29
30
Prices
WINTER
18.12.2021 - 23.12.2021 24.12.2021 - 09.01.2022 10.01.2022 - 19.02.2022 20.02.2022 - 05.03.2022 06.03.2022 - 24.04.2022
Junior Suite Romantik R -Postschlössl (Junior Suite)
per person / per night
Local tax
per person / per night
Family Junior Suite F -Postschlössl (Junior Suite)
per person / per night
Local tax
per person / per night
Family Suite de Luxe FdL - Postschlössl (Suite)
per person / per night
Local tax
per person / per night
SOMMER
21.05.2022 - 09.07.2022 10.07.2022 - 21.08.2022 22.08.2022 - 06.11.2022
Junior Suite Romantik R -Postschlössl (Junior Suite)
per night
Local tax
per person / per night
Family Junior Suite F -Postschlössl (Junior Suite)
per night
Local tax
per person / per night
Family Suite de Luxe FdL - Postschlössl (Suite)
per night
Local tax
per person / per night
Preis auf Anfrage außerhalb der Saisonzeiten
Payment methods
Cash, EC-Karte, Mastercard, VISA, Amex
Explanatory notes:
Postschlössl:
(50 m from the hotel at the church square)
Prices per person and day with breakfast buffet and use of the Post Alpin Spa in the Hotel Post
WINTER 2021/ 2022
18.12. - 23.12.2021
09.01. - 19.02.2022
05.03. - 24.04.2022
JUNIOR SUITE ROMANTIK R
from 25 m² | for 1 to 4 persons - €135,-
FAMILY TIME JUNIOR SUITE F
from 41 m² | for 2 to 4 persons - €152,-
FAMILY TIME SUITE DE LUXE F
from 62 m² | for 4 to 6 persons - €172,-
23.12.2021 - 09.01.2022
19.02. - 05.03.2022
JUNIOR SUITE ROMANTIK R - €165,-
FAMILY TIME JUNIOR SUITE F - €182,-
FAMILY TIME SUITE DE LUXE F - €202,-
SUMMER - AUTUMN 2022
21.05. - 09.07.2022
21.08. - 06.11.2022
JUNIOR SUITE ROMANTIK R - €125,-
FAMILY TIME JUNIOR SUITE F - €135,-
FAMILY TIME SUITE DE LUXE F - €160,-
09.07. - 21.08.2022
JUNIOR SUITE ROMANTIK R - €135,-
FAMILY TIME JUNIOR SUITE F - €145,-
FAMILY TIME SUITE DE LUXE F - €170,-
CHILD PRICES
valid from 2 full-paying guests incl. breakfast, per child/night: WINTER from 18.12.2021: 0-5 years - €35,- | 6-14 years - €50,- | from 15 years minus 15% on the daily rate
INCLUSIVE SERVICES
16 suites in the Postschlössl****
All the Postschlössl suites have a mini-bar, safe, hair-dryer, satellite TV with 86 channels, telephone, WLAN, bathing bad with bath robe and hiking bag
Room/Apartments
Payment methods

Cash, EC-Karte, Mastercard, VISA, Amex