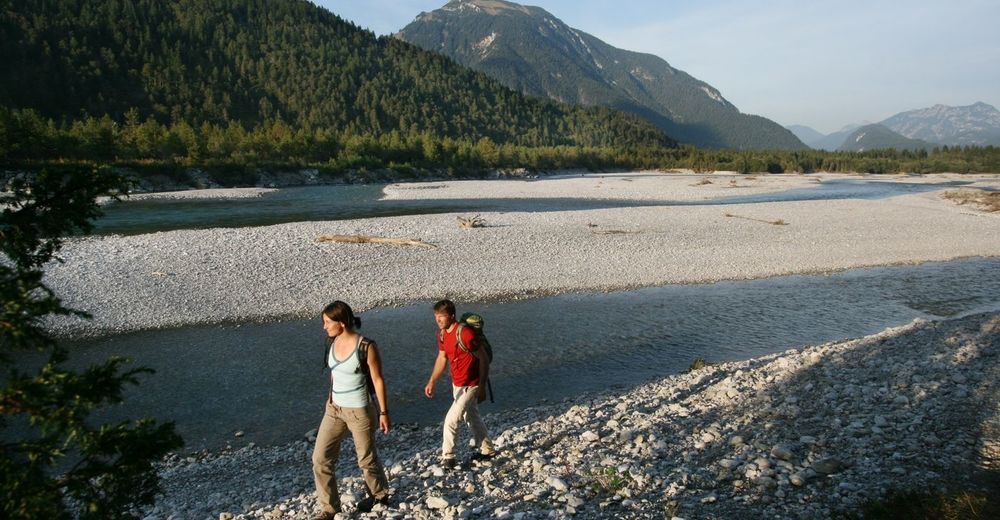 Lechweg - from the source to the fall
A way to yourself!
The Lechweg offers a unique natural experience, landscaped people and truly legendary stories. The hiker accompanies the Lech on some 125 kilometers. From its source near the Formarin Lake in the Austrian province of Vorarlberg to the Lechfall in Füssen in the Allgäu.
The Lechweg leads past one of the largest Capricorn colonies in Europe. From a waterfall that, like magician's hand, dries every year and re-emerges again, it goes over the longest pedestrian bridge in Austria to the Bavarian royal castles.
The route connects three regions and two countries with their traditions and stories. From the Arlberg region over the Tyrolean nature park region Lechtal-Reutte to the southern Allgäu. All three regions have shaped Lech over the centuries. From the Romans and their alpine crossings, over the Swabian children to the raftsmen. Lech played an important role in every story.
The magically turquoise river characterizes the flora and fauna. Many breeding bird species and wild orchids form one of the most species-rich habitats in Central Europe. In order to preserve one of the last wild river landscapes in Europe, the Tyrolean Lech Nature Park was established.
The Lechweg - certified long-distance trail *
The European Hiking Association has subjected the transnational Lechweg to a strict quality inspection. It certified the long-distance trail as the first Leading Quality Trail. The Lechweg is thus a model for long-distance walks throughout Europe
Contact information
Further information:
www.lechweg.com
Enquiries to:
info@lechtal.at
Find Accommodation
Lechtal
29 Hotels, Holiday apartments...
18 Offers and All-inclusive prices
Webcams