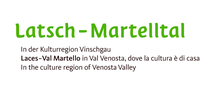 Latsch - Martelltal
639 - 3.790m
Laces-Val Martello Valley
Welcome to our home
where landscapes mold men and humans characterize the habitat. Where the gentle merging of natural and cultural landscape creates space for recreation. Where di unique climatic contitionsproduce incomparable natural and quality products.
Just experience the market town of Laces (639m) and Val Martello (950-3790m) and the places Coldranon (650m), Morter (729m), Tarres (800 m) and San Martino in Monte (1740m).
Laces lies in the heart of theVal Venosta Valley, the apple orchard of South Tyrol, near the cultural and spa town of Merano (25 km). Numerous castles, palaces, churches and frescoes telling of great history: from Romans and knights, of painters of the Lombard school and artists from passion.
When you have seen groundhogs, deer, bearded vultures, protected alpine flowers and waterfalls last? Under expert guidance, you can experience this natural beauty in the Val Martello Valley, surrounded by the national park allo Stelvio.
The step to happiness, some go with pleasure - the lapping of the irrigation channels after, on high alpine trails to the Vermoi Peak, to the Hasenohr Glacier, to the Cevedale or on the innumerable marked trails in the valley or in the high mountains of the national park allo Stelvio. Some like it comfortable an so the camlecar or the chairlift bring them to the hiking paradise at the Monte Sole and the Montetramontanamountains - and others try their luck without walking shoes. And find it in sports facilities of international standing. Also biking along breathtaking trails with beautiful views or the comfortable cycling along the cycle path through the apple orchard are other activities you will find. Even action-packed sports such as rafting on the Etsch river or paragliding can be found in the holiday region Laces-Val Martello.
Through warm hospitality of our people and the family atmosphere at our facilities you feel home at the holiday paradise Laces-Val Martello Valley.
We look forward to welcoming you!
---
---
Leisure tips Latsch - Martelltal
---
Contact Latsch - Martelltal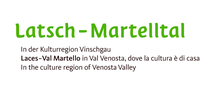 Tourismusverein Latsch-Martelltal
Hauptstraße 38 A, I-39021 Latsch
Telephone

Homepage
E-Mail
Locations Latsch - Martelltal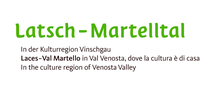 Find Accommodation Latsch - Martelltal
23 Hotels, Holiday apartments...
21 Offers and All-inclusive prices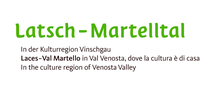 Sports provider Latsch - Martelltal
Offers and All-inclusive prices Latsch - Martelltal
Webcams