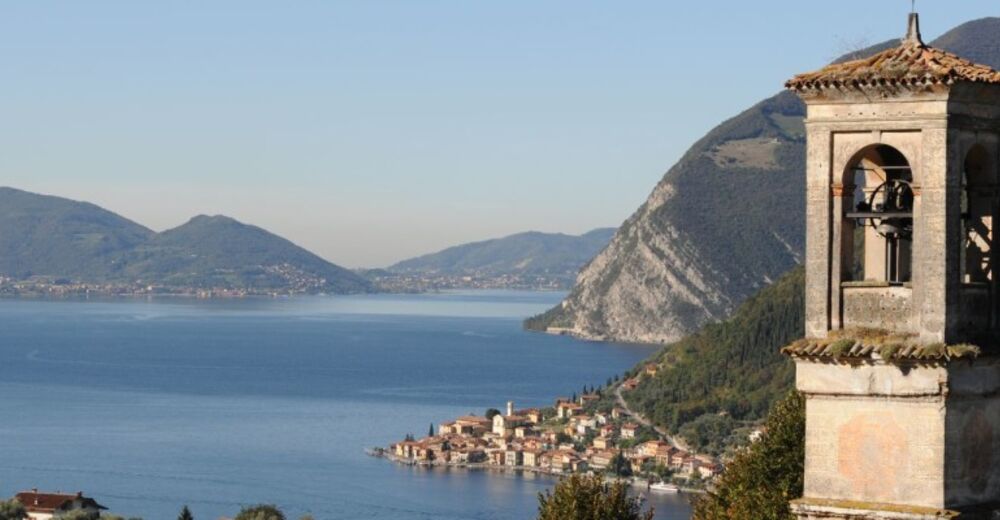 For time immemorial Lake Iseo has attracted writers and artists, thinkers and curious tourists, who come from all over the world: a charming and romantic basin, surrounded by olive and chestnut trees, set like a jewel between the mountains and embraced by hills that descend gently towards Franciacorta, a land of extraordinary wines.
A holiday on Sebino (ancient name of the lake) is dedicated to the absolute variety, guaranteed by a unique and heterogeneous morphology: the west coast offers picturesque wild views, sheer faces on the lake, creeks and small coves; the east coast is sweeter, with hills rising up to thousand meters, that offer exciting views of beauty.
Small and large centers maintain buildings and works of art of extraordinary importance. Villas and castles, symbols of a timeless historical memory, overlook directly on the lake.
On Monte Isola (the largest lake island in Europa, that rises in the heart of the lake, dominating it), a bucolic scenery offers the possibility of stunning walks, with a fantastic total panoramic and a perfect glance on the two little islands of San Paolo and Loreto, that not so far away, seem to accompany their older sister.
It is not to lose the opportunity to take a walk in the nature reserve of Torbiere or through the network of trails that surrounds the entire Sebino basin: the ideal occasion to come into direct contact with an extraordinary territory.
In the many restaurants, that overlook the lake shores or situated in the hills, it is possible to taste typical dishes based on either fresh fish or mountain products and to try renowned wines of Franciacorta tradition, famous for their tones and original and unique perfumes.
During the summer the activities and water sports that can be practiced are obviously many and they have a great appeal. While in winter, the ski slopes of Vallecamonica, that are just only thirty kilometers far away from the lake, represent the fixed destination of many fans. Throughout the year there is a quite varied proposal of cultural events, music, festivals and folkloristic markets, that in every occasion present food and products of the territory, local handcrafted goods, customs and traditions typical of the lake.
And all this is situated half an hour from the international airport of Orio al Serio, one hour from Milan and less than two hours from Venice. Just to not mention other world-famous cities of art and cultures like Verona, Mantua, Cremona, Brescia and Parma, which are far no more than an hour's drive.
Source: www.iseolake.info/en/lake-iseo/
---
Leisure tips Iseosee und Franciacorte
---
Contact Iseosee und Franciacorte
IAT Lago di Iseo
Lungolago Marconi 2 c/d, I-25049 Iseo
Telephone

Homepage
Locations Iseosee und Franciacorte
Lakes Iseosee und Franciacorte
Webcams