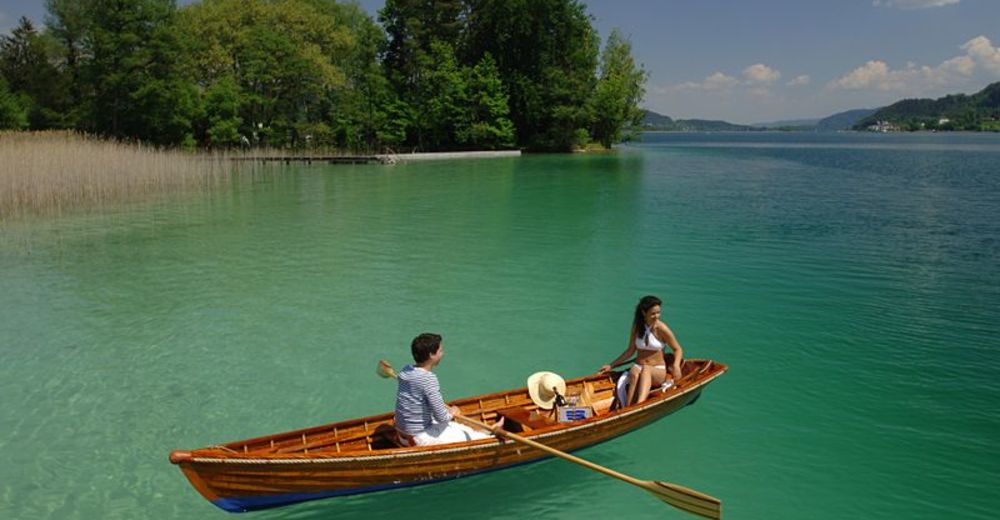 © woerthersee.com
© woerthersee.com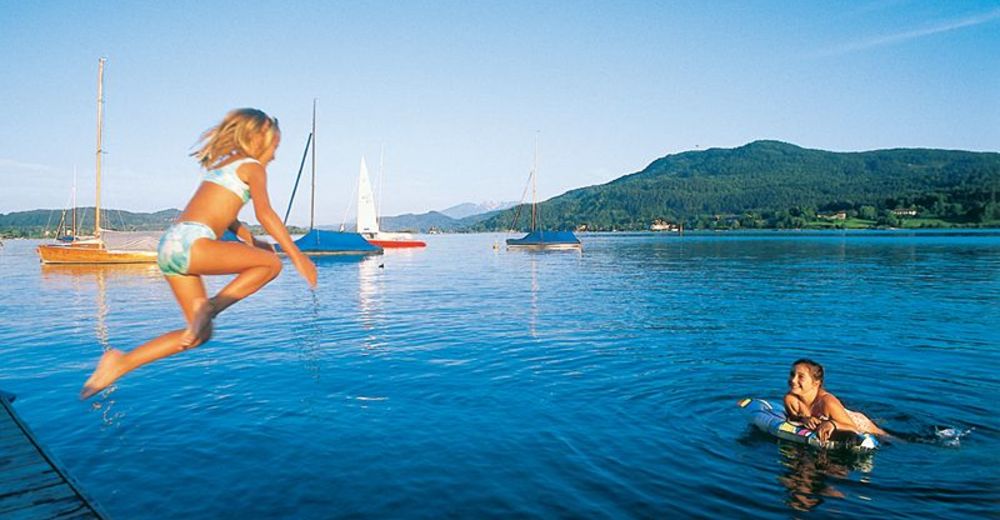 © woerthersee.com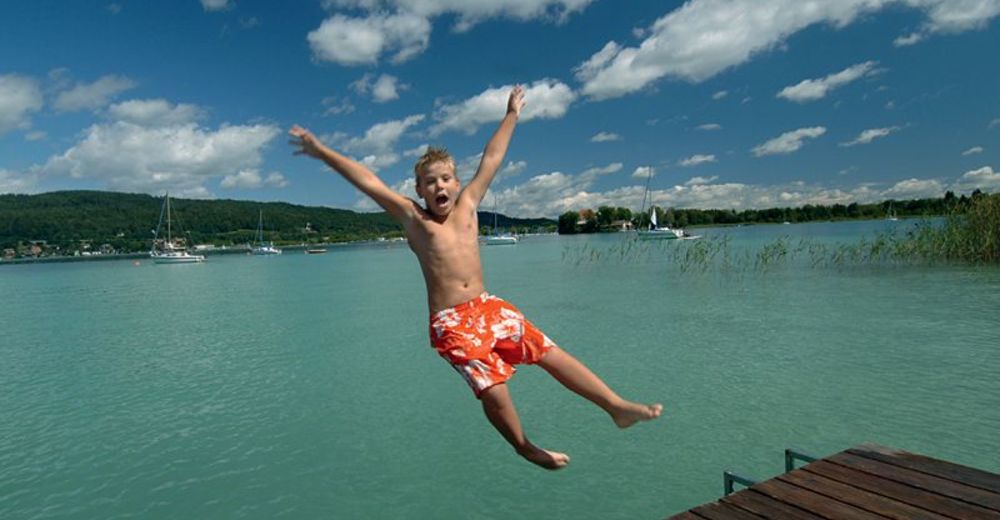 © woerthersee.com
© woerthersee.com
© woerthersee.com
© woerthersee.com
Current information
| | | |
| --- | --- | --- |
| Yesterday, 07:51 | 19 °C | very good |
| | Temperature | Water quality |
Wörthersee
Der beliebsteste See Österreichs
Baden, Schwimmen, Tauchen, Wasserski, Parasailing, Wakeboarden, eine Runde mit dem Bananaboot und vieles mehr - still ruht der See im Sommer nur selten. Viele Betriebe bieten Ihnen als Gast den besonderen Service der Wörthersee Plus Card inklusive dem Strandbäder Paket. D.h. Sie können in diesen Unterkünften täglich 1 kostenlosen Strandbad Eintritt nutzen. Es stehen Ihnen insgesamt folgende 10 Strandbäder rund um den Wörthersee, Keutschacher See bzw. am Längsee zur Verfügung.
Alle Infos zur Wörthersee Plus Card finden Sie unter www.woerthersee.com/card.
Freien Eintritt mit der Wörthersee Plus Card gibt's im:
Strandbad Dellach - Tel 04273 2988
Parkbad Krumpendorf - Tel 04229 2440 oder 2343
Promenadenbad Pörtschach - Tel 04272 2435
Strandbad Reifnitz - Tel 04273 205019
Strandbad Schiefling - Tel 04274 2957
Strandbad der Gemeinde Velden - Tel 04274 34150
Strandbad Wrann, Velden - Tel 04274 2770
Strandbad Keutschacher See, Keutschach - Tel 0664 1229000
Strandbad Rauschelesee, Keutschach - Tel 04273 2365
Strandbad Längsee, St. Georgen - Tel 04213 2237
Weitere Bademöglichkeiten rund um den Wörthersee:
Strandbad Sekirn - Tel 04273 2050
Strandbad Augsdorf, Velden - Tel 04274 4407
Strandbad Leopold, Velden - Tel 04274 2632
Strandclub Velden - Tel 04274 51101
Strandbad Saag, Techelsberg - Tel 0664 4012730
2 Freibäder in Töschling - Tel 04272 2248 oder 6211
Freibad Edelweiss, Hauptstraße 115, Pörtschach
Freibad Pritschitz, Angererweg, Pörtschach
Freibad Sallach, Seeuferstraße, Pörtschach
Bad Stich, Krumpendorf - Tel 04229 2423
Strandbad Klagenfurt - Tel 0664 805216331
Strandbad Maria Loretto, Klagenfurt- Tel 0664 805216350
Strandbad Maiernigg, Klagenfurt - Tel 0664 3227959
---
Subsurface of bathing area
Gravelled
Sandy
Rocky
Muddy
Boggy
Details
Pool attendant
Non-swimmer's area
keine Hunde erlaubt
Nudist area
Infrastructure
Changing cubicles
WC facilities
Camping by the lake
Accessible by public transport
Car parks
Gastronomy (restaurants, cafés)
Type of lounge area
Meadow
Gravel
Concrete
Shady areas
Jetties
Sports offer
Water facilities (slide, diving board etc.)
Water skiing
Sailing/boats
Paddleboats
Surfing
Kiteboarding
Fishing
Diving
Canoes/kayak
Beach volleyball
Mini golf
Table tennis
Table football
Stand-up paddle
Children & families
Toilets with changing facility
Small/children's bathing area
Children's slides
(Sand) play areas
Rental service
Sun loungers
Parasols
Swimming aids
Boat hire
Cycle hire
Specials
Swimming courses
Diving courses
---
Contact
Wörthersee Tourismus GmbH
Villacher Straße 19, A-9220 Velden
Telephone

Fax

Homepage
Size
Sea level

439 m

Surface

19.39 km²

Depth

85.2 m
---
Lakes Klagenfurt am Wörthersee
Find Accommodation Klagenfurt am Wörthersee
13 Hotels, Holiday apartments...
24 Offers and All-inclusive prices
Webcams