Seerosenbad Kirchberg
Naturbadesee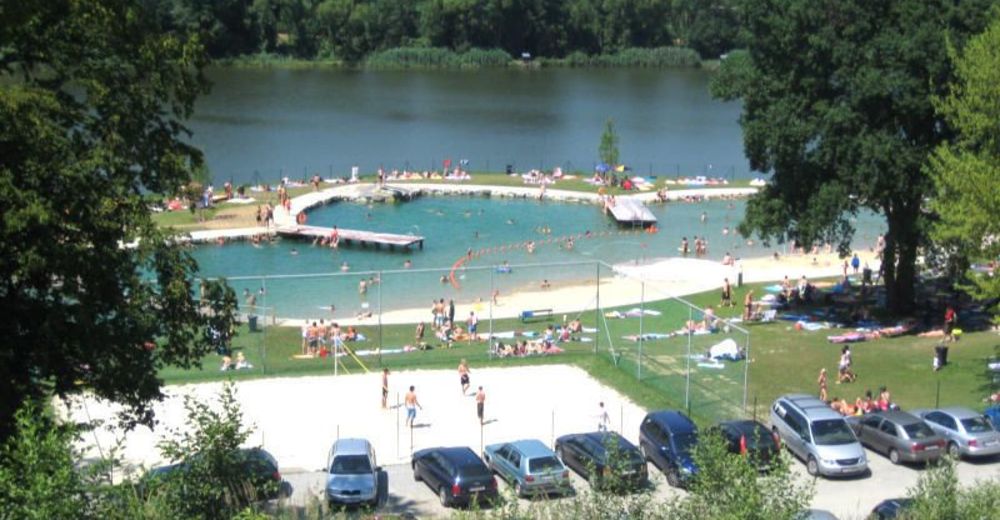 © http://www.kirchberg-raab.eu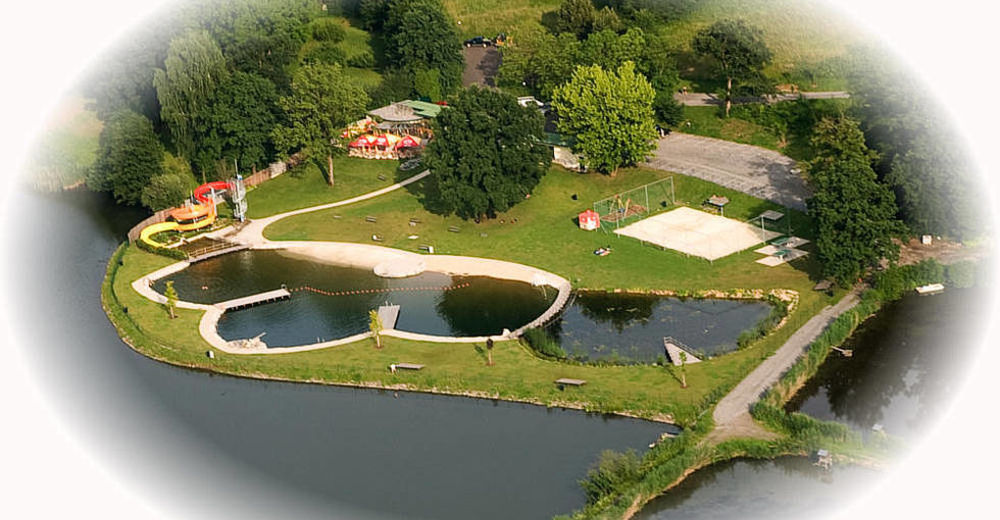 © http://www.kirchberg-raab.eu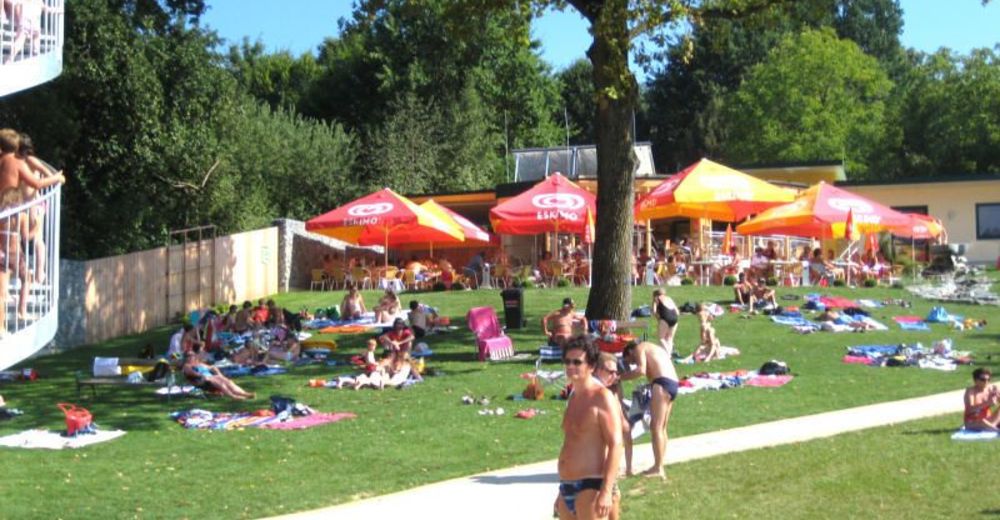 © http://www.kirchberg-raab.eu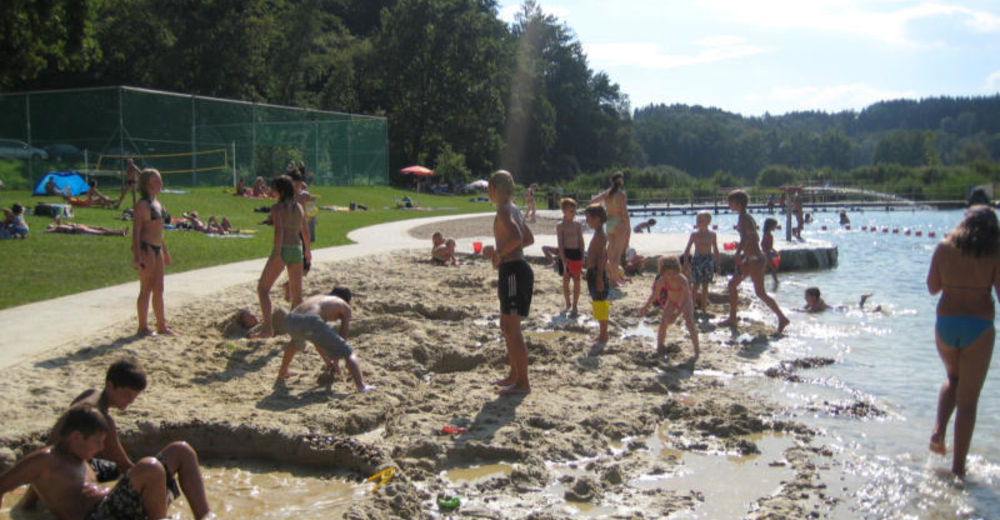 © http://www.kirchberg-raab.eu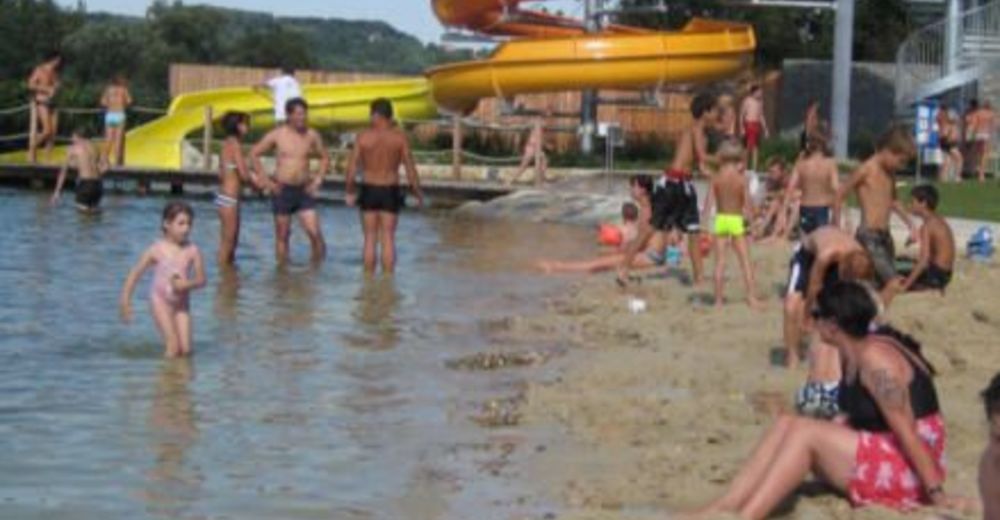 © http://www.kirchberg-raab.eu
Seerosenbad Kirchberg
Im bestehenden Fischteich wurde ein Naturbadesee mit einer Gesamtwasserfläche
von 3.100 m² errichtet. Ein Drittel der Wasserfläche wurde als bepflanzter Grüngürtel
ausgebildet und dient der biologischen Regeneration des Badewassers. Die neue
Anlage wird völlig chemiefrei geführt und der Charakteristik der wunderschönen
umgebenden Aulandschaft angepasst.
Die Form der Anlage soll symbolisierend eine "Seerose" darstellen, die Inspirierung dafür gab der angrenzende Seerosenteich und die Präsenz der Seerose in der Ortsbeschilderung.
Den Badegast erwarten zahlreiche Highlights, für jede Altersgruppe werden
entsprechende Attraktionen wie Sandstrand, Kiesstrand, Spielinsel mit Fontäne,
Quellen, Sprunginsel, hinterlüftete Sitzbank im Nichtschwimmerbereich und eine
Speedrutsche mit Sofaauslauf geboten.
Die Nutzungsbereiche werden bewußt durch Steganlagen unterteilt um einen
organisierten Badeverlauf der einzelnen Altersgruppen zu gewährleisten.
Die Wassertiefen bewegen sich im Nichtschwimmerbereich zwischen 0 - 1,10 m,
den Schwimmern stehen Tiefen bis 3,40 m zur Verfügung.
Eine beleuchtete Promenade führt uns rund um den Badesee, die gewonnene
Liegewiese am Damm zwischen Fischteich und Badesee bietet einen zusätzlichen
attraktiven Liegebereich.
Zur Winternutzung des Badesees werden die Stege teilweise ausgeklappt, somit
stehen entsprechende Bahnlängen und -breiten für den Eisstocksport zur Verfügung.
Quelle: www.kirchberg-raab.eu
Prices
Eintritt/Preis:
Tageskarte: € 4,00 - 8,00
Ermäßigungen bzw. vergünstige Eintrittskarten erhalten:
Schulklassen, Senioren mit gültigem Seniorenausweis, Schüler, Jugendliche
10% Ermäßigung bei Vorlage des Steirischen Familienpasses für die gesamte Familie auf Tages- und Saisonkarten (Nachlass ab 1 Elternteil mit Kind)
50% Ermäßigung auf alle Eintritte für Personen mit Behindertenausweiz.
Nur Barzahlung möglich!
---
Subsurface of bathing area
Gravelled
Sandy
Details
Pool attendant
Non-swimmer's area
keine Hunde erlaubt
Infrastructure
Changing cubicles
WC facilities
Car parks
Gastronomy (restaurants, cafés)
Type of lounge area
Meadow
Shady areas
Sports offer
Water facilities (slide, diving board etc.)
Beach volleyball
Table tennis
Children & families
Toilets with changing facility
Small/children's bathing area
Children's slides
(Sand) play areas
---
Contact
Seerosenbad Kirchberg
A-8324 Kirchberg an der Raab
Telephone

Homepage
Size
Sea level

306 m

Surface

1.96 km²

Depth

4 m
Opening times
09:00 - 19:00 H
Kantinenbetrieb bis 21.00 Uhr. Waldbadesee - Seerosenbad 8324 Kirchberg an der Raab 195 Tel.: +43 (0)3115 2635
---
Find Accommodation Kirchberg an der Raab
1 Hotels, Holiday apartments...
12 Offers and All-inclusive prices
Sports provider Kirchberg an der Raab