Rauschelesee
Naturbadesee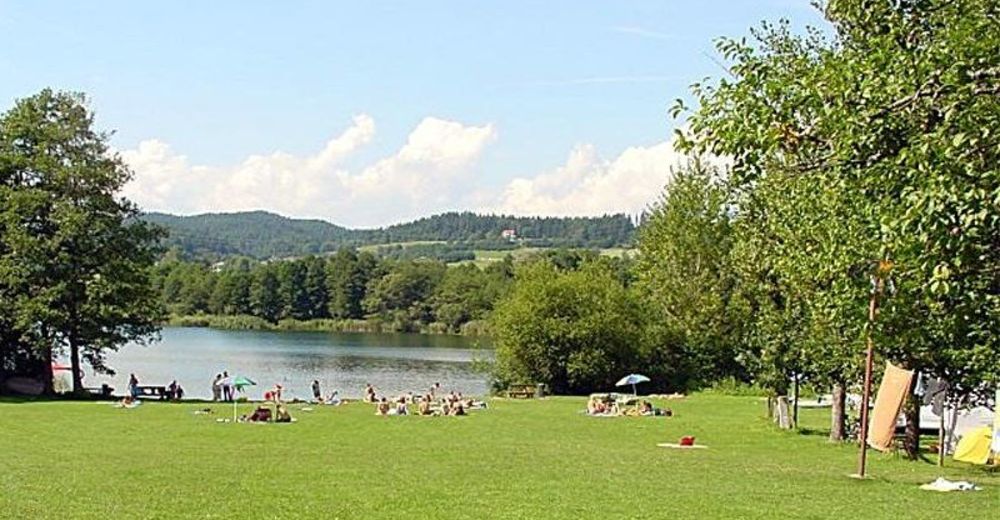 Current information
Fri, 07.08., 08:08
24

°C

very good
Temperature
Water quality
Rauschelesee
Idyllisch liegt der Rauschelesee im Landschaftsschutzgebiet Keutschacher Seental, das sich südlich des Wörthersees in West-Ostrichtung erstreckt. Der Rauschelesee bietet ein kleines Badeparadies. Angenehm warme Badetemperaturen und die gute Wasserqualität laden zum Verweilen ein.
Unberührte Natur. Im Süden reicht der unberührte bewaldete Hang des Sattnitzrückens bis an das Ufer. Der Schilf- und Makrophytengürtel des Sees ist größtenteils erhalten. An das Ost- und Westufer schließen Feuchtgebiete an, am Nordufer liegen landwirtschaftliche Nutzflächen und der Badebereich. Ein großer Campingplatz befindet sich am nordöstlichen Ufer des Sees.
Ausgezeichnete Badewasserqualität. In limnologischer Hinsicht ist der Rauschelesee dem mit Nährstoffen wenig belasteten, schwach mesotrophen Seentyp zuzuordnen. Seine ausgezeichnete Badewasserqualität bietet ein unbeschwertes Badevergnügen. Er zählt zu den warmen Seen Kärntens, das Epilimnion erreicht Sommertemperaturen über 26° C. In den Sommermonaten ist der Wasserkörper geschichtet, sodass das Wasser nach wenigen Metern in die Tiefe spürbar kälter wird. Im Winter bildet der See regelmäßig eine Eisdecke aus, die vom Eislaufverein Wörthersee betreut wird.
Strandbad Rauschelesee - Tel 04273 2365
Strandbad Reichmann (Rauschelesee) - Tel 0664 1430437
---
Subsurface of bathing area
Gravelled
Sandy
Rocky
Muddy
Boggy
Details
Pool attendant
Non-swimmer's area
keine Hunde erlaubt
Nudist area
Infrastructure
Changing cubicles
WC facilities
Camping by the lake
Accessible by public transport
Car parks
Gastronomy (restaurants, cafés)
Type of lounge area
Meadow
Gravel
Concrete
Shady areas
Jetties
Children & families
Toilets with changing facility
Small/children's bathing area
Children's slides
(Sand) play areas
---
Contact
Keutschach Information
Keutschach 1, A-9074 Keutschach
Telephone

Fax

Homepage
Size
Sea level

510 m

Surface

0.2 km²

Depth

12 m
---
Find Accommodation
Keutschach am See
6 Hotels, Holiday apartments...