Visit the famous palace church
The Schlosskirche (palace church) with it´s two 55m-high domed towers made from Rorschach sandstone is the landmark of Friedrichshafen. It was built by Christian Thumb from 1695 to 1701 and numbers among the famous Upper Swabian baroque buildings. Since 1812 it serves the Protestant community as a church. In 1944, it was partly destroyed by air raids, was then reconstructed from 1947 to 1951 and thereafter returned to the Protestant community.
OPENING HOURS
4 April to 1 November 2021, daily from 9am - 6pm
expept Thursday 11am-6pm / Closed for visitors during wedding ceremonies and services.
FURTHER INFORMATION
Phone: +49 7541 21308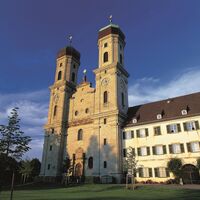 Contact information
Further information:
https://www.schlosskirche-fn.de/
Find Accommodation
Friedrichshafen
Webcams