Flattach
696 - 3.122m
Flattach – The village is situated at the foot of the Mölltaler Gletscher
The holiday resort of Flattach is situated at the foot of the Mölltaler Gletscher, Carinthia's only year-round skiing area. At over 3.000 m above sea level, you will not only enjoy excellent slope conditions on more than 300 days a year, but also the view and panorama inspire you. For those who prefer hiking boots in summer, a wide range of hiking routes and walking options are wating for you in the close range of the glacier. Experiences with a WOW effect are guaranteed!
The wild and romantic Raggaschlucht is a special attraction and offers refreshing moments. Surrounded by the roar of the water, you walk through this natural monument on fascinating laid wooden bridges. Wet cooling is also guaranteed on a rafting tour or a kayak trip in the Mölltal white water arena down the Möll river.
Enjoy fantastic holidays in winter and summer - amidst impressive natural landscapes on the Southern Side of Austria.
---
---
Leisure tips Flattach
---
Contact Flattach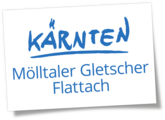 Tourismusverband Mölltal
Flattach 99, A-9831 Flattach
Telephone

Homepage
E-Mail
Inquiry and Brochure order Accommodations
Locations Hohe Tauern - die Nationalpark-Region / Outdoorpark Oberdrautal
Mountain railways Summer operation
Find Accommodation Flattach
38 Hotels, Holiday apartments...
22 Offers and All-inclusive prices
Sports provider Flattach
Offers and All-inclusive prices Flattach
Webcams