Bregenz
Naturbadesee

Strandbad Bregenz
Strandbad Bregenz
Naturbadesee
© www.stadtwerke-bregenz.at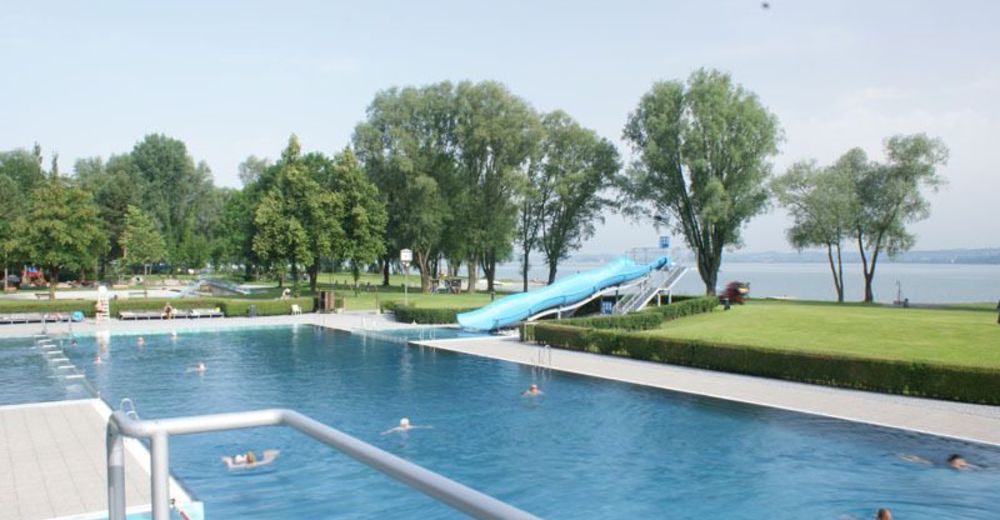 © www.stadtwerke-bregenz.at
© www.stadtwerke-bregenz.at
© www.stadtwerke-bregenz.at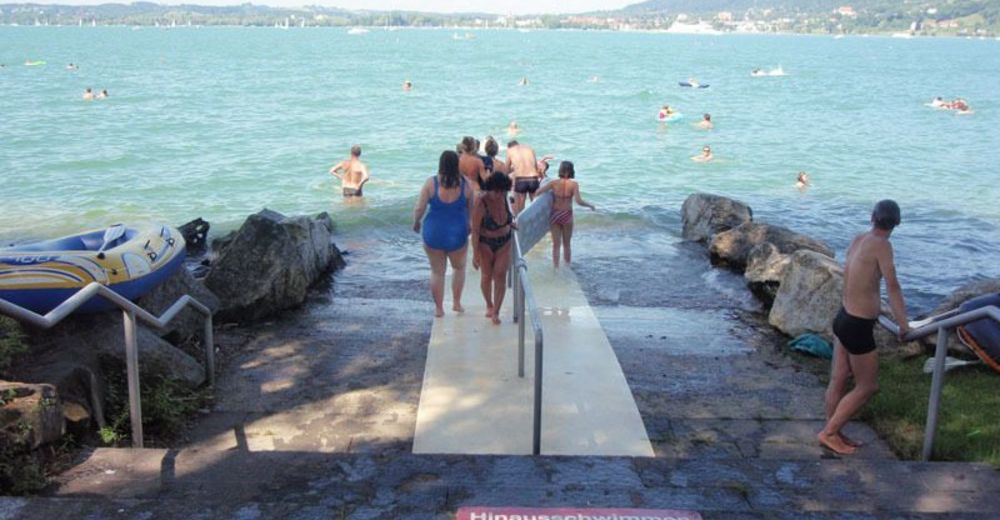 © www.stadtwerke-bregenz.at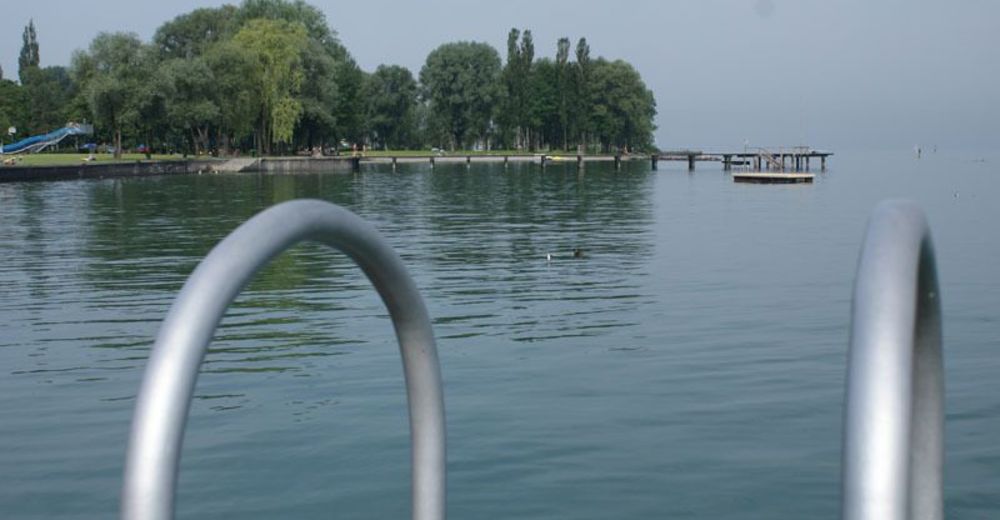 © www.stadtwerke-bregenz.at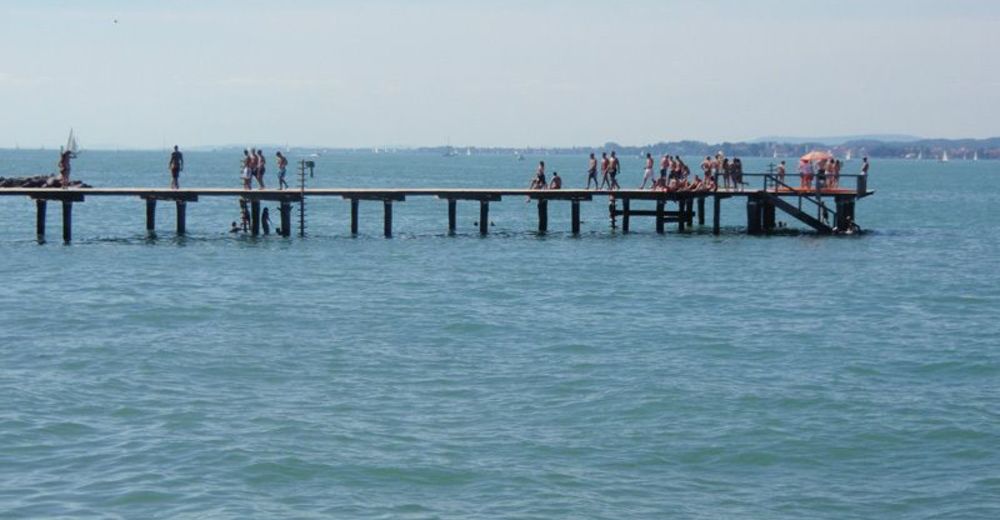 © www.stadtwerke-bregenz.at
© www.stadtwerke-bregenz.at
© www.stadtwerke-bregenz.at
Strandbad Bregenz
Ruhe und Erholung im Strandbad Bregenz
So richtig entspannen, abschalten von Trubel und Hektik! Im Strandbad Bregenz kein Problem. Das Strandbad Bregenz bietet mit über 400 m Bodenseeufer und verschiedensten Seezugängen und vorallem ausreichend Platz die optimalen Rahmenbedingungen.
Speziell die Ruhe- und Erholungsbereiche mit striktem Spiel- und Lärmverbot garantieren Entspannung. So steht im westlichen Bereich des Bades die Ruhewiese mit rund 7.200 m² Fläche zur Verfügung. Von der Ruhewiese gibt es diverse Seezugangshilfen, die einen bequemen Einstieg in den See ermöglichen. Zudem gibt es ein reichhaltiges Sportangebot, wie auch für das kulinarische Wohl ist gesorgt.
Das 50m-Mehrzweckbecken hat eine Tiefe von 1,80m und ist mit einer komfortablen Einstiegsstiege ausgestattet.
Das großzügige 50m Sportbecken lässt auch Platz für Entspannungsschwimmer. 9 Bahnen stehen zur Verfügung; Randspringen ist dabei verboten. So sollte für jeden Schwimmer ausreichend Platz sein, seinen bevorzugten Schwimmstil auszuüben. Im Bereich hinter dem Sportbecken bis zum Kinderbereich erstreckt sich die Familienwiese mit einer Fläche von rund 4.500 m². Weiters sind rund um die Becken und Laufwege Liegewiesen vorhanden. In all diesen Bereichen ist Ballspielverbot.
Die Bucht West ist eine Kiesbucht mit seichtem Seezugang. Von dort erreicht man in wenigen Schwimmzügen ein Floß. Weiters ist hier auch der Tretbootverleih untergebracht. Die östliche Bucht besteht aus Sand und Kies. Der einladende Zugang ist beliebt bei Floßschwimmern. Im Gebäudekomplex ist im Erdgeschoss ein SB-Restaurant untergebracht. Dort werden leckere Köstlichkeiten angeboten. Genießen können Sie Speis und Trank im großzügig angelegten Garten.
---
Details
Pool attendant
Non-swimmer's area
keine Hunde erlaubt
Infrastructure
Changing cubicles
WC facilities
Accessible by public transport
Gastronomy (restaurants, cafés)
Type of lounge area
Meadow
Concrete
Shady areas
Jetties
Sports offer
Water facilities (slide, diving board etc.)
Paddleboats
Canoes/kayak
Beach volleyball
Table tennis
Table football
Stand-up paddle
Children & families
Toilets with changing facility
Small/children's bathing area
Children's slides
(Sand) play areas
Rental service
Sun loungers
Parasols
---
Contact
Strandbad Bregenz
Strandweg 1, A-6900 Bregenz
Telephone

Fax

Homepage
Size
Sea level

395 m

Surface

571.5 km²

Depth

254 m
Opening times
09:00 - 20:00 H
Das Strandbad nur bei schöner Witterung geöffnet hat. Bei Schlechtwetter hat das Hallenbad geöffnet. Abends ist max. bis 20:00 Uhr geöffnet, Einlass ist bis eine Stunde vor Badeschluss.
---
Find Accommodation Bregenz
10 Hotels, Holiday apartments...
Sports provider Bregenz
Webcams