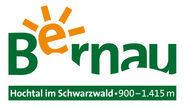 Bernau im Schwarzwald
900 - 1.415m
"/ The best vieus for quiet epicures and active equally."/
One has discovered the charm of the Bernauer high valley for a long time. Thus Hans Thoma, in 1839 in Bernau in the Black Forest wrote born big German painters about his home village:
"There I forget all worries and the peace of the nature my soul also sanounds." The famillären character the popular mountain village could vetaim integrity till this day; just nice people meet in the "Hans´s Thoma valley", young and old, many habitue´s and families.
Here art, culture, customes and traditions and folklore, concerts, art positions as well as many small and big parties on celebrates are part of the coloured event programme in Bernau.
An experience of the special kind of guesto, locals and art lovers is the traditional "Hans´s Thoma day". Annually since 1949, this finds in 2.Week-end in August to honour of the big German painter Hans Thoma instead of. In connection with this anniveroury Bernau celebrates a big Alemannic home party.
More than 200 local national costume beouers shine with music, song and dance.
Customers and traditions can see very closely you with the annual "Holzschneflertag" in the more than 200 year old Resenhof.
Bernau a confidential tip is valid as the nicest high valley in the nature kewe south Black Forest and is with nature lover and travelling friends for a long time. 100 km of footpaths open the 900 m high situated and eight-kilometres-long high valley. This scenery strong as an ox is created like to the walking, recovering and feeling fine.
1415 m high the duke´s horn, the second-highest mountain of the Landes-Baden-Würtemberg and for many is the nicest one. The traveller is recompensed, not only here, with too marvellas vieus and a fantastic panoroma for his strains. We recommend to the guests who would like to know more about flora, fauna and geology the "natural learning path of duke´s horn.
Wonderfully!
In the travelling region of Bernauer high valley the new sign - posting draught which was devoleped in cooperation with the municipalities, the nature reserve southern Black Forest association is already moved.
In futurte Black Forest- far uniform rhombs and signposts show his way to the traveller!
Text: http:// www.bernau-schwarzwald.de
---
---
Leisure tips Bernau im Schwarzwald
---
Contact Bernau im Schwarzwald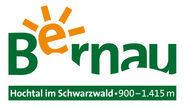 Tourismusverband Bernau
Rathausstr. 18, D-79872 Bernau im Schwarzwald
Telephone

Homepage
Locations Südschwarzwald / Hochrhein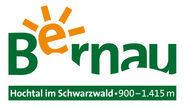 Find Accommodation Bernau im Schwarzwald
4 Hotels, Holiday apartments...
1 Offers and All-inclusive prices
Offers and All-inclusive prices Bernau im Schwarzwald
Webcams