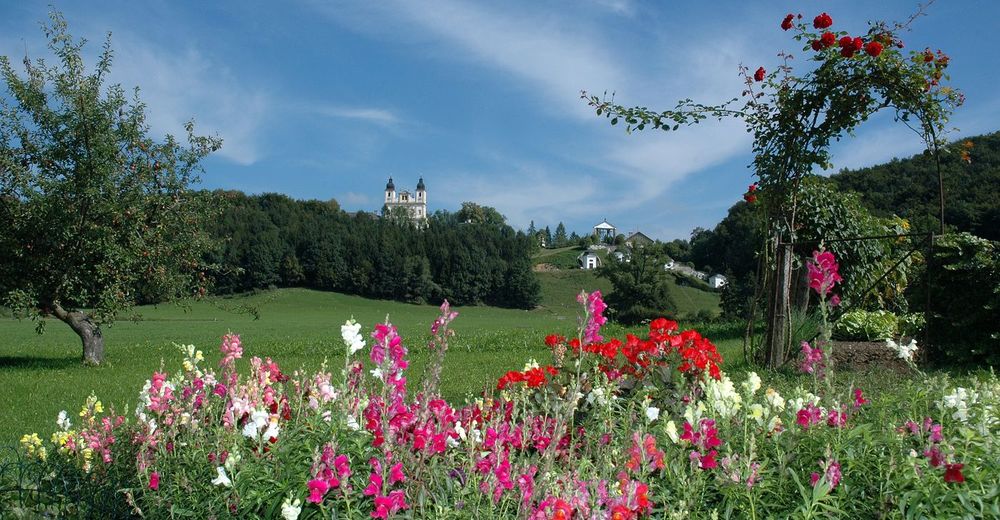 © TVB Bergheim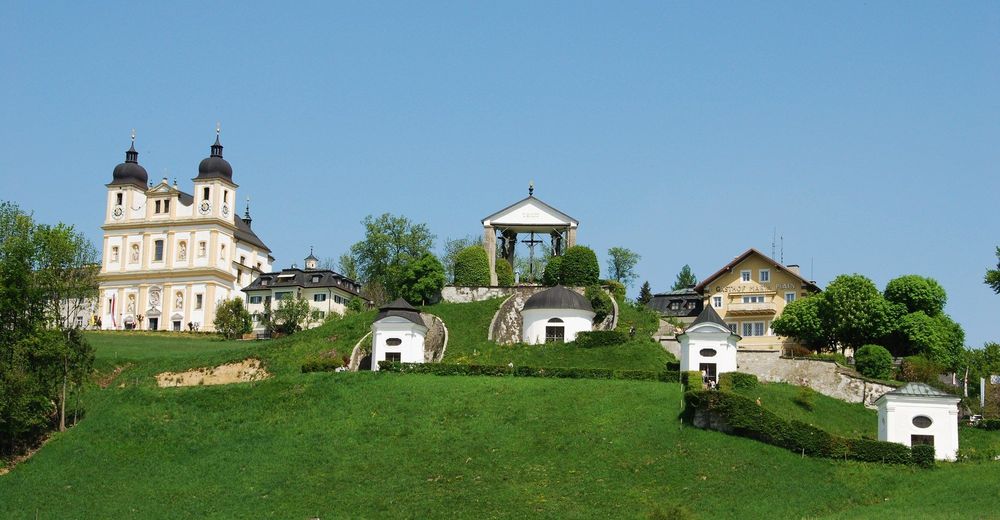 © TVB Bergheim
Prince Archbishop Max Gandolf von Khuenburg had this basilica built in 1674. Not only is it an emblem of Bergheim and a popular excursion destination, it also offers visitors a unique panorama extending from Salzburg City all the way to the Alps.
Mozart's Coronation Mass
Mozart's "Coronation Mass", which was performed at the ceremonial veneration of this painting, may well have its roots in the fact that Mozart would often play the music at Maria Plain during Sunday mass, and would sometimes also take advantage of those occasions to try out fragments of his own compositions.
Church History
*1633 The painting survived a fire at a war-ravaged bakery in Regen/Lower Bavaria
*1652 Subsequently put on display in the so-called "Urpsrungskapelle" chapel
*1671 – 1674 Today's pilgrimage basilica was built
*1681 Completion of the abbey building and founding of the order of "Maria Trost"
*1686 – 1692 Construction of chapels on the Mountain Calvary
*1732 The original picture was transferred to the church
*1824 Maria Plain came under the authority of St. Peter's Abbey (Salzburg)
*1845 Introduction of the 40-hour prayer
*1951 On its 200-year anniversary, the church was raised to the status of "Papal Basilica Minor"
*1959 Purchase of new chimes (six bells in total);
*2003/04 Extensive renovations conducted outside of the basilica
*2013/14 Extensive renovations conducted in the interior of the basilica.
Opening hours of the Basilica:
daily 7 a.m. - 7 p.m.
All-season mass:
Sundays & Public Holidays
8 a.m., 9 a.m., 10 a.m. and 11 a.m. Parish mass
3 p.m. Rosary and blessing
Workdays:
8 a.m. and 10 a.m. Parish mass
Also on Saturdays:
3 p.m. Rosary and blessing
Contact information
Further information:
http://www.mariaplain.at/
Enquiries to:
mariaplain@erzabtei.at
Find Accommodation Bergheim
2 Hotels, Holiday apartments...
Sports provider Bergheim