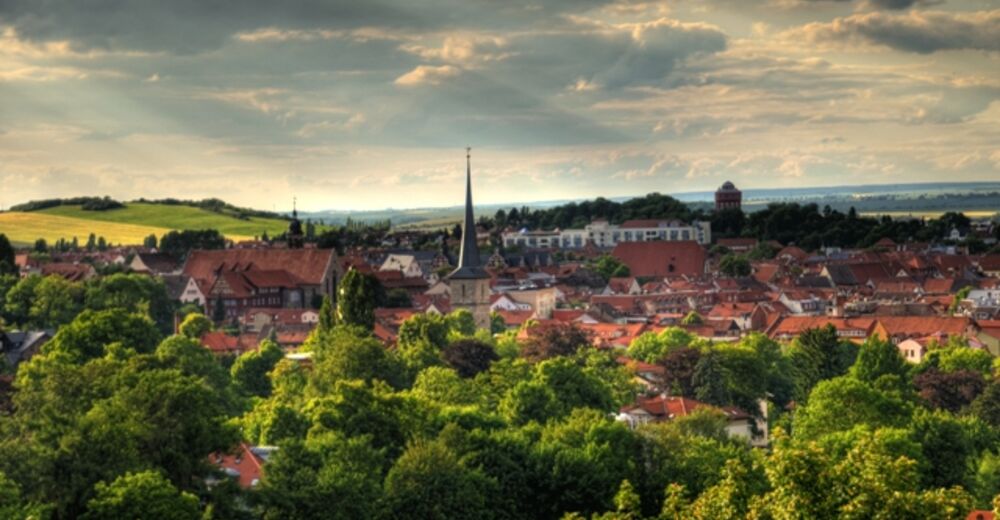 Arnstadt City of Bach - The Gate to the Thuringian Forest
On the edge of the Thuringian Forest there lies a town offering numerous sights to be seen. Arnstadt is located about 20 km south of Erfurt and approximately 288 m above sea level. Culture as well as nature and social arrangements will not dissapoint the visitors.
Arnstadt is the oldest town in Thuringia and was first mentioned in the year of 704. Thuringia is one of the 16 provinces of Germany located in the center of the country and therefore called the "green heart of Germany". Start your journey, not only to Arnstadt, but back in time throughout 1300 years of history full of legends and fairy tails.
Culture, Art and History
A walk through Arnstadt`s narrow streets and romantic settings, marked by influences from the 17th century, offers a unique view on historic monuments such as Castle Ruin Neideck, the Neideck Tower and the included miniature model of the town and countryside.
Equally well known appears to be the old Bach-House which was owned by the famous Bach family since 1687.
Between 1703 and 1707 Johann Sebastian Bach was employed as an organist in, what is today called, the Bach Church.
Another eyecatcher is the Town Hall which was built in Renaissance style between 1582 and 1586. The most impressive monument situated in Arnstadt is the Liebfrauenkirche. This church is one out of two of the most famous buildings from the time of the transition between Romanesque and Gothic in middle Germany.
Arnstadt also offers a variety of museums and exhibitions, such as the unique baroque doll collection "Mon plaisir" and the "Bach Exhibition" inside the New Palais - Castle Museum.
A little way down the road food lovers may get an exquisite taste of Thuringia`s most delicate and best known dish of all times: The Thuringian Bratwurst! Visit the first German Bratwurst museum, gather information about this famous piece of meat and perhaps satisfy your hunger with a little tasting.
Enjoy Nature, Live Active!
Hiking, walking, pilgrimage and biking - no matter how you like to spend your time off, Arnstadt offers a variety of trails through the valleys and woods of Thuringia. In the end, there is a reason why Arnstadt is called the "Gate to the Thuringian Forest".
Numerous paths along the wild river Gera and throughout the area of the "Drei Gleichen" castles wait to be discovered. Experience some of the most exciting theme trails such as the hiking trail "From Bach to Goethe" or the culinary trail "From beer to Bratwurst". Because of the relatively leveled terrain hiking promises fun for young and older.
Round off your stay in the romantic town of Arnstadt with a guided tour or an event offered during your visit. Get more Information about tours, events, hotels and much more at the tourist-information Arnstadt.
Tel.: +49 3628 / 60 20 49 or information@arnstadt.de
---
Leisure tips Arnstadt
---
Contact Arnstadt
Tourist-Information Arnstadt
Markt 1, D-99310 Arnstadt
Telephone

Fax

Homepage
E-Mail