Residence Badia
39036 Abtei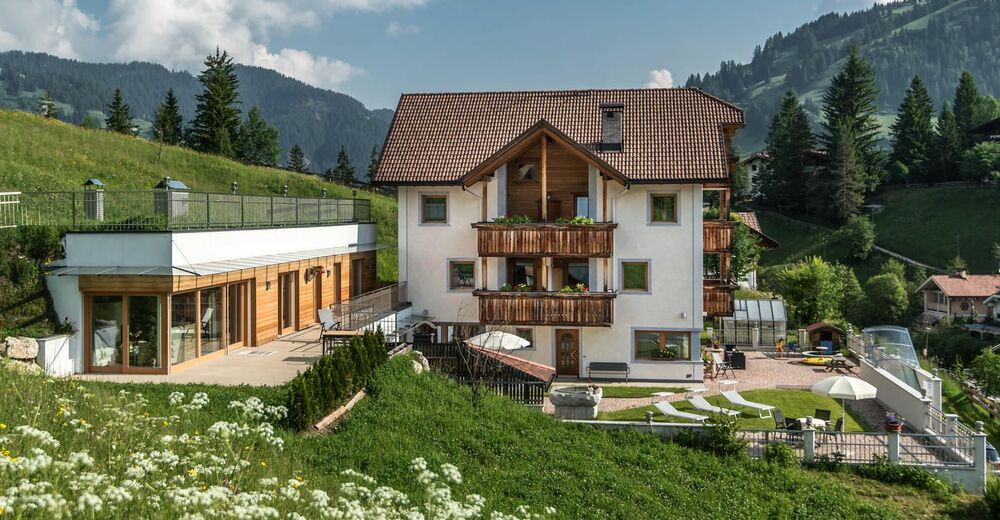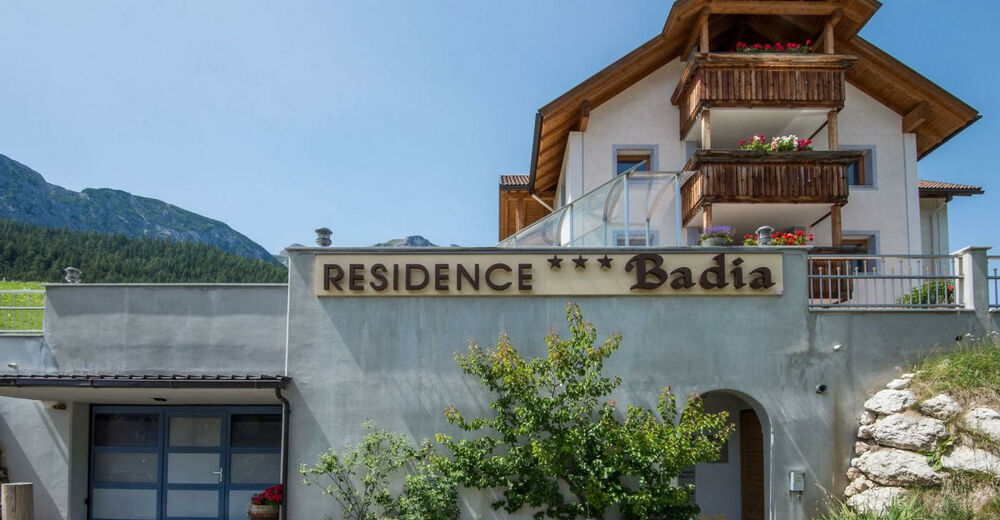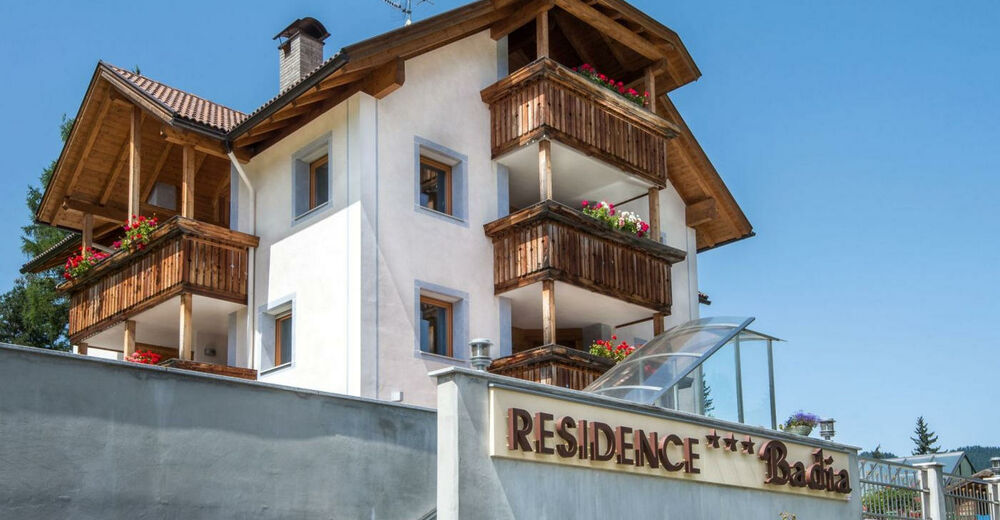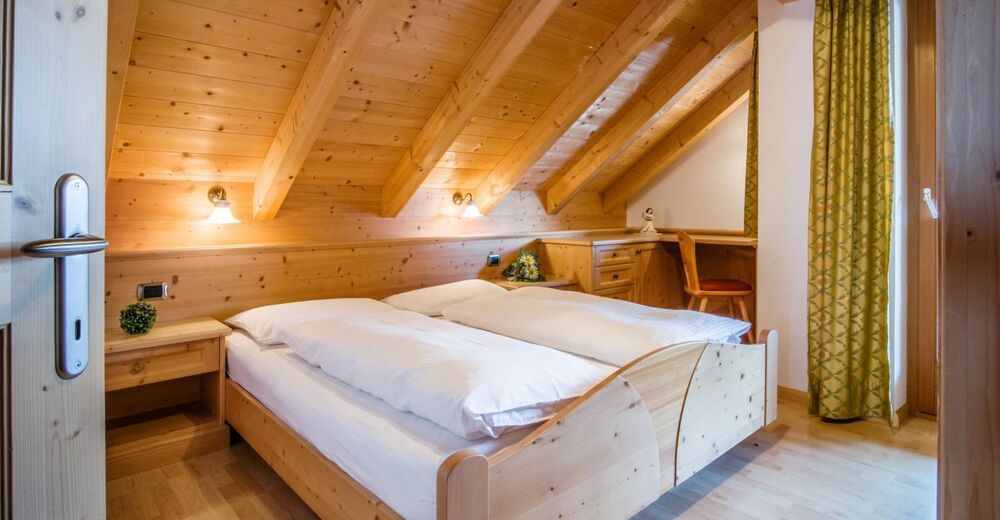 apartment / Residence

25 Beds, 8 Apartments

Seve Srl

Str. Damez 2, 39036 Abtei
Willkommen in Alta Badia, willkommen im Herzen der Dolomiten!
In der Residence Badia
Unsere familiengeführten Apartments in Alta Badia (Südtirol), befinden sich in Abtei (1.330m ü.M.), alpiner Tourismusort eingebettet in die malerische Landschaft der Dolomiten, die 2009 im Verzeichnis der Weltnaturerben Unesco eingetragen wurden.
Mit seiner guten Position 150 Metern von den Aufstiegsanlagen (Ski-bus), integriert sich das Residence Badia im Skikarussell "Alta Badia", das Teil des weltweit größten Skiresorts "Dolomiti Superski" (1.220km Pisten) ist.
Das exklusive Urlaubsdomizil, 2004 erbaut und 2013 erweitert, bietet neun moderne und weiträumige Familienwohnungen.
Das zeitgemäße Design, die edle handwerklich-angefertigte Einrichtung und die heimische Atmosphäre führen auf harmonische Weise Klasse und Schlichtheit zusammen.
Unsere weiträumigen Apartments in Alta Badia wurden mit edlen handwerklichen Möbeln ausgestattet. Natürliche Materialien, alpiner Design und Modernität wurden harmonisch miteinander kombiniert.
Die natürlichen Farben, die liebevollen Details und die moderne Ausstattung bieten ein Wohnerlebnis der Extraklasse.
Unser Wellnessbereich
Unsere Kraft und Energie spiegeln sich in unseren Interessen, Gefühle und Träume.
Das familiäre Wellnessbereich unserer Apartments in Alta Badia ist ein Refugium des Wohlbefindens für besonders genussvolle Stunden.
Finnische Stubensauna
Dampfbad
Kneippanlage
Erlebnisdusche mit aromatischem Regen
Wasserbetten
Ruheraum
Sommerurlaub in Alta Badia
WANDERN und BERGSTEIGEN
400km sorgfältig präparierte Wanderwege und Steige.
RADFAHREN
Mountainbike Touren, Rennrad-routen, spezielle Radevents ("Maratona dles Dolomites", "Sella Ronda Bike Day", "Sella Ronda Hero").
KLETTERSTEIGEN
Alta Badia eignet sich als Ausgangspunkt für verschiedenartige Klettersteige im lokalen Raum.
Unter den bekannten Namen zählen die "Ferrata Tridentina" und der Klettersteig um den Sellamassiv.
GOLF
9-Loch Golfplatz auf 1.700 Meereshöhe.
Room/Apartments
Allgemeine Verfügbarkeit
Residence Badia
information on request
available
not available
Prices
| Winter | Peak season | Early / low season |
| --- | --- | --- |
| Overnight stay | €46 to €54 | €31 to €36 |
| breakfast included | - | - |
| Half-board | - | - |
| All inclusive | - | - |
| Summer | Peak season | Early / low season |
| --- | --- | --- |
| Overnight stay | €39 to €46 | €28 to €31 |
| breakfast included | - | - |
| Half-board | - | - |
| All inclusive | - | - |
Further information
Appartement/ Ferienwohnung
Appartement/ Ferienwohnung
Appartement/ Ferienwohnung
Appartement/ Ferienwohnung
Die Preise verstehen sich pro Tag und Person (10% Mwst inkl.), exklusive der Aufenthaltsabgabe, die für unser Residence derzeit 1,90 € pro Person und Tag beträgt.
Kinder und Jugendliche unter 14 Jahren sind von der Abgabe befreit.
Die Aufenthaltsabgabe wird in Südtirol von allen Beherbergungsbetriebe eingehoben. Die Einnahmen werden für die Erhaltung und den Ausbau von Infrastrukturen und Dienstleistungen im Tourismus, sowie für die Organisation von kulturellen und sportlichen Veranstaltungen eingesetzt.
Check-in/out: Die Ferienwohnungen und die gesamten damit verbundenen Leistungen stehen am Tag der Anreise ab 14h00 , und am Tag der Abreise bis 9h00 Uhr zu Ihrer Verfügung. Falls Ihre Ankunft nach 19h00 vorgesehen ist, bitten wir Sie uns das im Voraus mitzuteilen.
Die Reservierung ist nach Erhalt einer Anzahlung von 200 € pro Ferienwohnung mittels Banküberweisung bindend. Bankkonto lautend auf "Dapunt Irma" – Raiffeisenkasse Gadertal, Filiale Pedratsches - IBAN: IT43R0801058180000302016524, Swift BIC: RZSBIT21208. Im Falle einer Stornierung wird die Anzahlung als Kostendeckungsbeitrag im Sinne der Artikel 1385 und 1386 des Zivilgesetzbuches einbehalten.
Verspätete Anreise/Frühzeitige Abreise: für jeden Tag wird 70% des vereinbarten Aufenthaltspreises berechnet.
Tiere: Haustiere sind nicht erlaubt. Wir danken für Ihr Verständnis. (solo x Res. Badia)
Kurzaufenthalt: bei Kurzaufenthalte bis 4 Tage wird ein Kurzaufenthaltszuschlag auf den üblichen Preis von 10% berechnet.
apartment / Residence

25 Beds, 8 Apartments

Seve Srl

Str. Damez 2, 39036 Abtei
Room/Apartments