Aich
Angelegter Badesee

Freizeitsee Aich
Freizeitsee Aich
angelegter Badesee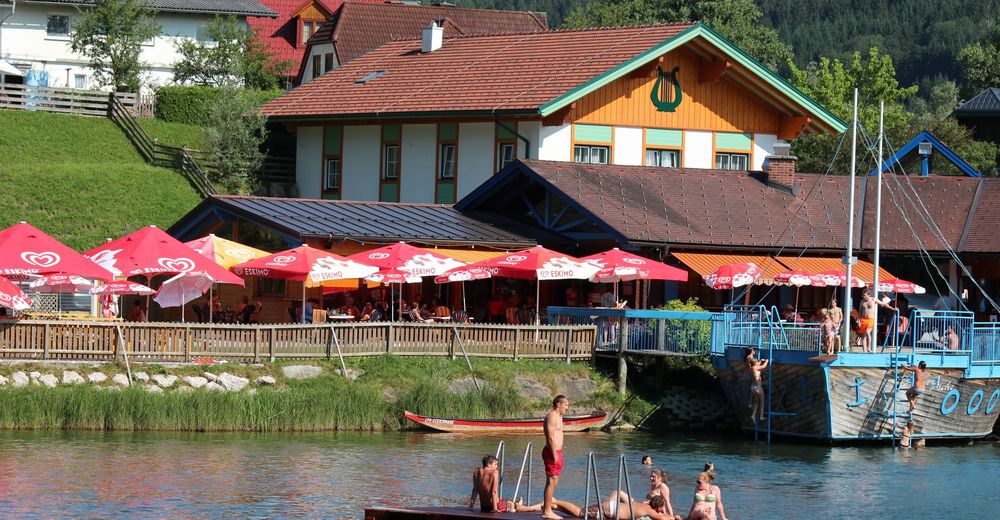 © Gemeinde Aich / www.aich.at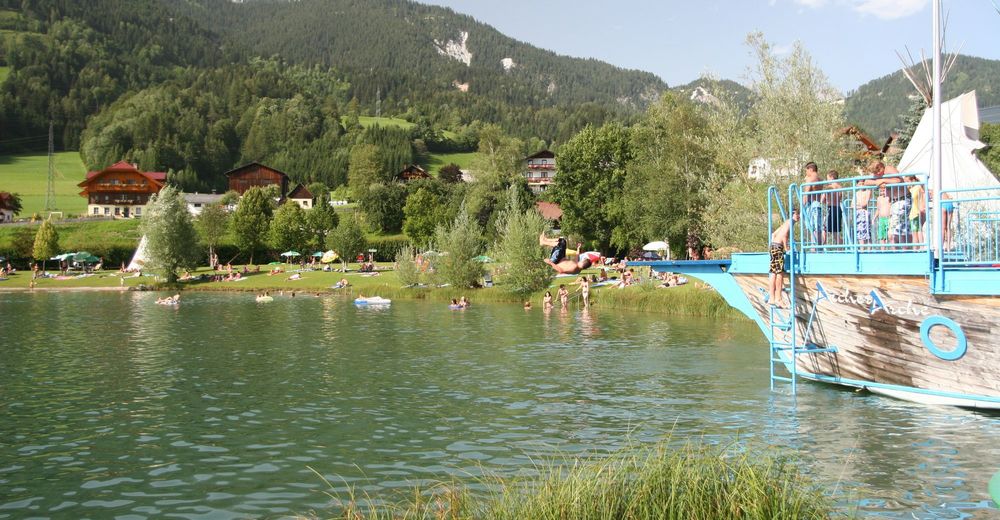 © Gemeinde Aich / www.aich.at
© Gemeinde Aich / www.aich.at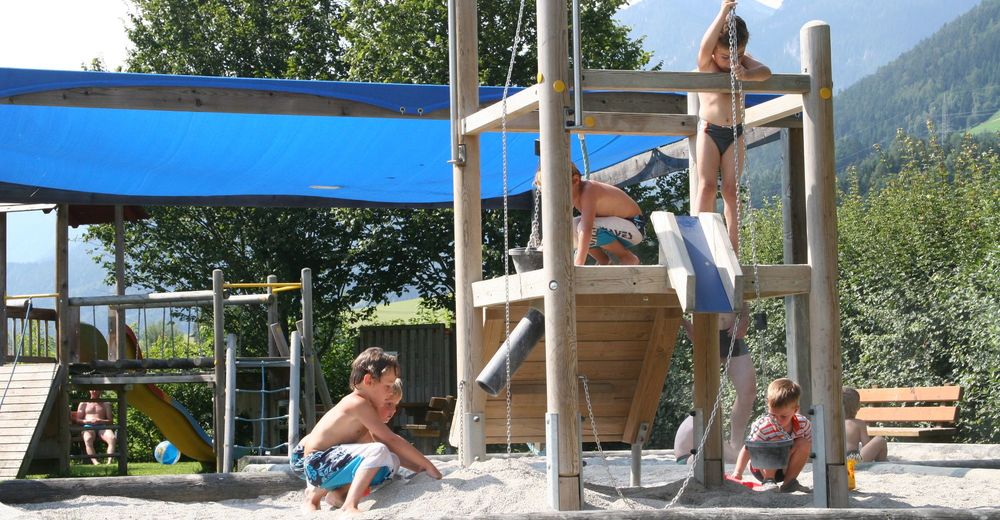 © Gemeinde Aich / www.aich.at
© Gemeinde Aich / www.aich.at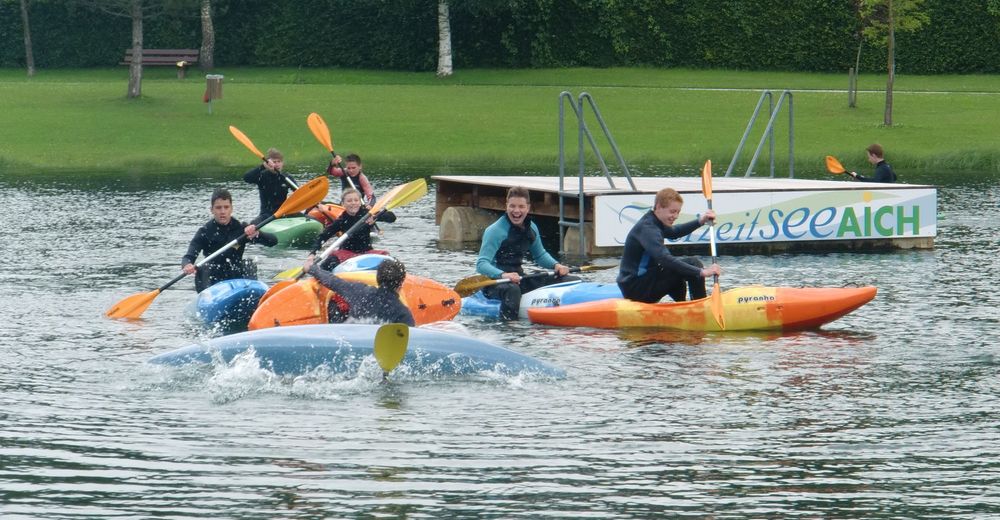 © Gemeinde Aich / www.aich.at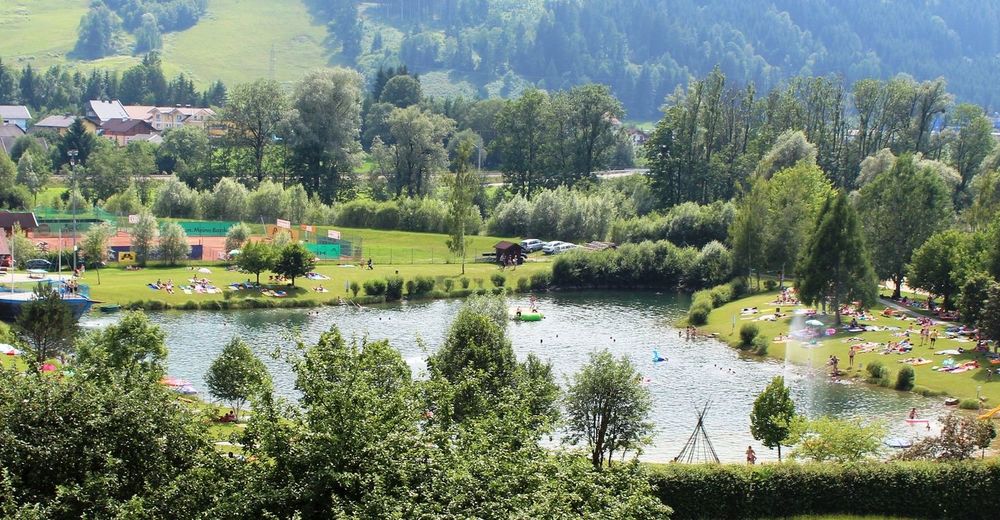 © Gemeinde Aich / www.aich.at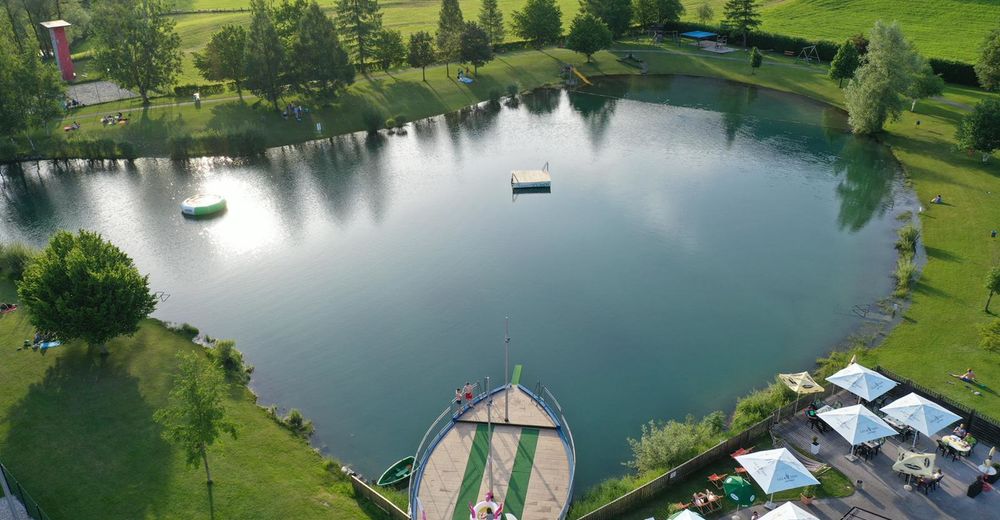 Freizeitsee Aich
Der Aicher Badesee zählt mit seinen Einrichtungen zu den beliebtesten Freizeiteinrichtungen in der Region Schladming-Dachstein. Da auch der Ennstal-Radweg in unmittelbarer Nähe des Freizeitsees vorbeiführt, bietet dieser sehr oft auch für die Radfahrer eine willkommene Abkühlung. Die Gesamtfläche der Freizeitseeanlage beträgt 2 Hektar. Da der Freizeitsee Aich eine EU-Badestelle ist, wird die Wasserqualität regelmäßig amtlich überprüft. Dem Freizeitsee wurde bei der jährlichen Einstufung der Qualität des Badegewässers die beste Einstufung, nämlich "Ausgezeichnete Badegewässerqualität" bescheinigt.
Alle Urlauber, die sich für einen Ausflug zum Aicher Freizeitsee entscheiden, werden sich besonders von der schönen Lage des Sees fernab vom Straßenverkehr begeistert zeigen. Die Anlage ermöglicht allen Familienmitgliedern, von den Jüngsten bis zu den Junggebliebenen, viel Abwechslung und Spaß (Tischtennis, Basketball, Beachvolleyball, Balancieranlage, Slackline, Empfindungspfad, Wassertrampolin, Insel im See). Die kleinen Besucher wird es vor allem in die Kinderecke ziehen (überdachte Spielplätze, Kinderwasserrutsche, verschiedene Spielgeräte, Schlagbrunnen mit Wasserspiel). Ab der Badesaison 2015 können auch E-Bikes angemietet werden. Ebenso steht ein 9 m hoher Kletterturm mit 16 Routen zur Verfügung (kostenpflichtig).
Es besteht auch die Möglichkeit, verschiedene Kajak-Kurse am Freizeitsee zu absolvieren.
Für das leibliche Wohl sorgt das Team des *Seestüberl*s. Zusätzlich zur Speisekarte verwöhnen sie ihre Gäste auch mit Tages-/Monatsangeboten und natürlich frischen Salaten vom Buffet. Genießen Sie einen von mehr als 20 verschiedenen Eisbechern auf der Seeterrasse.
Prices
Mit der Schladming-Dachstein Sommercard: freier Eintritt
Tageskarte:
Erwachsene: (ab 9:00: 5,50€; ab 13:00: 4,40€; ab 17:00: 2,80€)
Kinder / Invalide / Präsenzdiener / Lehrlinge / Studenten: (3,50€; 2,80€; 1,80€)
Erwachsene einheimisch oder mit Gästekarte: (4,40€; 3,50€; 2,20€)
Kinder einheimisch oder mit Gästekarte: (3,10€; 2,50€; 1,60€)
Familienkarte: (14,00€; 11,20€; 7,00€)
Stundenkarte:
Erwachsen: 1,50€; Kinder: 1,00€
Saisonkarte Kinder: (Aich: 24,00€; Aich+Hauser Freibad: 33,00€)
K/I/P/L/S: (29,00€; 44,00€)
Erwachsene: (41,00€; 61,00€)
Familien-Karte 1 Erwachsener+ Kinder: (69,00€; 77,00€)
Familien-Karte 2 Erwachsene + Kinder: (77,00€; 88,00€)
Wochenkarte:
Familie: 41,00€
Wochenkarte Erwachsene: 17,00€
Wochenkarte Kinder: 10,00€
Leihgebühren: Sonnenliege: 3,00€ (7,00€ Einsatz); Sonnenschirm: 2,00€ (3,00€ Einsatz); Bälle: 1,00€ (4,00€ Einsatz)
---
Subsurface of bathing area
Gravelled
Sandy
Details
Pool attendant
Non-swimmer's area
keine Hunde erlaubt
Infrastructure
Changing cubicles
WC facilities
Accessible by public transport
Car parks
Gastronomy (restaurants, cafés)
Type of lounge area
Meadow
Shady areas
Sports offer
Water facilities (slide, diving board etc.)
Canoes/kayak
Beach volleyball
Table tennis
Children & families
Small/children's bathing area
Children's slides
(Sand) play areas
Rental service
Sun loungers
Parasols
Swimming aids
Cycle hire
---
Contact
Gemeinde Aich
Gössenbergstraße 8, A-8966 Aich
Telephone

Fax

Homepage
Size
Sea level

680 m

Surface

0.0097 km²

Depth

3 m
Season
29.05.2020 - 19.09.2020
Opening times
09:00 - 19:00 H
---
Find Accommodation Aich
25 Hotels, Holiday apartments...
151 Offers and All-inclusive prices
Sports provider Aich