© CHRISTIAN SCHNEIDER www.christianschneider.photography - CHRISTIAN SCHNEIDER PHOTOGRAPHY
© CHRISTIAN SCHNEIDER www.christianschneider.photography - CHRISTIAN SCHNEIDER PHOTOGRAPHY
© CHRISTIAN SCHNEIDER www.christianschneider.photography - CHRISTIAN SCHNEIDER PHOTOGRAPHY
© CHRISTIAN SCHNEIDER www.christianschneider.photography - CHRISTIAN SCHNEIDER PHOTOGRAPHY
© CHRISTIAN SCHNEIDER www.christianschneider.photography - CHRISTIAN SCHNEIDER PHOTOGRAPHY
© CHRISTIAN SCHNEIDER www.christianschneider.photography - CHRISTIAN SCHNEIDER PHOTOGRAPHY
© CHRISTIAN SCHNEIDER www.christianschneider.photography - CHRISTIAN SCHNEIDER PHOTOGRAPHY
Worm welcome at Naturhotel Waldklause!
Winter - skiing sport of superlatives Mountain- and skiing experience in the Oetz Valley, Tyrol
Sölden is the ultimate skiing region of the Oetz Valley, located 9 km away from Längenfeld. International top athletes come together to participate in the most important races of the world.
Starting from Sölden you climb the glacier road of the Oetz Valley which snakes its way up to the top over a distance of 13 km. With each turn the view that comes into sight is even more magnificent than the one before. The snow glistens in the sun and above you there is nothing but blue sky.
Skiing, fun and sun on the glacier
A beaming sun and glistering snow, romantic winter hiking trails and alpine glacier pists, traditional restaurants and animated après ski fun await you in the Oetz Valley!
We are looking forward to welcoming you soon!
Yours family Auer
Videos
01:01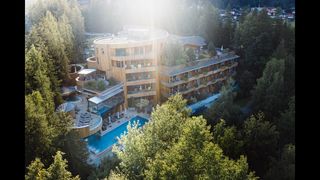 00:46
Prices