Snowpark Braunwald
Braunwald
Located in a sunny site, directly at the central hub Grotzenbüel, the Snowpark Braunwald offers varied obstacles, such as kickers, picnic tables, boxes and rails for all snowboarders and freestyle skiers - beginners or advanced - since the winter 2008 and thus an unforgettable freestyle experience. The snowpark, which supports its riders with its own lift, is located in the immediate vicinity of the mountain restaurant "Chämistube"and the sunny "Plütterhütte" which invite the park guest to relax and watch all tricks.
---
Schnee- und Parkstatus
Leider keine aktuellen Parkinformationen vorhanden.
Current informationToday, 02:17
---
Snowpark Braunwald
Sea level

1600 m

Length

50 m

Surface

2,000m²

Direction

S

Elemente

12

Area

An sonniger Lage, direkt bei der zentralen Drehscheibe Grotzenbüel gelegen, verschafft der Snowpark seit dem Winter 2008 durch ein abwechslungsreichen Obstacles wie Kickern, Picknick-Tables, Boxen und Rails für jeden Snowboarder und Freeskier - ob Anfänger oder Fortgeschrittener - ein unvergessliches Freestyle-Erlebnis. Der Snowpark, der mit einem eigenen Lift ausgestattet ist, liegt in unmittelbarer Nähe des Bergrestaurants "Chämistube" und der sonnigen "Plütterhütte", welche zum Verweilen und Bestaunen der Tricks gerade zu einlädt.

Mit den Neuanschaffungen von Schneestern-Elementen 2009 bieten wir auch den fortgeschritteneren Freeskiern und Snowboardern attraktive Möglichkeiten, ihr Parkkönnen unter Beweis zu stellen. Komm doch vorbei und überzeuge dich selber. Auf bald in Braunwald....

Elemente

FAT (Box)

12m long

double kinked Box

down-flat-down, 9m long

rainbow Box

9m long

butter Box

flat, 6m long

kinked Box

flat-down, 6m long

straight Box

6m long

picknick table Specials

KIDS (Box)

flat-down, 3m long

KIDS (Box)

3m long

KIDS (Box)

3m long

tabletop Kicker

roll in, 4m table

tabletop Kicker

knuckle, 7m table
---
Weitere Informationen
Schneeerzeugung

400 m³/Season

Schneekanonen

1

Pistengerätestunden

120 Hours

Shaper lessons per season

180h

Link
Park Size

S

Total

12

Easy

6

Public

3

Pro

3
Park Designer

Verein "Snowpark-Braunwald"
Videos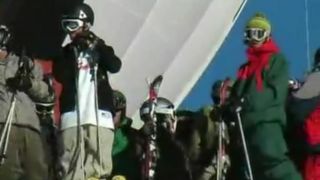 01:01
00:39
Webcams