In the new park the jib line is set up at the lower area. That area includes rails, boxes, tubes, stash obstacles, jib obstacles in every difficulty. There are some new year on year to come, which are all waiting for motivated riders.
---
Snow and park status
Sorry, no current parking information available.
Snow Report
Thu, 07.12., 06:05
---
Upper Part
Sea level

1760 m

Length

100 m

Surface

3,000m²

Direction

NE

Lines

2

Area

In the new park the jib line is set up at the lower area. That area includes rails, boxes, tubes, stash obstacles, jib obstacles in every difficulty. There are some new year on year to come, which are all waiting for motivated riders.

Earth-based elements

The entire line is adapted to the natural terrain and taken with artificial snow in the appropriate form. This guarantees perfect conditions from early December to early April.

Lines
---
Down Part
Sea level

1740 m

Length

500 m

Surface

17,000m²

Direction

NW

Lines

2

Area

Der untere Bereich ist das Herz des Parks. Hier findest du alles, was Dein herz begehrt! Vom 12m Kicker über Double Kink Rails hin zu Jib Tree und Stash Obstacles!

Earth-based elements

Der Großteil des Parks ist dem natürlichen Gelände angepasst und mit Kunstschnee in die passende Form gebracht. Einige Kicker-Tables und Plätze für Obstacles sind mit Erdarbeiten vorgeformt worden. Dies garantiert den Parkbetrieb von Anfang Dezember bis Anfang April.

Lines

Right Line

15 Elemente

| | |
| --- | --- |
| | 7m (Box) |
| | 4m up (Box) |
| | 7m (Kicker) |
| | Wellenbahn (Specials) |
| | 10m double step down (Box) |
| | 4m (Box) |
| | 6m (Box) |
| | 4m (Rail) |
| | 5m (Kicker) |
| | 9m (Box) |
| | spine (Specials) |
| | Jib Tree (Specials) |
| | 1,5m mini roller (Kicker) |
| | 6m (Rail) |
| | 3m transfer (Kicker) |

Left Line

11 Elemente

6m (Kicker)

11m (Kicker)

5m (Pipeslide)

10,5m Jib (Rail)

8m (Rail)

9m (Rail)

flat-down

,

9m long

,

12cm wide

,

10° up/down>

7m stash kinked rail (Specials)

6m stash flat rail (Specials)

7m (Rail)

8,5m double kinked (Rail)

5m transfer (Kicker)
---
Weitere Informationen
Schneeerzeugung

15,000 m³/Season

Schneekanonen

4

Pistengerätestunden

200 Hours

Shaper lessons per season

500h

Link
Park Size

L

Total

31

Easy

8

Public

15

Pro

8
Park Designer

Mario Grinschgl

Head Shaper

Trummer Daniel
Videos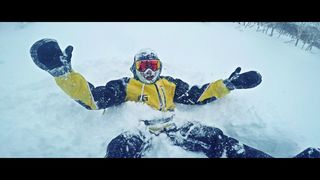 26:07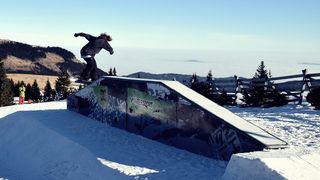 03:14
Webcams