News
Park Setup News - so nice yo!
02/08/2020, 08:55
Stand der Dinge - super sick!
Nach dem wahnsinns Regenguss der 2.5 Tage gedauert hatte kam eine ordentliche Ladung Schnee.
Die Parkcrew ging all-in, die Tag & Nachtschichten waren lang und intensiv.
Such a super sick job they made!!!
Das Setup kann sich sehen lassen - top to bottom:
6m Industry Rail
Big right Side Corner
6m Industry Rail
Pole Jam into a big Landing
Big right Side Corner
Big Side Hit and table Top
Medium Kicker
9m Double Riffle with Kink
6m Double Barriers
4m Half Riffle
5m Full RIffle
Big Curve Pipe
13m Double Kink
8m A-Rail
Big Rainbow Pipe
8m Double Box Stepdown
7m Doghouse
9m Analog Feature
9m Big Dick Pipe
Little Doghouse
5m Side Hit Full Riffle
6m Rainbow Box
5m Half Riffle
Dancefloor
9m Elephant Box
Waves and Bumps for the Groms
Big Chillout Area
Mini Shred Park:
Mini Rainbow Box
Mini Kink Box
Snowpark Kids Animals
Wavegarden :-)
In Progress:
Mainpark Jump
Mainpark Double side Hit
Mainpark Stairset
Mainpark Corner
Uga Mini Kickers
Ragaz Kickerline
Viel Spass beim Shreddn... es ist uns ne Ehre...!
we shape for your ride!
shot by the legend: vernon deck
rider: roli tschoder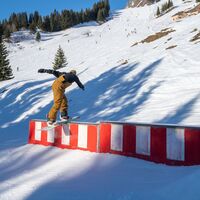 Links