The Backyards Snowpark is one of the most creative fun parks in Vorarlberg and has the motto: "By riders for riders."
In the Palüd part of the ski area, the snow park is located in the area of ​​the Melkboden lift and makes freestyle hearts beat faster there. Our shaper team regularly provides variety and reinvents the Backyards Snowpark again and again. In the winter season 2022/23 there will be new rails that will transform the backyards into a playground for all skill levels.
20 obstacles always allow for new lines so that the Park Day is always a success.
Welcome to the Backyard Park!!
---
Snow and park status
Sorry, no current parking information available.
---
Backyards Main Park
Sea level

1900 m

Length

1,960 m

Surface

38,100m²

Direction

SE

Elemente

29

Area

Der Main Bereich des Backyards Snowpark erstreckt sich entlang des Glattjoch Liftes. Hier findet man von Rails, Boxen, Jibs und Jumps alles was das Parkrider Herz höher schlagen lässt. Für diesen Bereich sollte man etwas Können und Parkerfahrung mit sich bringen.

Bonus: Auf der linken Seite des Melkboden Liftes befindet sich eine kreative Railline an der sich, durch den kurzen Tellerlift, unzählige Runs am Tag machen lassen.

Status

Elemente

| | |
| --- | --- |
| | 6m flat (Rail) |
| | mini (Pipe) |
| | 11m step up (Kicker) |
| | 13 down flat down (Rail) |
| | 8m elephant (Rail) |
| | 12 Z down flat down (Rail) |
| | 16m roller (Kicker) |
| | Vulkano (Specials) |
| | Vulkano (Specials) |
| | fun box skate style (Specials) |
| | flat rail on a spine (Specials) |
| | L bow rail, tank on a spine (Specials) |
| | 15 m table (Kicker) |
| | 12m roller (Kicker) |
| | 8m right side curve (Rail) |
| | 4m jib (Box) |
| | 4m drop off (Box) |
| | 10m down flat down (Rail) |
| | 6m down (Rail) |
| | 6m flat (Pipeslide) |
| | 6m down (Pipeslide) |
| | 7m Donkey (Rail) |
| | 14 turns snake run (Specials) |
| | 8m up down (Rail) |
| | 8m down (Rail) |
| | 10m flat down flat (Rail) |
| | 8m rainbow (Rail) |
| | 9m down (Rail) |
| | 8m S (Rail) |
---
Beginner Park
Sea level

1600 m

Length

200 m

Surface

2,000m²

Direction

SE

Elemente

13

Area

Für unsere Parkanfänger und Kinder haben wir auf der rechten Seite des Melkboden Tellerlift einen Anfänger Park. Hier gibt es Flatboxen, Easy Pipes, kleine Jumps und Bodenwellen, perfekt zum üben.

Status

Elemente

| | |
| --- | --- |
| | 4m butter (Box) |
| | 6m down (Pipeslide) |
| | 6m up (Pipeslide) |
| | rainbow Box |
| | 6m (Kicker) |
| | A-fram (Box) |
| | 5m (Kicker) |
| | down (Box) |
| | 6m (Kicker) |
| | Dog hut (Specials) |
| | 6m flat (Pipeslide) |
| | 6m down easy (Rail) |
| | 4m down (Box) |
---
Weitere Informationen
Schneeerzeugung

20,000 m³/Season

Schneekanonen

5

Pistengerätestunden

125 Hours

Shaper lessons per season

600h

Link
Park Size

M

Total

20

Easy

5

Public

15

Pro

5
Park Designer

Stefan Lohri

Head Shaper

Stefan Lohri
Videos
01:57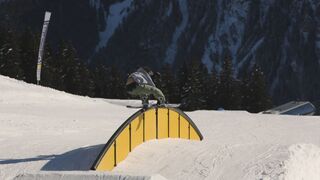 02:14
02:27
Webcams