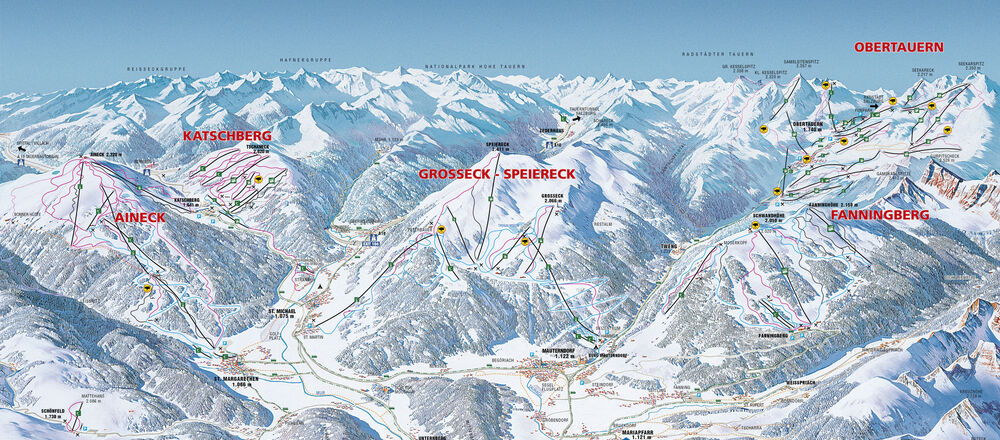 Cross-country skiing trails Today, 09:11
Current operation: every day
Enjoying the sunshine on cross-country skis amid valleys blanketed deep in snow, all the while breathing in the clear, healthy air and marveling at nature enchanted by hoar frost – this is what cross-country skiing in Salzburg's Lungau is all about!
Cross-country trails about 150 km in length offer boundless variety. For the ambitious fan of skating technique, there are ca. 80 km of skating trails available. The high-altitude trails in Schönfeld-Thomatal, on the Karneralm, on the Prebersee, in Mariapfarr-Lignitz, and on the Katschberg guarantee excellent snow conditions until well into spring. Access points for the cross-country trails are within comfortable reach using our regularly scheduled public buses .
---
Prices
With the LungauCard Winter the use of the cross-country trails is free of charge. You can get the LungauCard Winter free of charge at your accommodation. You can find more information online at card.lungau.at
---
Videos
---
Current cross-country skiing trails info
Website

E-Mail

Telephone

+43 (0)6477 8988
Cross-country skiing trails Overview
20
classic cross-country skiing trails
165 km
Höhenloipen miteinberechnet
18
Skating trails
147 km
Die Skatingloipen im Salzburger Lungau laufen teilweise parallel zu den klassischen Loipen.
8
High altitude trails
55 km
inkl. der Loipen am Obertauern, Beschneite Höhen-Loipe Lignitz in Mariapfarr
Various
Rental
Sport Pichler, Firn Sepp, Sport Friedrich, Otto's Schischule, FRESCH:UP, Sport Rest, Sportfex, Intersport Frühstückl
Cross-country ski Service
Sport Pichler, Firn Sepp, Sport Friedrich, Otto's Schischule, FRESCH:UP, Sport Rest, Sportfex, Intersport Frühstückl

Contact Tourist information office
Ferienregion Salzburger Lungau
Address

Rotkreuzgasse 100, A-5582 St. Michael

Telephone

+43 6477 8988

E-Mail

Homepage
Most popular cross-country regions