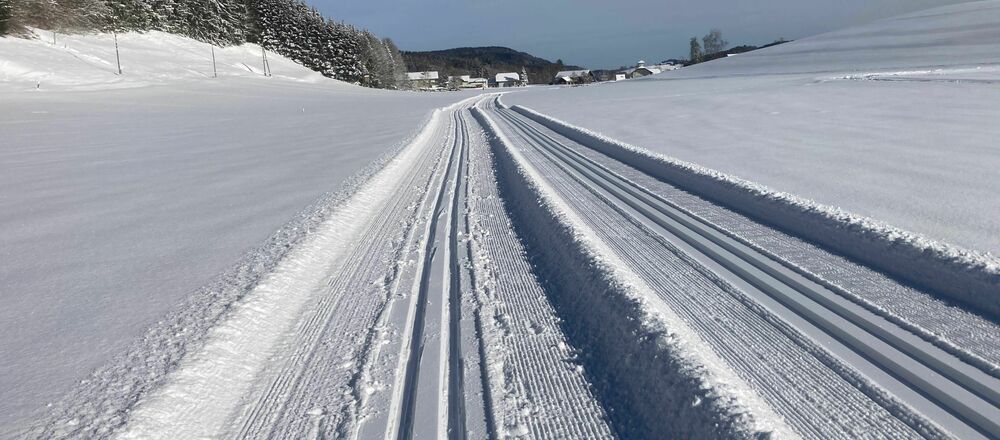 Make your tracks through the snowy winter landscape of Straß im Attergau. Cross-country skiing pleasure is guaranteed here!
From leisurely gliding to somewhat more challenging cross-country skiing, there is something for everyone. Beautiful panoramic views over the snow-covered fields and forests make cross-country skiing an unforgettable experience.
A snow cover of at least 20 cm and a forested surface are required so that the cross-country skiing trails can be groomed without damaging the ground! At particularly exposed places, which are exposed to snow drifts, tracking is often difficult even with supposedly sufficient snow cover.
The starting point of the approx. 8 km long, classic cross-country ski trail is Fronbühel. Leave your car here and walk about 50 m in the direction of Powang to the trail entrance. Different sections offer many variations for different sporting requirements.
So get on your cross-country skis and enter the winter world of Straß im Attergau!
---
Prices
---
Current cross-country skiing trails info
Website

https://attersee-attergau.salzkammergut.at/aktivitaeten/sport-und-gesundheit/winter/langlaufloipen.html

E-Mail

Telephone

+43 7666771980
Cross-country skiing trails Overview
3
classic cross-country skiing trails
21 km
Ziehen Sie Ihre Spuren durch die verschneite Winterlandschaft von Straß im Attergau hoch oben am Wimberg oder in Fronbühel-Powang. Langlaufvergnügen ist hier garantiert! Die St. Georgenrunde wird gerne von Einheimischen und Schülerinnen und Schülern aus St. Georgen genützt. Durch ihre zentrale Lage können sie direkt von der Haustüre in die Loipe einsteigen.
Cross-country skiing trails
Various
Rental
Cross-country ski Service

Contact Tourist information office
Tourismusverband Attersee-Attergau
Address

Attergaustraße 55, A-4880 St. Georgen im Attergau

Telephone

+43 (0)7666 7719 80

E-Mail

Homepage
Most popular cross-country regions