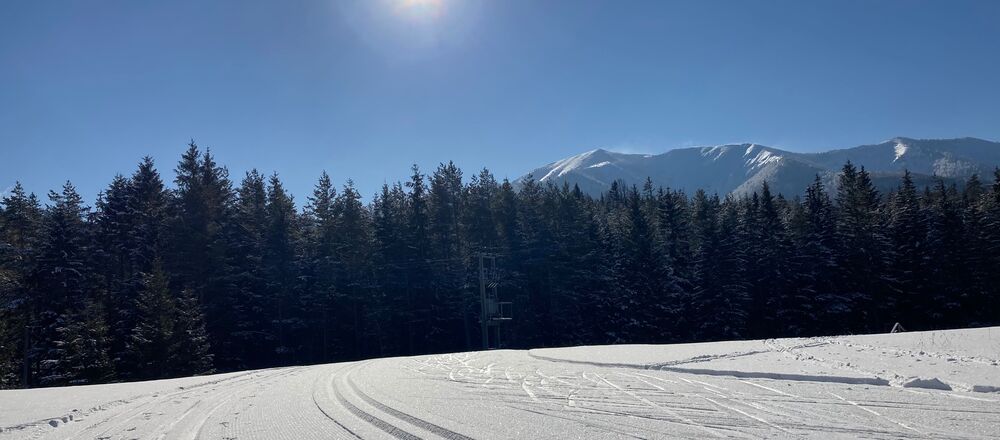 Cross-country skiing trails Yesterday, 07:30
Wetter: bewölkt,-5 Grad. Loipen werden am Vormittag frisch gespurt! Betrieb etwa ab 11 Uhr.
Current operation: every day
Wide range of winter sports activities for the whole family around Goeller and Gscheid
Only about 50 km from St. Pölten, 120 km from Vienna and 100 km from Amstetten - awaits families with children a wide range of winter activities: Every week you can follow the nearly 100 kilometers of cross-country trails or just enjoying the beautiful winter landscape in the ascent to the Traisen mountain to enjoy the Zdarskyhütte, while having fun doing it and recharge your batteries.
Under the proven leadership of the nordicsports academy guided snowshoe walks are offered, where you can trudge through deep powder slopes, between glittering ice crystals through the winter landscape and experience the spirit of nature. Moonlight snowshoeing lead to the best spots between St. Aegyd and Kernhof.
The cross-country trails and areas:
Area 01 - Kernhof / Connecting trail:
1 track / classic and skating, a total of 5.5 km
Area 02 - St. Aegyd / panoramic trails:
4 tracks / classic and skating, a total of 16.7 km
Area 03 - Kernhof / Kernhofer trails:
3 tracks / classic and skating, a total of 14.2 km
Area 04 - Weissenbach / Langau trails:
4 runs, 3 classic and 4 skating, 16 km
Area 05 - Goeller trails at Gscheid:
3 tracks / classic and skating, a total of 8.2 km
Area 06 - Lahnsattel / 2 Countries trails: *
4 trails, a total of 21 km
Snow Safe and convenient: With the Goeller lifts at Gscheid up to 1,000 meters above sea level, you can enjoy snow-sure skiing. Tourers can also naturally walk up the Goeller.
The winter is culinary accompanied by many offers - from the gourmet Restaurant "Zum Blumentritt", or the "Genusswirt " Gasthof Gnedt and the specialty inn Perthold up to the mountain hut at "Herzerl-Mitzi" and in the MAHO Stub'n.
---
Prices
Season ticket € 40, - / person
Trail fee € 3, - / person
Group ticket (from 10 people) € 2.50 / person
Children under 15 years go free
---
Stopping possibilities
Kulinarische Genießer können sich vom kreativen Haubenlokal bis zur regionalen Bio-Bauernhofküche durchkosten. Und für alle, die gerne feine Schokolade und Süßes naschen, ist der "Süße Bahnhof" die richtige Adresse.
Betriebe im Ortszentrum:
Gasthof Perthold www.perthold.at
Landgasthof zum Blumentritt www.zumblumentritt.at
Gasthof Vogelleitner www.vogelleitner.at
Süßer Bahnhof - www.mahonie.suessmeisterei..de
Betriebe in näherer Umgebung:
Jausenstation Holzhof, www.holzhof.herzerlmitzi.at
Betriebe am Gscheid:
Gasthof Gschoadwirt, htpp://www.gschoadwirt.at
Gasthof Göllerblick', htpp://www.goellerblick.at
Betriebe in Lahnsattel - Neuwald / Frein
Neuwald : Jausenstation Familie Leitner, www.jausenstation-leitner.at
Tel. 03859 8171
Frein: Hotel Freinerhof Familie Bareck, www.freinerhof.at
Tel. 03859 8102
---
Current cross-country skiing trails info
Website

E-Mail

Telephone

+43 (0)2768 2290
Cross-country skiing trails Overview
16
classic cross-country skiing trails
70.1 km
13
Skating trails
53.7 km
9
High altitude trails
42.6 km
3
Dog sledding
14 km
Achten Sie auf Leinenpflicht. Nehmen Sie Rücksicht auf andere Langläufer und halten Sie die Loipen sauber!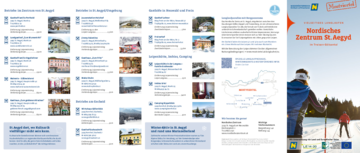 Various
Rental
Sportshop Strametz Tel. 0676 88780298 | Gasthof Gschoadwirt 3195 Kernhof, Gscheid 7 | Familie Grafeneder, 3193 St. Aegyd, Weißenbach 68
Cross-country ski Service
nordicsports academy 3193 St. Aegyd, Markt 11, Gasthof Gschoadwirt 3195 Kernhof, Gscheid 7
Contact Tourist information office
Tourismus St. Aegyd am Neuwalde
Address

Kirchenplatz 2, A-3193 St. Aegyd

Telephone

+43 2768 2290

E-Mail

Homepage
Most popular cross-country regions