Alpin Chalet
- Flachauwinkl
holiday house / hut
24 Beds, 1 Apartments

ALPIN CHALET GmbH

Flachauwinklerstraße 298, 5542 Flachau - Arrival
Rent an alpine dream chalet
completely for yourselves, your friends and your family.

With the charm and cosiness of a mountain lodge, but with the comfort of a large, modern, holiday home. 220m2 all to yourselves.
The concept of ALPIN CHALETS
To spend time amongst yourselves, whilst enjoying all the comforts within a cosy atmosphere. Who doesn't enjoy spending quality time with friends and family. No conventions, no dress code, no fixed mealtimes or predetermined menus, … .
An ideal way to organise your own customised, annual get-together to go skiing, snowboarding, hiking and biking up in the mountains. Or alternatively, you can rely on our services and allow ALPIN CHALETS to organise everything for you.
The ALPIN CHALET is a cut above the rest
Location and atmosphere raise the chalet to higher spheres. You are majestically seated above everyday life. Far away from the mainstream and out of the ordinary. The thrill of the ultimate change of scenery is guaranteed.
Cosy nests to snuggle up in at night, an ALPIN ATRIUM for those who like to play, grown-ups and kids alike, a private sauna with a view, a gastro kitchen for convivial, hobby chefs, an ALPIN LOFT as a high seat amidst the nature of the impressive mountains.
The architecture of the ALPIN CHALET
The most beautiful elements of a cosy lodge combined with the open elements of a modern loft.
You decide! Either you choose self-catering or catering when staying at the ALPIN CHALET.
The services are thought as extra services, to help you organize your holiday in the ALPIN CHALET. You don't have to, if you don't want to. But when even the most passionate hobby chéf wants his/her day off - we are there to cook for you.
If you want overall service and organization, the self-catering ALPIN CHALET changes into your very special "Private Full Service Hotel".
The listed partners have been chosen with the utmost care: the freshest bakery, the fastest pizza service, the grocery store which sells only organic produce ... the best restaurant with first-class catering service. Our culinary link on www.alpin-chalet.com
Videos
01:57
00:55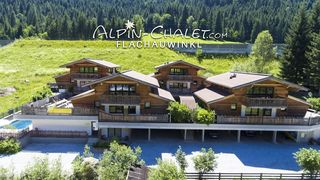 01:05
In the lowsaison also for shorttrips bookable; daily arrival.
Prices on request.
In the highsaison 7 days, day of arrival Saturday.
Locations in Filzmos, Flachau and Flachauwinkl
Prices
Payment methods
banc transfer before arrival
Explanatory notes
Basic price up to 12 people per night.
each further person up to 24 -Euro 20,- in summer, Euro 30,- in winter.
Tourist taxe Euro 2,- per person and night.
Kids and Teens till 15 years are free from tourist tax.
These prices are for holidays from 4 nights. For shorttrips (2 or 3 nights) please send us an inquiry.
holiday house / hut
24 Beds, 1 Apartments

ALPIN CHALET GmbH

Flachauwinklerstraße 298, 5542 Flachau - Arrival