Cross country skiing
Mont Soleil - Mont Crosin - Tramelan - Les Bises / St. Imier
"This place is ideal if you want to find out about skating or classic style. As many of us wanted to try out various types of ski, the day was split into two stages during which we ran through the pistes reserved for each discipline. Surrounded by a gorgeous winter landscape and in a relatively peaceful atmosphere because there were lots of us, it was a wonderful day and we had a great laugh when the beginners fell over."
Info
Mt-Crosin - Tramelan - Les Bises
5 km classic
5 km skating
Difficulty
Accessible to all
Good to know
Ask for the Mt-Soleil - Mt-Crosin - Franches-Montagnes wintersport region brochure at Jura bernois Tourisme, St-Imier.
Opening times, piste condition / download snow report or call T. 0900 556 900 / (CHF -.50 per call/CHF -.50/min.).
Auberge la Bise de Cortébert. Closed from mid October to mid November. Closed Sundays from 7 p.m. and Monday and Tuesday all day, T. +41 (0) 32 487 41 86.
La Buvette du Chalet-Neuf (Farm Restaurant). T +41 (0) 32 944 15 65.
So we can keep the trails perfectly groomed, please get a "ski de fond" pass. Tickets to access the cross-country skiing pistes are available from Jura bernois Tourisme, St-Imier.
Quelle: www.jurabernois.ch/
---
Current cross-country skiing trails info
Website

E-Mail

Telephone

+41 900 556 900
Cross-country skiing trails Overview
classic cross-country skiing trails
5 km
Cross-country skiing trails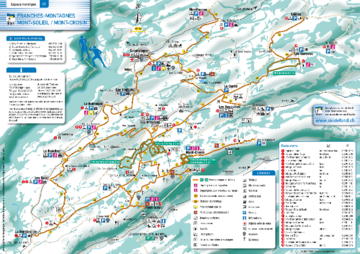 Various
Rental
Cross-country ski Service

Contact Tourist information office
Jura bernois Tourisme
Address

Place de la Gare 2, CH-2610 St-Imier

Telephone

+41 32 9423942

E-Mail

Homepage
Most popular cross-country regions