Bavaria
Cross-country skiing
Hörnerdörfer im Allgäu
Fischen - Cross-country skiing in front of an imposing mountain backdrop
Impressive backdrop, snow-covered forest and fabulous scenery. Cross country skiing is not only a natural experience, but also an excellent cardio workout. Fischen in the wide, white Illertal is waiting with a 22-kilometer groomed trail net for skaters and classic. Together with our neighboring towns, there are several hundred kilometers. The Fischinger's cross-country ski trails are the mostly flat with no steep slopes wonderfully suited for connoisseurs.
Source: www.fischen.de
---
Prices
Gäste der Hörnerdörfer können alle Loipen mit der Allgäu-Walser-Card kostenlos nutzen.
Ohne Gästekarte wird ein Unkostenbeitrag von 7,50 Euro erhoben.
Die Nutzung der Langlaufloipen in den Orten Fischen, Ofterschwang, Obermaiselstein und Bolsterlang sind generell kostenfrei zu befahren.
---
Videos
---
Current cross-country ski run info
Website

E-Mail

Telephone

+49 (0)8326 3646-0
Cross-country ski-runs Overview
16
classic cross-country ski-runs
75.7 km
Paradiesiche Langlaufloipen - sowohl klassisch als auch für Skating - durchziehen die Winterwelt der Hörnerdörfer. Die Loipen verbinden die Orte Fischen, Ofterschang, Obermaiselstein und Bolsterlang.
16
Skating courses
75.7 km
7
High trails
71.4 km
Balderschwang, das 5. Hörnerdorf, ist ein Langlaufparadies auf 1.044 Metern Höhe und gilt von Dezember bis April als schneesicher.
2
Floodlit cross-country ski runs
4.3 km
Jeden Dienstag, Mittwoch und Donnerstag von 18.00 - 20-00 Uhr.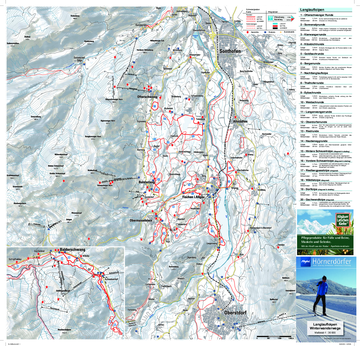 Various
Rental
Cross-country ski Service
Contact Tourist information office
Tourismus Hörnerdörfer GmbH
Address

Am Anger 15, D-87538 Fischen i. Allgäu

Telephone

+49 (0)8326 3646-0

Fax

+49/(0)8326-3646-56

E-Mail

Homepage