Verwöhnhotel Bismarck
5630 Bad Hofgastein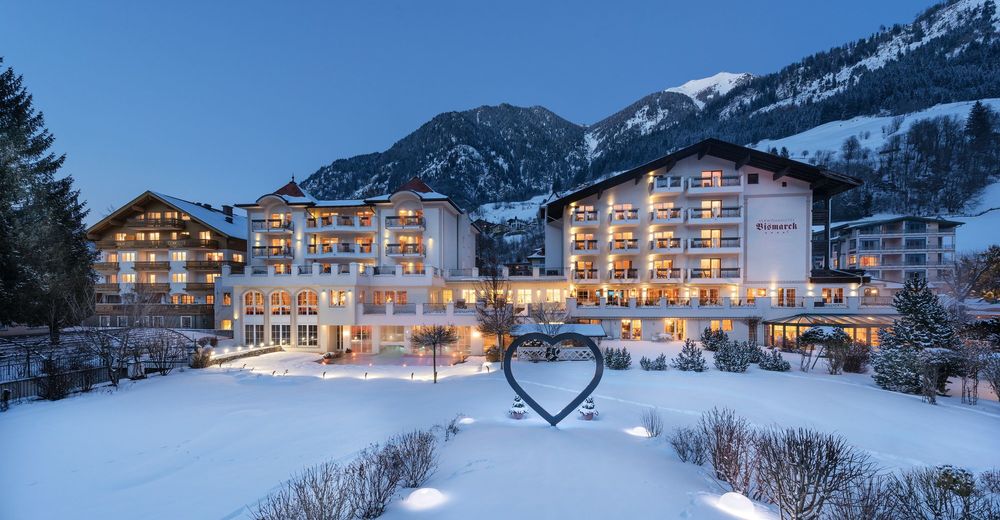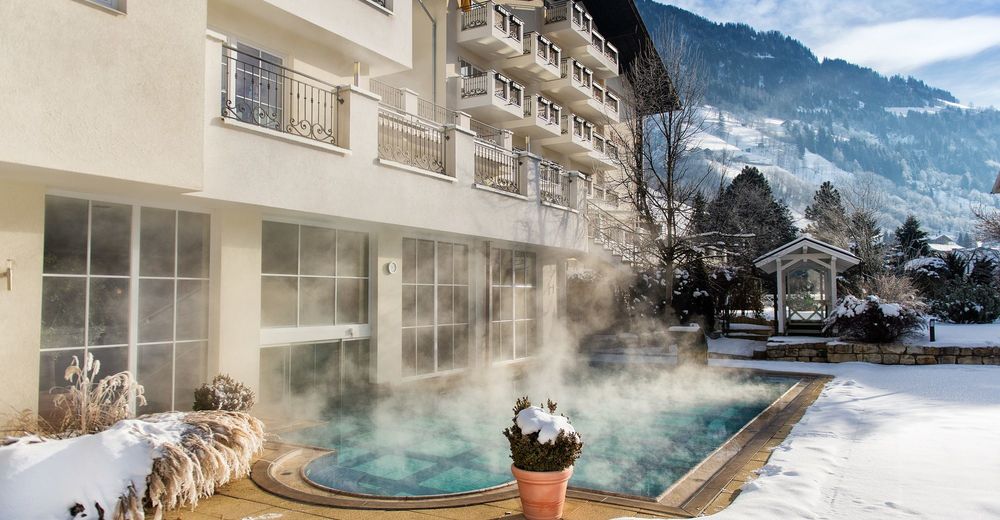 © Foto Atelier Wolkersdorfer - Gerhard Wolkersdorfer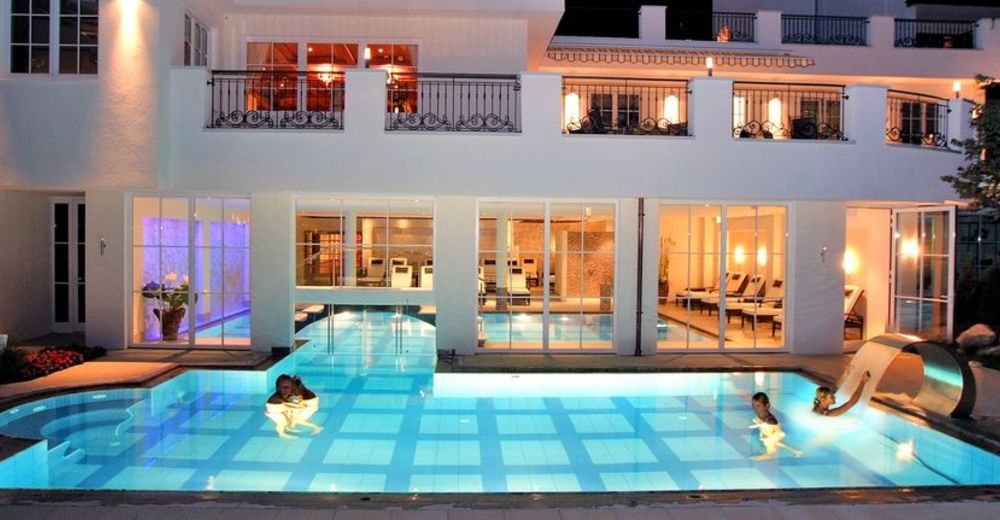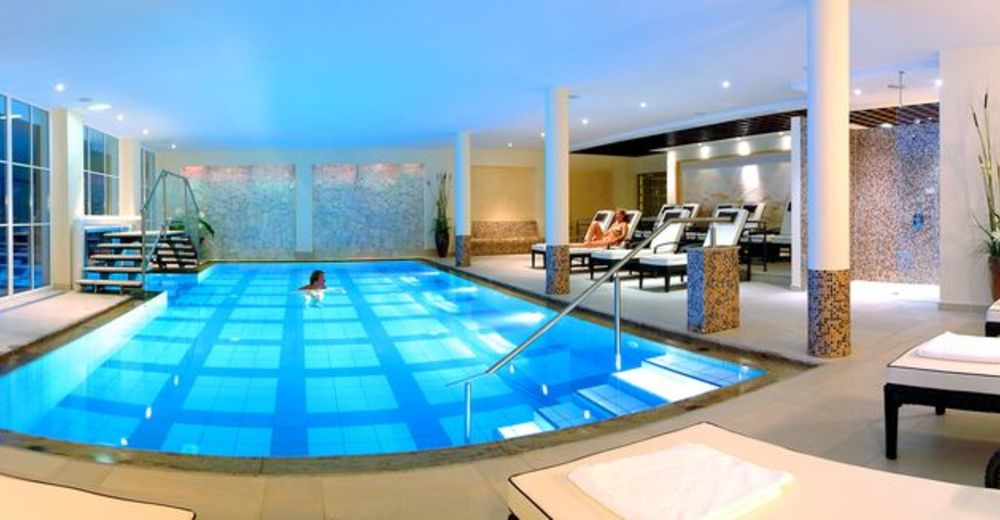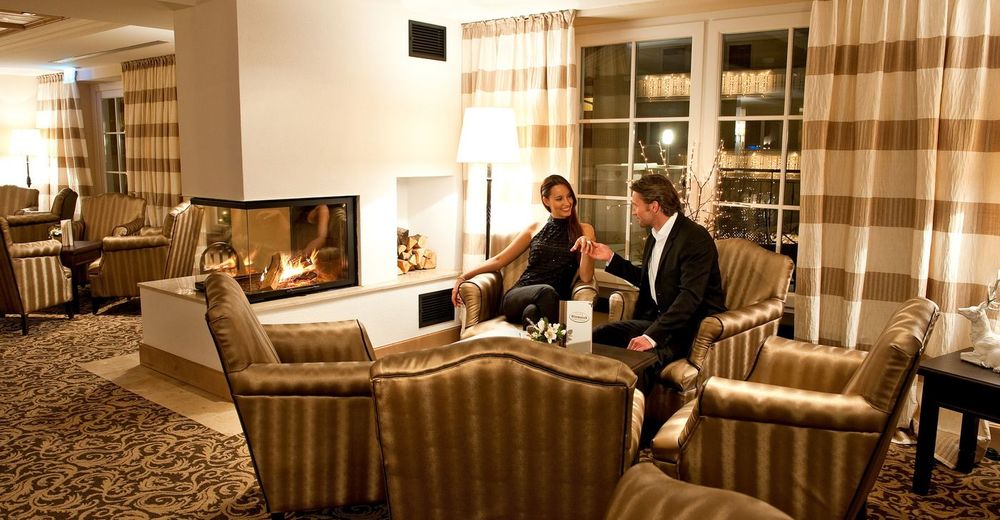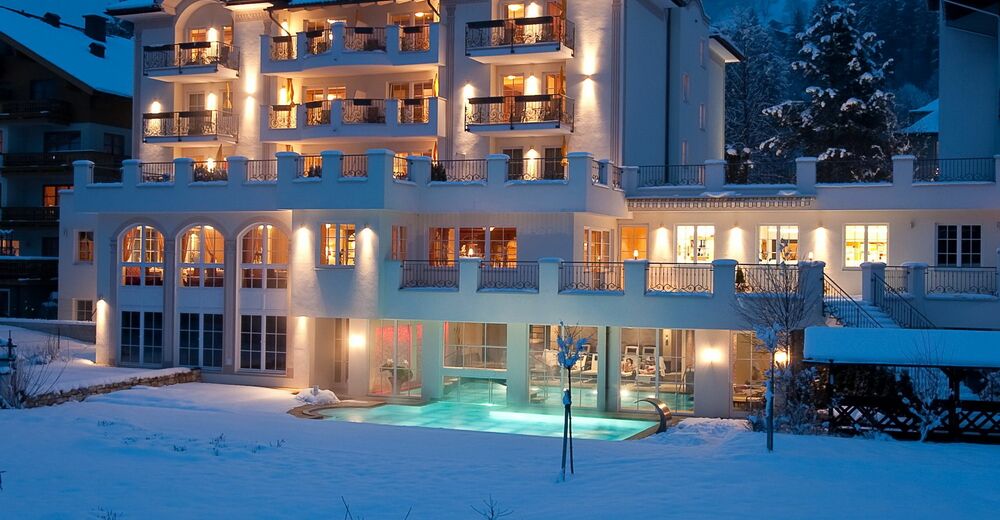 © Wolkersdorfer
© Foto Atelier Wolkersdorfer - Wolkersdorfer Gerhard
Hotel Bismarck **** Superior - just simply more!
Alpine Elegance & careless roundabout host with hearth is typical for our family owned 4-stars-superior Hotel (132 beds)
According to our credo: "Simply a little bit more" we also offer more:
Very personal host by Family Wendler and the Bismarck-staff
Enjoy the luxury of 4 thermalpools 33°C (2 indoor & 2 outdoor) also open in Winter
1 family therme & 1 relaxing therme
waterworld and wellness paradise with SPA 1700 m², massage treatments, Ayurveda & cosmetics
daily changing gymnastics programme, Yoga , candle light swimming, weekly curly tourney with Mr. Wendler
A fully-inclusive organised door-to-door skiing package with a lot of extras for a stressless Holiday
Gourmet & vital- cuisine (3/4 board)
5-course menu for your culinary enjoyment with 4 main dishes to choose from (1 x vitality and 1 vegetarian). As soup alternative we offer pasta).
Lunch specials from 12-4pm (varied soups, salad bar, cold/warm specialities from Austria)
Fresh cake, pie or strudel made daily.
"Gourmet Cuisine": every Sunday is a special Austrian evening with rotating special appetisers or dessert buffet.
During summer season (April-November) we offer additional daily a vitality and health menu).
We also take care of allergy sufferes.
Bismarck's hotel celebration day – Wednesdays we offer a candlelit gala dinner. .
alpine Bar – cosy and stylish with open chimney and, several times a week, live music
big alpine panoramic terrace. New with glogg-lounge.
Enjoy our alpine-elegant living dreams:
Main building: our rooms are new renovated. Double rooms ca. 32 m². Single room 20m² to 28m²
Fürstenhaus- deluxe : alle our superior room have 40 m². Sleeping- and living room separted with a sliding door. Elegant bath room.
Schlössl: Panorama-Suites with 64m² on the 3rd floor with living room and sleeping room separate.
Alpine Luxury Suites: 66 m² with living room and 2 sleeping rooms
Double rooms "Schlössl" 28 m² with connecting doo!
A fully-inclusive organised door-to-door skiing package
10 % reduction at the ski rental
skipass sale at the reception
Saturday and Sunday personal advice by a ski lector in the hotel,
booking of a ski course directly in the hotel or online before your arrival
Perfect situation to reach the ski area in only 5 minutes,. Ideal to reach the modern ski centre Angertal nearly no waiting time, ski school, ski rental, fun park for families, wide range of restaurants and huts, winter walking trails, etc.
complimentaryski bus next to the hotel leaves every . The lift station is only a few minutes away.
Availability Verwöhnhotel Bismarck
information on request
available
Prices
Frühsommer
30.05.2021 - 10.07.2021
Classic (Doppelzimmer)
per person / per night
| 3/4 Pension
0-2 Jahre from 0.00 €
3-7 Jahre from 21.00 €
8-10 Jahre from 31.00 €
11-14 Jahre from 35.00 €
15-17 Jahre from 41.00 €
Local tax
per person / per night
Garagenbenutzung: Tiefgarage
max. 1 zulässig
+ 4,50 €
pro Number / pro Night
Haustiere: Hund
max. 1 zulässig
+ 14,50 €
pro Number / pro Night
Panorama (Doppelzimmer)
per person / per night
| 3/4 Pension
0-2 Jahre from 0.00 €
3-7 Jahre from 21.00 €
8-10 Jahre from 31.00 €
11-14 Jahre from 35.00 €
15-17 Jahre from 41.00 €
Local tax
per person / per night
Garagenbenutzung: Tiefgarage
max. 1 zulässig
+ 4,50 €
pro Number / pro Night
Haustiere: Hund
max. 1 zulässig
+ 14,50 €
pro Number / pro Night
Superior Südwestbalkon (Doppelzimmer)
per person / per night
| 3/4 Pension
0-2 Jahre from 0.00 €
3-7 Jahre from 21.00 €
8-10 Jahre from 31.00 €
11-14 Jahre from 35.00 €
15-17 Jahre from 41.00 €
Local tax
per person / per night
Garagenbenutzung: Tiefgarage
max. 1 zulässig
+ 4,50 €
pro Number / pro Night
Haustiere: Hund
max. 1 zulässig
+ 14,50 €
pro Number / pro Night
Eleganz (Einzelzimmer)
per person / per night
| 3/4 Pension
Local tax
per person / per night
Garagenbenutzung: Tiefgarage
max. 1 zulässig
+ 4,50 €
pro Number / pro Night
Haustiere: Hund
max. 1 zulässig
+ 14,50 €
pro Number / pro Night
Einzelzimmer de Luxe (Einzelzimmer)
per person / per night
| 3/4 Pension
Local tax
per person / per night
Garagenbenutzung: Tiefgarage
max. 1 zulässig
+ 4,50 €
pro Number / pro Night
Haustiere: Hund
max. 1 zulässig
+ 14,50 €
pro Number / pro Night
Doppelzimmer Superior Ostbalkon (Doppelzimmer)
per person / per night
| 3/4 Pension
0-2 Jahre from 0.00 €
3-7 Jahre from 21.00 €
8-10 Jahre from 31.00 €
11-14 Jahre from 35.00 €
15-17 Jahre from 41.00 €
Local tax
per person / per night
Garagenbenutzung: Tiefgarage
max. 1 zulässig
+ 4,50 €
pro Number / pro Night
Haustiere: Hund
max. 1 zulässig
+ 14,50 €
pro Number / pro Night
Alpine luxury suite with 2 sleeping rooms (Suite)
per person / per night
| 3/4 Pension
Local tax
per person / per night
Garagenbenutzung: Tiefgarage
max. 1 zulässig
+ 4,50 €
pro Number / pro Night
Haustiere: Hund
max. 1 zulässig
+ 14,50 €
pro Number / pro Night
Panorama Luxury Suite (Suite)
per person / per night
| 3/4 Pension
0-2 Jahre from 0.00 €
3-7 Jahre from 21.00 €
8-10 Jahre from 31.00 €
11-14 Jahre from 35.00 €
15-17 Jahre from 41.00 €
Local tax
per person / per night
Garagenbenutzung: Tiefgarage
max. 1 zulässig
+ 4,50 €
pro Number / pro Night
Haustiere: Hund
max. 1 zulässig
+ 14,50 €
pro Number / pro Night
Sommer Hauptsaison
11.07.2021 - 11.09.2021
Classic (Doppelzimmer)
per person / per night
| 3/4 Pension
0-2 Jahre from 0.00 €
3-7 Jahre from 21.00 €
8-10 Jahre from 31.00 €
11-14 Jahre from 35.00 €
15-17 Jahre from 41.00 €
Local tax
per person / per night
Garagenbenutzung: Tiefgarage
max. 1 zulässig
+ 4,50 €
pro Number / pro Night
Haustiere: Hund
max. 1 zulässig
+ 14,50 €
pro Number / pro Night
Panorama (Doppelzimmer)
per person / per night
| 3/4 Pension
0-2 Jahre from 0.00 €
3-7 Jahre from 21.00 €
8-10 Jahre from 31.00 €
11-14 Jahre from 35.00 €
15-17 Jahre from 41.00 €
Local tax
per person / per night
Garagenbenutzung: Tiefgarage
max. 1 zulässig
+ 4,50 €
pro Number / pro Night
Haustiere: Hund
max. 1 zulässig
+ 14,50 €
pro Number / pro Night
Superior Südwestbalkon (Doppelzimmer)
per person / per night
| 3/4 Pension
0-2 Jahre from 0.00 €
3-7 Jahre from 21.00 €
8-10 Jahre from 31.00 €
11-14 Jahre from 35.00 €
15-17 Jahre from 41.00 €
Local tax
per person / per night
Garagenbenutzung: Tiefgarage
max. 1 zulässig
+ 4,50 €
pro Number / pro Night
Haustiere: Hund
max. 1 zulässig
+ 14,50 €
pro Number / pro Night
Eleganz (Einzelzimmer)
per person / per night
| 3/4 Pension
Local tax
per person / per night
Garagenbenutzung: Tiefgarage
max. 1 zulässig
+ 4,50 €
pro Number / pro Night
Haustiere: Hund
max. 1 zulässig
+ 14,50 €
pro Number / pro Night
Einzelzimmer de Luxe (Einzelzimmer)
per person / per night
| 3/4 Pension
Local tax
per person / per night
Garagenbenutzung: Tiefgarage
max. 1 zulässig
+ 4,50 €
pro Number / pro Night
Haustiere: Hund
max. 1 zulässig
+ 14,50 €
pro Number / pro Night
Doppelzimmer Superior Ostbalkon (Doppelzimmer)
per person / per night
| 3/4 Pension
0-2 Jahre from 0.00 €
3-7 Jahre from 21.00 €
8-10 Jahre from 31.00 €
11-14 Jahre from 35.00 €
15-17 Jahre from 41.00 €
Local tax
per person / per night
Garagenbenutzung: Tiefgarage
max. 1 zulässig
+ 4,50 €
pro Number / pro Night
Haustiere: Hund
max. 1 zulässig
+ 14,50 €
pro Number / pro Night
Alpine luxury suite with 2 sleeping rooms (Suite)
per person / per night
| 3/4 Pension
Local tax
per person / per night
Garagenbenutzung: Tiefgarage
max. 1 zulässig
+ 4,50 €
pro Number / pro Night
Haustiere: Hund
max. 1 zulässig
+ 14,50 €
pro Number / pro Night
Panorama Luxury Suite (Suite)
per person / per night
| 3/4 Pension
0-2 Jahre from 0.00 €
3-7 Jahre from 21.00 €
8-10 Jahre from 31.00 €
11-14 Jahre from 35.00 €
15-17 Jahre from 41.00 €
Local tax
per person / per night
Garagenbenutzung: Tiefgarage
max. 1 zulässig
+ 4,50 €
pro Number / pro Night
Haustiere: Hund
max. 1 zulässig
+ 14,50 €
pro Number / pro Night
Herbst
12.09.2021 - 02.10.2021
Classic (Doppelzimmer)
per person / per night
| 3/4 Pension
0-2 Jahre from 0.00 €
3-7 Jahre from 21.00 €
8-10 Jahre from 31.00 €
11-14 Jahre from 35.00 €
15-17 Jahre from 41.00 €
Local tax
per person / per night
Garagenbenutzung: Tiefgarage
max. 1 zulässig
+ 4,50 €
pro Number / pro Night
Haustiere: Hund
max. 1 zulässig
+ 14,50 €
pro Number / pro Night
Panorama (Doppelzimmer)
per person / per night
| 3/4 Pension
0-2 Jahre from 0.00 €
3-7 Jahre from 21.00 €
8-10 Jahre from 31.00 €
11-14 Jahre from 35.00 €
15-17 Jahre from 41.00 €
Local tax
per person / per night
Garagenbenutzung: Tiefgarage
max. 1 zulässig
+ 4,50 €
pro Number / pro Night
Haustiere: Hund
max. 1 zulässig
+ 14,50 €
pro Number / pro Night
Superior Südwestbalkon (Doppelzimmer)
per person / per night
| 3/4 Pension
0-2 Jahre from 0.00 €
3-7 Jahre from 21.00 €
8-10 Jahre from 31.00 €
11-14 Jahre from 35.00 €
15-17 Jahre from 41.00 €
Local tax
per person / per night
Garagenbenutzung: Tiefgarage
max. 1 zulässig
+ 4,50 €
pro Number / pro Night
Haustiere: Hund
max. 1 zulässig
+ 14,50 €
pro Number / pro Night
Eleganz (Einzelzimmer)
per person / per night
| 3/4 Pension
Local tax
per person / per night
Garagenbenutzung: Tiefgarage
max. 1 zulässig
+ 4,50 €
pro Number / pro Night
Haustiere: Hund
max. 1 zulässig
+ 14,50 €
pro Number / pro Night
Einzelzimmer de Luxe (Einzelzimmer)
per person / per night
| 3/4 Pension
Local tax
per person / per night
Garagenbenutzung: Tiefgarage
max. 1 zulässig
+ 4,50 €
pro Number / pro Night
Haustiere: Hund
max. 1 zulässig
+ 14,50 €
pro Number / pro Night
Doppelzimmer Superior Ostbalkon (Doppelzimmer)
per person / per night
| 3/4 Pension
0-2 Jahre from 0.00 €
3-7 Jahre from 21.00 €
8-10 Jahre from 31.00 €
11-14 Jahre from 35.00 €
15-17 Jahre from 41.00 €
Local tax
per person / per night
Garagenbenutzung: Tiefgarage
max. 1 zulässig
+ 4,50 €
pro Number / pro Night
Haustiere: Hund
max. 1 zulässig
+ 14,50 €
pro Number / pro Night
Alpine luxury suite with 2 sleeping rooms (Suite)
per person / per night
| 3/4 Pension
Local tax
per person / per night
Garagenbenutzung: Tiefgarage
max. 1 zulässig
+ 4,50 €
pro Number / pro Night
Haustiere: Hund
max. 1 zulässig
+ 14,50 €
pro Number / pro Night
Panorama Luxury Suite (Suite)
per person / per night
| 3/4 Pension
0-2 Jahre from 0.00 €
3-7 Jahre from 21.00 €
8-10 Jahre from 31.00 €
11-14 Jahre from 35.00 €
15-17 Jahre from 41.00 €
Local tax
per person / per night
Garagenbenutzung: Tiefgarage
max. 1 zulässig
+ 4,50 €
pro Number / pro Night
Haustiere: Hund
max. 1 zulässig
+ 14,50 €
pro Number / pro Night
Vorteilswochen Herbst
03.10.2021 - 06.11.2021
Classic (Doppelzimmer)
per person / per night
| 3/4 Pension
0-2 Jahre from 0.00 €
3-7 Jahre from 21.00 €
8-10 Jahre from 31.00 €
11-14 Jahre from 35.00 €
15-17 Jahre from 41.00 €
Local tax
per person / per night
Garagenbenutzung: Tiefgarage
max. 1 zulässig
+ 4,50 €
pro Number / pro Night
Haustiere: Hund
max. 1 zulässig
+ 14,50 €
pro Number / pro Night
Panorama (Doppelzimmer)
per person / per night
| 3/4 Pension
0-2 Jahre from 0.00 €
3-7 Jahre from 21.00 €
8-10 Jahre from 31.00 €
11-14 Jahre from 35.00 €
15-17 Jahre from 41.00 €
Local tax
per person / per night
Garagenbenutzung: Tiefgarage
max. 1 zulässig
+ 4,50 €
pro Number / pro Night
Haustiere: Hund
max. 1 zulässig
+ 14,50 €
pro Number / pro Night
Superior Südwestbalkon (Doppelzimmer)
per person / per night
| 3/4 Pension
0-2 Jahre from 0.00 €
3-7 Jahre from 21.00 €
8-10 Jahre from 31.00 €
11-14 Jahre from 35.00 €
15-17 Jahre from 41.00 €
Local tax
per person / per night
Garagenbenutzung: Tiefgarage
max. 1 zulässig
+ 4,50 €
pro Number / pro Night
Haustiere: Hund
max. 1 zulässig
+ 14,50 €
pro Number / pro Night
Eleganz (Einzelzimmer)
per person / per night
| 3/4 Pension
Local tax
per person / per night
Garagenbenutzung: Tiefgarage
max. 1 zulässig
+ 4,50 €
pro Number / pro Night
Haustiere: Hund
max. 1 zulässig
+ 14,50 €
pro Number / pro Night
Einzelzimmer de Luxe (Einzelzimmer)
per person / per night
| 3/4 Pension
Local tax
per person / per night
Garagenbenutzung: Tiefgarage
max. 1 zulässig
+ 4,50 €
pro Number / pro Night
Haustiere: Hund
max. 1 zulässig
+ 14,50 €
pro Number / pro Night
Doppelzimmer Superior Ostbalkon (Doppelzimmer)
per person / per night
| 3/4 Pension
0-2 Jahre from 0.00 €
3-7 Jahre from 21.00 €
8-10 Jahre from 31.00 €
11-14 Jahre from 35.00 €
15-17 Jahre from 41.00 €
Local tax
per person / per night
Garagenbenutzung: Tiefgarage
max. 1 zulässig
+ 4,50 €
pro Number / pro Night
Haustiere: Hund
max. 1 zulässig
+ 14,50 €
pro Number / pro Night
Alpine luxury suite with 2 sleeping rooms (Suite)
per person / per night
| 3/4 Pension
Local tax
per person / per night
Garagenbenutzung: Tiefgarage
max. 1 zulässig
+ 4,50 €
pro Number / pro Night
Haustiere: Hund
max. 1 zulässig
+ 14,50 €
pro Number / pro Night
Panorama Luxury Suite (Suite)
per person / per night
| 3/4 Pension
0-2 Jahre from 0.00 €
3-7 Jahre from 21.00 €
8-10 Jahre from 31.00 €
11-14 Jahre from 35.00 €
15-17 Jahre from 41.00 €
Local tax
per person / per night
Garagenbenutzung: Tiefgarage
max. 1 zulässig
+ 4,50 €
pro Number / pro Night
Haustiere: Hund
max. 1 zulässig
+ 14,50 €
pro Number / pro Night
Preis auf Anfrage außerhalb der Saisonzeiten
Payment methods
bar, ec, visa, mastercard
Room/Apartments
Payment methods

bar, ec, visa, mastercard